The last week of the season is upon us and though it may have little relevance to the Minnesota Wild in terms of the playoff picture, this is still an important week for a franchise that endured a horrific final 50 games after a promising first 30. Minnesota managed just 11 wins in a spell of 45 games from mid-December until their recent three-game winning streak. That sort of pace makes even Columbus' season look outstanding. The Wild are a franchise that is on the up and has plenty of potential moving forward. It's important that rookie head coach Mike Yeo doesn't under-estimate the importance of this final week. Here are four things that we would like to see Mike Yeo do over the last three games for the Wild.
1. Find out what you've got in the Christensen-Johnson-Zucker line
This line was in the headlines after a strong performance in Saturday's 4-3 SO win over LA, but they were the worst line in Sunday's victory over Chicago. There is some obvious chemistry between these three players on a line that possesses plenty of speed and skill. Jason Zucker was signed specifically for the purpose of getting a taste of the NHL, before hopefully competing for a roster spot in next fall's training camp. Yeo will clearly have been given instructions to test the former Denver winger during his short stint.
The other two players currently skating on that line are in a more complicated position. Both Erik Christensen and Nick Johnson were picked up as shots to nothing and both have enjoyed mixed amounts of success during their time in Minnesota. 28-year old Christensen is known as a skilled player and shootout specialist, who just hasn't been able to earn a permanent roster spot with an NHL club. After going scoreless in his first 15 games with the Wild, he has broken out in March scoring six goals and seven points in 11 games. He becomes a UFA at the end of this season, and while signing him on the basis of being a scoring forward would clearly be foolish, there is an argument that he could be a useful lower line forward, who helps the team win crucial games in the shootout. Yeo needs to use Christensen with that potential purpose in mind.
Johnson is an RFA at the end of the season and will almost certainly be re-signed on a cheap, short-term and possibly two-way deal. The 26-year old has gotten his first crack at the NHL this season and did very well at first posting just 13 points in his first 28 games, but looking like a player who was adapting to NHL level. However, Johnson hasn't been able to progress and even with improved form lately, he has just seven points in his last 26 games. Mike Yeo has been good about giving the rookie plenty of opportunities, but it isn't clear whether Johnson will fit in next season with an improved forward group.
2. Look for other forward chemistry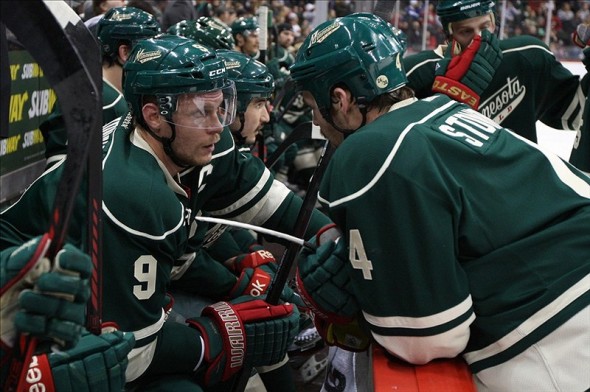 It's not fair to blame the failings of Minnesota's offense purely on the forward group that has been available. Mike Yeo has been dealt a tough hand with long-term injuries to Pierre-Marc Bouchard and Guillame Latendresse, not to mention Mikko Koivu constantly being in and out of the line-up. The loss of Brent Burns and Marek Zidlicky's struggles have only gone to add to the problems of a team that has barely scored over two goals per game this season. However, there are plenty of forwards in this line-up, who will be returning next season and this stretch of three games provides a perfect opportunity to see how different players play together. The current line combinations are working at the moment, but they are based on the same line combinations that have not worked for most of the year.
3. Experiment with the special teams' units
The Wild own the league's 24th ranked power-play firing at just 15.4% and the 18th ranked penalty kill, which has killed off at 81.4%. The special teams haven't been working for the Wild. Mike Yeo can use Tom Gilbert for over half the game if he wants to, but if that's the situation at the beginning of next season then this team is in serious trouble. A more sensible policy would be to give some of the team's other players increased responsibility on the special teams. Hopefully the special teams will be freshened up with the rest of this roster during the offseason, but this is still an ideal opportunity to give players an opportunity to play on the power-play and penalty kill in regular season hockey.
4. Keep playing hard
Mike Yeo doesn't deserve to feel any pressure this offseason, but the spell of success at the end of the season may just ensure that he doesn't. His team has played pretty hard all season long, but there is a commitment and conviction about this team right now that is enjoyable to watch. Of course, it is always easier to be successful when the pressure is off, but that should stop Wild fans from enjoying this little run. The team finishes the season with home games on Thursday and Saturday, and fans deserve to see their best effort.