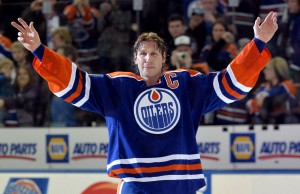 For the eighth consecutive season, the Edmonton Oilers aren't going to the playoffs. A top heavy draft and a 28th overall finish means that the Oil will get a pretty good prospect. But that's of little solace for fans who are starving for a winner. Edmonton is ripe with high picks and it has yet to translate into on-ice results. Some hockey pundits have even suggested it still might get worse before it gets better. But as the postmortem begins for the 2013-14 season, here are four things the Oilers may want to improve upon if they intend to move up in the standings.
1. The Coaching
Dallas Eakins has had a lot of success as a head coach in the AHL. But just as players who thrive in the American league aren't guaranteed to see results in the NHL, so can be said for coaches. Eakins isn't a bad coach. He has proven an ability to work with young players. It's hard to say with any definitive answers that he doesn't have what it takes to coach in the NHL. However, it seemed clear from early on that there was a disconnect between the coach and his players this season.
Is Eakins the right fit for this team? That's something management has the off-season to decide, and with Barry Trotz now on the market, it makes things a whole lot more interesting. The Oilers have had no continuity behind the bench the past few seasons, and it's hard for players to really adjust to a style of play with the guy making the systems is constantly changing. But, that's not a reason to hang onto Eakins if he isn't the right guy for this team.
Did Dallas not understand the kind of players he had? Was there no structure, or the wrong structure all together? Did he run practice the right way? What about player accountability? There are a ton of questions to be asked in regards to coaching, but clearly whatever Eakins was selling, the players weren't buying. Either his approach needs to change, or he'll be looking for work.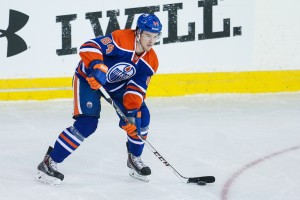 2. The Defence
It's always easier to blame the coach, and fire him, when things don't go well because you can't fire an entire team. The Oilers were brutal on defence this season, something that has been an issue way before Eakins took over. The Oilers defenceman, for the most part, are young and inexperienced. Can anyone say with certainly that Edmonton has bonfide number one blueliner?
There's no Shea Weber, Duncan Keith, Drew Doughty or Ryan Suter on this team. There's no guy that you can point to as a true stud on the back-end. Do they have players who could possibly become one of those guys? Maybe, but at the moment, no. Andrew Ference was brought in for his leadership more than his ability. There isn't a whole lot of experience back there. Guys like Anton Belov, Justin Schultz and Jeff Petry aren't ready to anchor this defence on their own.
The Oilers have some decent defensive prospects, players like Darnell Nurse and Oscar Klefbom might be real gems in the years to come. But unless a big trade or signing is made, the Oilers defence is going to still be a huge issue next season.
3. The Goaltending
The Oilers have used six different goalies this season, and none of them really took the reigns at any point. However, Ben Scrivens, who is signed through next season, showed glimpses of possibly being the answer for the Oilers in goal. He and Viktor Fasth form an intriguing duo going into next season, assuming no other acquisitions are made.
The importance of goaltending can not be overstated, especially on such a weak defensive team such as the Oilers. Having some kind of consistency in net will go a long way in Edmonton, having a guy the team can get behind, and trust to make the big saves when needed. It could be Scrivens, it could be Fasth, it better be at least one of them, because the Oilers have badly struggled to find a real number one goalie over the past few years. They thought it might be Devan Dubnyk, but he has since been traded twice and is no longer in the league. Management needs to step up when evaluating goaltending talent, no doubt.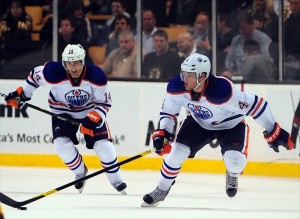 4. The Two-Way Play
Yes, the Oilers struggle on defence. But a large part of that is because the forwards simply aren't committed to playing both ends of the ice. There has been some improvement, but not enough. Guys like Taylor Hall, Ryan Nugent-Hopkins and Jordan Eberle need to lead the charge in terms of playing in your own end. Yes they have a lot of offensive skill. But when you don't defend well, you don't have the puck. And when you don't have the puck, you can't score goals.
Again, there simply isn't that horse on the blueline who is going to consistently feed the forwards the puck, therefore they need to bare down and help out in front of their own goalie, and stop waiting for a break-out pass. Yes, the forwards are paid to score goals. But there are many model teams throughout the NHL whose commitment to defence results in the necessary offence.
Improving on two-way play takes effort and takes work. It takes the players buying into the system and understanding what's important to see results. A cynic would look at the Oilers and say that everything needs to be better next season, and there's some truth to that. But here's the biggest thing that needs to be acknowledged for next year: Don't heap on the expectations. The Oilers won't be a playoff team next season. At least not as currently constructed.