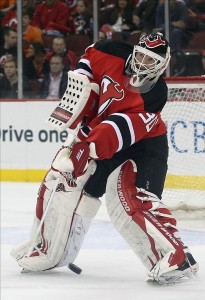 As the regular season comes to a close, Martin Brodeur may have played his last game as a New Jersey Devil, or even as an NHL goalie. With dwindling numbers over his past few seasons, Brodeur's glory days seem to be but a distant memory, with his last true great moment being a surprise Stanley Cup finals appearance in 2012.
As the 41-year old goalie's career comes to a close, it's time that fans and hockey people come to terms with who Brodeur is- the most overrated goalie of all time.
That's right, Martin Brodeur is not the greatest goalie ever, not by a long shot. There's a chance he even falls out of the top five spots, maybe even the top ten, all things considered.
This is not a personal vendetta against Marty, he's definitely a first ballot Hall of Fame player and has done some very impressive and memorable things over the course of his career. I've supported him time and time again for Team Canada, and witnessed many of his greatest moments.
But that doesn't really matter here, since he's built a legacy where many people believe he's the best to ever step in between his pipes, and that is simply not true. Impressive, legendary, and iconic are three words to describe Brodeur, but greatest is never a word you should associate with the Devils goalie.
Heck, it's quite possible Brodeur was never even the best goalie in the NHL at any given time. Let's break Brodeur down step by step and see how he managed to produce a completely false reputation about himself.
Brodeur has the Most Wins and Games Played in NHL History
This is the Brodeur supporter's go-to. Brodeur has the most wins and games played, so he must be the best goalie right? Wrong. Wins are a team stat, and it's frightening how few people realize this. While wins are definitely influenced by a goalie, great goaltenders can be placed on bad teams and struggle to win.
For example, Ryan Miller put up just 15 wins in 40 games in Buffalo this season, despite putting up a  very respectable .923 save percentage. When Miller was traded to the Blues, he has since put up a disappointing .905 save percentage, but has earned victories in 10 of 18 games he's played in.
On the flip side, Antii Niemi and Marc-Andre Fleury are currently tied for second in the league in wins, yet there is little to suggest these are two of the very best goalies right now in the NHL. It happens every year, non-elite goaltending on good teams rack up a lot of wins. While goaltenders do have a big influence on whether their team wins any given game, it's not a fair assessment since the playing field isn't level to begin with. A great goalie doesn't always have the most wins, and the most wins don't always belong to a great goalie.
If we are to consider wins as a measuring tool, surely we are to count losses too? In this category Brodeur also finds himself first, but it's impossible for someone to be the best and worst goalie of all time. Both stats are clearly a product of his longevity, not necessarily his skill. If Brodeur's losses can be ignored, it's only sensible to also ignore his wins.
For further proof of why wins must be taken with a grain of salt,  144 of Brodeur's wins came with a save percentage less than .900, far from impressive. But when you're playing in a defensively minded system like New Jersey, having a rough game here and there can still equate to racking up another W.
Brodeur has the Most Shutouts in NHL History
Shutouts are an easy way to cloud someone's judgment of a goalie, perhaps even more so than wins.
Individually, on their own, shutouts are usually impressive. There's nothing a goalie could want more, and there's nothing more a coach could ask of a goalie who doesn't let in a goal.  But unfortunately for Mr. Brodeur, not all shutouts are created equal.
The "Net Detective" Jim Carey perhaps knows this lesson better than anyone. Carey stormed into the league in 1994 with Washington, coming second in Calder voting in his first year and winning the Vezina in his second. While his glory days coincided with the year of my birth, so I was unable to witness him first hand, it appears his Vezina was awarded due to a league high 9 shutouts, despite his .906 save percentage, which ranked him 13th in the league. Breaking those shutouts down game by game, Carey's save totals were 21, 20, 26, 20, 28, 27, 21,18, and 24 saves, far from show-stopping totals in any of those wins. Carey also ranked 2nd in the league in wins in 35, but it's rather surprising that the voters decided to assume Carey was the main factor in all those wins and shutouts, and not a Washington team who gave up the second least shots in the league. (For more on why giving up less shots is key to success, read here). It's a wonder Dominik Hasek received just 3 Vezina votes despite leading the league in save percentage, but perhaps voters thought he was to blame for the team missing the playoffs despite giving up the most shots in the league. Carey then found himself out of the league a few years later, as NHL teams realized he really wasn't all that good by himself.
For whatever reason, a 19 save shutout is valued the same as a 59 save shutout, which if you ask me is pretty ridiculous. Shutouts are obviously more likely the fewer shots you pick up, and Brodeur's had a fairly easy path to rack up his 124, just like Carey picked up his 9 in that 'magical' season.
It's no secret Brodeur played behind some great defensive teams. In Brodeur's entire career, he's faced over 40 shots or more in a regular season game just 31 times. For reference, Ondrej Pavelec has faced 40 or more shots 32 times, in just five seasons.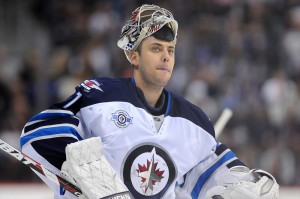 Only 21 of his shutouts required over 30 saves, whereas Hasek has 29 of those performances, Roberto Luongo has 26, and Tomas Vokoun has 23.
Hasek also once had a 70 save shutout in the playoffs in what is statistically the best goalie performance of all time, and far and away from any challenge Brodeur's ever faced.
So while Brodeur's shutout totals are impressive, there's no reason why any other goalie couldn't have racked up those numbers playing behind the same New Jersey Devils teams.
Brodeur's the most durable goalie ever
Glenn Hall once played 502 games in a row as a goalie without missing a start, and that's pretty much all that needs to be said. Eras aside, that's far more impressive than any of Brodeur's 70+ game seasons played. Second most durable goalie ever? Sure, there's no one else who really put up Brodeur's numbers. But again, still not the best in yet another category.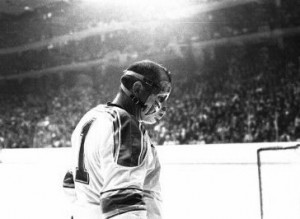 Brodeur's longevity is unmatched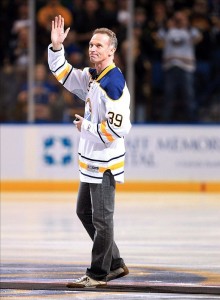 Some will point to Brodeur's games played record as a sign of his greatness. And it shows something- sure- but longevity doesn't equate to skill. By that logic, John Vanbiesbrouck is the 8th best goaltender of all time.
Once again, Hasek comes into the conversation about longevity. Dominik Hasek played goaltender at the professional level from ages 17 to 46, including in a few retirements and stints in both the Czech pro League and the KHL. Hasek casually won the best goaltender of the year five straight years in the Czech league before the rest of the world had ever heard who he was.
So what if he didn't play as many NHL games as Brodeur? That isn't to say Hasek or other goalies didn't have the physical capabilities to do so. Is it tougher to succeed in the NHL than the Czech leagues or KHL? Definitely. Is it actually a more taxing job in the NHL to play in as a goalie compared to other pro leagues? Maybe, but I'd be willing to bet the effects are marginal enough that it's nearly irrelevant.
To add to that, Brodeur is no longer even above average. He's put up .908, .901, and .901 save percentages respectfully, which would have run a goalie ten years his younger out of town if there was a better option. Many other goalies could've easily struggled their way to a sub- .910 save percentage in their later years and some have. Hasek put up a .923 save percentage at age 42. Johnny Bower played until he was 45, even winning a Vezina at age 40 and a Stanley Cup at 42.  Even Dwayne Roloson put up .916 numbers at age 41, and he's far off from an all-time great.
So Brodeur 'led' New Jersey to an appearance in the Cup Final in 2012 at age 40? It was exactly the 27th best save percentage of 46 goalies who suited up in those playoffs. .917 is nothing to scoff at, but it's not exactly Conn Smythe material either.
The 2012 playoffs were also the only stretch of games since 2009 (either entire regular season or playoffs) where Brodeur put up a save percentage above .916, which is about average for a typical starting goalie.
 Brodeur had a great save percentage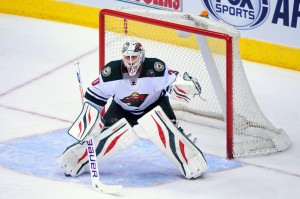 Ilya Bryzgalov and James Reimer are two goalies that people love to make fun of for their incompetence in net. Ilya Bryzgalov and James Reimer also both have a better career save percentage than Martin Brodeur.
Are either of these two better goalies than Brodeur was in his prime? No, but if Brodeur was really as great as people claim he was, his numbers wouldn't even be near those two goaltenders who are currently struggling to land a #1 job.
Martin Brodeur ranks 33rd on the all-time save percentage list of goalies with at least 100 games.
 Of goalies to play 500 games,  he's 7th. 
To be fair to Brodeur, he's had more time in the league than anyone else to have 'off years' that will lead to a decline in save percentage. But he's also had more time than anyone else to put impressive save percentage numbers up, and he's struggled to do so year after year.
If Martin Brodeur was really the 'best goalie ever', why did he lead the league in save percentage just once in his career? Why could he only crack the Top 10 in save percentage six times in 20 seasons?
For reference, Domink Hasek had five seasons in his career where he topped .930 in save percentage, and six years where he lead the league in save percentage. Brodeur's career best was .927 in the shortened 1994-95 season and would not have led the league in save percentage in any other season from 1993-present.
Even from 2002-2010, the statistical prime of Brodeur's career, he's still got just the 8th best save percentage of any goalie to play at least 100 games over that time..
Hasek's .914 from 2002-2008 (when he retired from the NHL) is just three percentage points behind Brodeur's from 2002-2010, which is remarkable considering he was 37 in 2002 while Brodeur was just 30 and coming into his prime.
Hasek takes the cake in this category, as he also is the all-time save percentage leader at .922, and probably the fairest comparison as he and Brodeur came into the league at around the same time.
Brodeur had amazing playoff performances
Some say Brodeur was good in the regular season but really came to shine in the playoffs. Okay, but if he's known for the playoffs, he must be the best in the playoffs, right? And while three Stanley Cup wins are definitely impressive, it's not the most impressive. Try my four, says Patrick Roy. Here's my six, says Ken Dryden. Don't forget me, says Billy Smith, who also earned four. The list goes on. All of those teams were good teams, you say? Well so were Brodeur's championship squads, laced with Hall of Fame players, because, you know, they won the Stanley Cup. If you really were the best in the playoffs too, where's your Conn Smythe, Marty? Just once? 16 other goalies have managed to win the Conn Smythe, yet Marty is 0-for-4 in his finals appearances in being the most valuable to his team. Cam Ward has more Conn Smythe wins.
Statistically, Brodeur gets crushed again. Of any goalie with at least 50 playoff starts since the stat was recorded, Brodeur sits 8th. He also managed just a .001 edge and just 3 less playoff losses than Roy, despite St. Patrick playing 42 more playoff games.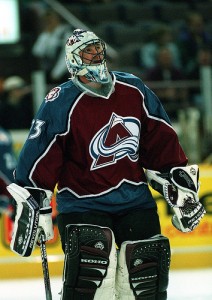 Of any goalie with at  least 100 playoff starts, both Hasek and Belfour edge out Marty for top spot once again in career playoff save percentage.
Even for single year performances, Marty only comes up at #9 with his .934 % in 2003. Yet he was infamously outshined by Jean-Sebastien Giguere's unreal .945 %, who earned the Conn Smythe in a rare losing effort.
Great playoff performer? Yes. Greatest? Not quite.
Brodeur's amazing Olympic performances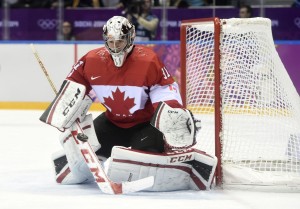 So what about the biggest non-NHL stage in hockey, the Olympics? Martin Brodeur led Canada to a gold medal in 2002… with the sixth best save percentage in the tournament at .917.  Brodeur played well, not stellar for a stretch of 5 games. Tournament MVP? Not his, that went to Joe Sakic.
In 2006, he was 4th in the tournament with a .923 save percentage as Canada bowed out earlier than expected, and in 2010 he lost the starting job to Roberto Luongo, as he gave up 6 goals on 39 shots in the two games he played.
Carey Price's 2014 performance outshines any of Brodeur's, as he was awarded the tournament MVP and posted a .971 save percentage in his five games.
But the greatest performance in NHL-player era Olympic history comes again from Hasek, who led the Czech Republic to a gold medal in Nagano in 1998. Save percentage stats are elusive from this tournament, but it's widely known Hasek's MVP performance was able to defeat many of the game's all time greats in a five round semi-final shootout against Canada.
Brodeur won a lot of individual awards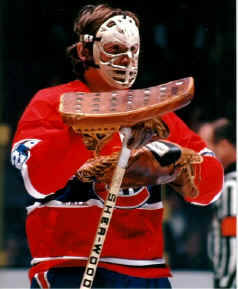 Hasek won six Vezinas before 2003, while Brodeur won a grand total of zero. If you factor in 5 straight Top Goalie awards Hasek won in the Czech league, it's clear he's been stellar everywhere he played. It was only once Hasek was already past his prime that Brodeur was able to win the award.
Glenn Hall won 3 Vezinas, but it was previously award to the goalie with the lowest GAA, so a precursor to the modern day Jennings trophy. Hall was picked as a First team all-star seven times however,(the unofficial 'best goalie award'), which again tops Brodeur's three.
Jacques Plante won 7 Vezinas, and had as many First Team all-star appearances as Brodeur (three).
Bill Durnan won six Vezinas and made six first all-star teams, and Ken Dryden had five of each.
You would think that the best goalie ever would have more recognition, but once again MB30 comes up overshadowed.
If the other goalies were only able to win their awards due to less teams in the league, then why was Hasek still able to win six?
The 'eye test'- Brodeur looked like the best
This is the easiest one to refute, because it's completely subjective. If Brodeur looked like the best goalie of all time, why did he never have the individual stats or recognition to back it up?
So who is the best goalie to ever strap on the pads?
Statistically, it's Hasek, but that's kind of an issue since save percentages weren't calculated prior to the 1980s and have historically risen as advancements to the goalie position are made, so it's tough to make cross-era comparisons. Playoff success, it's probably Roy in the most recent era, but Dryden and Plante give interesting cases too. Durability, it's Hall, no doubt. If you factor in other legends of their era such as Tony Esposito and Durnan, it's quite possible Brodeur doesn't even fit in the top 5, maybe even the top 10.
So yes, you're right if you believe that Brodeur is the winningest goalie ever and has the most shutouts, but he's also got the most losses and most goals against. If he only gave up so many goals and lost so many games because he played more games than anyone else, then how can you use wins and shutouts as a method to praise Brodeur? The truth- it's impressive, but a testament to his longevity and teams, not his actual skill a goaltender.
Long story short, there is nothing tangible to suggest Brodeur was anything but a solid, durable goaltender back stopping one of the best defensive teams in recent NHL history. For as many reasons there are to place him at #1, there are at least 10 reasons why he's not.  Enjoy your retirement, Marty, but it's time for fans to open their eyes and stop putting Brodeur as their starting netminder on hockey's all-time team.
All stats courtesy of hockey-reference.com