I'll be the first to admit that I was displeased, even furious, with Stan Bowman's signing of forward Daniel Carcillo back to the Blackhawks during training camp this past offseason. He's a player with significant disciplinary history who had appeared to be long past his days of utility on the ice besides the dying role of "enforcer", which he also wasn't exactly excelling at. Blackhawks fans were clamoring to finally see prospects like Jeremy Morin get their shot, and the signing of Carcillo was an absolute shock to most if not all observers.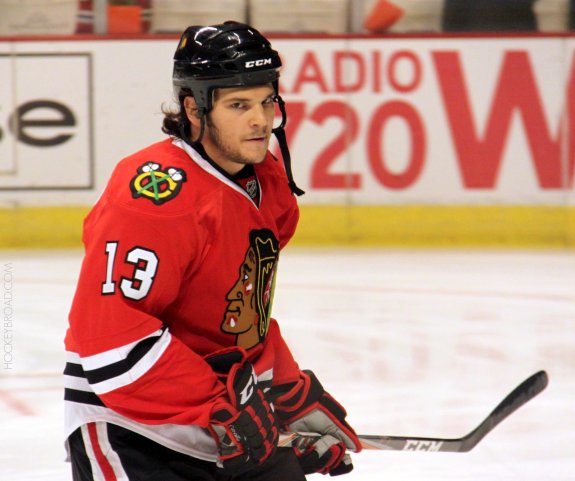 There were glimpses in the preseason of a potentially solid year for Carcillo, but it's hard to judge a 4th line grinder playing against the mish-mash of personnel iced by coaches during exhibition time. Surprisingly, that pace kept up and he has played a responsible game with his line mates, contributing at key times both on and off the scoresheet.
Nearly 1/3rd of the way through the season, Daniel Carcillo is proving to be a solid addition to the Blackhawks lineup. Through 24 games at the time of this writing, Carcillo has only played 14, missing several due to injury incurred by Blues forward T.J. Oshie.  In that time he's notched 3 goals, 2 assists and 13 hits. An offensive dynamo? No. However, Carcillo has proved an effective piece in a Blackhawks 4th line that has felt lacking in the past year or so.
Perhaps even more surprising is that he currently ranks #19 in the NHL for Corsi For, according to stats provided by Puckalytics.com. That jumps to 6th in the league when accounting for CF/60 minutes played. To be fair, he's not facing the best personnel on opposing teams, but the stats show that he's playing well above his pay grade thus far.
It also seems that he has truly started to reserve his chippiness for the right times, and has yet to regress to his former habit of taking terrible penalties. He sits above the midrange of the team's plus-minus ratings and has shown the right combination of grit and discipline to round out the team's 4th line.
While there's still a lot of time left in the season, it's difficult not to draw comparisons to the 2013-14 season, where head coach Joel Quenneville often played 4th line forwards such as Brandon Bollig as few as 4 or 5 minutes in a game. This season, Carcillo averages just about 8:30 per game and there is no player below 8 minutes besides Jeremy Morin (currently in the AHL with the Rockford Icehogs) at 7:44. This is a sign that the much needed depth for the Blackhawks to succeed in a potential playoff run may just be there, and Carcillo is shaping up to be a serious part of that.
A born Blackhawks fan, I have followed the team since the 80s and am a season ticket holder since 2008. I hope to provide an in depth take on the Blackhawks direction, roster moves, etc that the local beat writers often neglect.