Fans in Buffalo keep a close eye on the future of the Sabres with the team in a full rebuild.  The big prospects like Armia, Grigorenko, Pysyk, McCabe, Bailey and Reinhart are at the forefront.  Buffalo has arguably the top prospect pool in the NHL and has a lot of depth outside of these top prospects.  The Sabres prospects are off to a good start and giving fans something to look forward too.  Here is a look at some top prospects who are not often talked about amongst fans.
Nick Baptiste- Erie Otters (OHL)
Baptiste was drafted in the 3rd round of the 2013 NHL draft.  Baptiste is a great goal scorer and has showed it in juniors, as well as his appearances in Sabres training camp.  The 6'1 190 lb. forward was recently traded from to Erie from Sudbury.  This of course is intriguing to Sabres fans as Baptiste will have the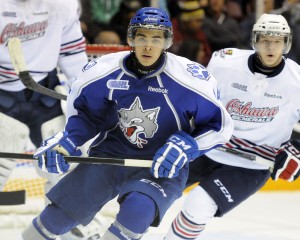 opportunity to play with Connor McDavid, when he returns from injury.  When McDavid was in Buffalo earlier this season, he raved about Baptiste.  McDavid thought he was a steal for the Sabres in the 3rd round.
Baptiste is off to a good start this season with six goals and six assists in 15 games.  The power forward is looking to build on his 45 goal campaign of last season.  The Ottawa native has been invited to tryout for the Canadian national team for the World Juniors this season.  Baptiste has a good shot to make the club and provide some scoring for team Canada.  Baptiste is not afraid to go to the dirty areas and use his size to be a dominant force at the junior level.
Vaclav Karabacek- Gatineau Olympiques- (QMJHL)
Karabacek was a 2nd round pick in the 2014 draft by the Sabres.  The Czech native turned some heads in his first training camp with the Sabres.  The 18 year old remained in camp longer than anticipated.  Nolan believed that Karabacek deserved a longer look with the way he performed.  The 6'0 190 lb. forward has good hands, good speed, and a knack for finding the back of the net.  Right now Karabacek likely projects out as a second to third line winger in my opinion.  He needs to work on his two way game down in Gatineau.
Karabacek has ten goals and ten assists in 25 games in the QMJHL this season.  The Czech native was also invited to try out for the Czech national team for the World Junior Championship.  Karabacek is an intriguing prospect that could be in the NHL sooner than some anticipate.
Linus Ullmark- MODO (SHL)
I'm a huge fan of Linus Ullmark, he was drafted in the 6th round of the 2012 draft.  Ullmark is a large goalie at 6'3 198 lbs. out of Sweden.  Last season the 21 year old won the award for the best goaltender in Swedish Elite League last season.  Ullmark, along with Makaraov may be the goaltenders of the future for the Sabres.  Ullmark is off to a slow start this season for MODO with a 7-10 record, a 3.42 GAA, and a .902 save percentage.  He'll be fun to keep an eye on next season when he comes to begin his pro career in North America.
JT Compher- Michigan University (NCAA)
Compher  was a 2nd round pick of the Sabres in 2013.  The Sabres used the pick they acquired from Carolina in the Andrej Sekera trade to draft Compher.  Compher is a hard nosed player with good speed and plays a great two way game.  The 19 year old forward has been compared to Chris Drury, which has Sabres fans drooling.  Compher was the Big Ten Freshman of the Year last season and is playing well in his sophomore season at the University of Michigan.
Compher has 3 goals and 7 assists in 13 games so far this year.  The 5'11 center has been invited to try out for team USA and is almost a certainty to make the team.   Compher will be part of a deep center group for team USA along with top 2015 prospect Jack Eichel.  The Illinois native will be joined on team USA by Hudson Fasching another top Sabres prospect.
Chad DeDominicis was born and raised in Buffalo, NY. Chad is currently a Buffalo Sabres contributor for The Hockey Writers. He is an avid sports fan and is passionate about the game of hockey. Chad works hard to share creative and quality content with his readers.