Building off the success of their much beloved Out of the Park Baseball franchise, Out of the Park Developments decided it was time to dip their feet into another sport: hockey.
The team released Franchise Hockey Manager in 2013 to mixed reviews. It was a nice building block, but there was just too many hiccups and too much missing to make it a great game. After a couple of years of feedback, OOTP Developments looked to take everything that was great from the original and build upon it while fixing everything wrong with the first.
The end result was Franchise Hockey Manager 2 for PC. As a hockey fan, this was a game I was waiting on for months, so there was definite excitement on my end to play it. The big question, however, was would it live up to the hype? After three months of play – that's the only way to get the best out of a full review – an answer has finally been found.
First thing's first, the interface of the game is much better than it was for the original installment. Menus are quicker and easier to navigate, and you don't find yourself getting lost or confused like you did before. It's a major plus for the game because why would anyone play a game when you don't know where anything is?
The options available to you before you even start a game is deep. There are 21 different leagues you can have in your world, and you can choose as many or as few as you'd like. The glaring omission to all of this, however, is the lack of national teams and tournaments. That's a big bummer.
When starting a game, you can also choose to work as a General Manager or Head Coach for any team you'd like, or you can start as a free agent. If you really want control, you can even give Commissioner Mode a shot. That allows you to set the salary cap, league rules and even team expansion – on July 1 each year. Can you say hello to the Helena Handbaskets?
The amount of work you can choose to do is astounding in this year's game. From lines to strategies to choosing how to split minutes amongst your players, game-by-game preparation can take as little or as long as you'd like. You also have every option available to you as a General Manager when it comes to, well, managing the look of your roster at both the NHL and AHL level.
Scouting is vastly improved over the previous version, with better scouts actually being more accurate with their findings. A.I. logic also seems to have taken a step towards the better side of the spectrum with fellow General Managers being better negotiators in terms of trades and free agent contracts. It also seems as though General Managers all have unique personalities when it comes to how they deal with you. It feels like a more balanced product than its predecessor, which makes for a more fun time.
That being said, there are still ways that trade logic could be improved. I found it far too easy to make a trade for young, up-and-coming prospects by just offering teams NHL-ready players. It was even easier to sign young players.
Filip Forsberg should not be able to be signed for six years at just $2.35 million per year. The value of younger players is something that could easily be tweaked with more updates.
When you actually decide to get into a game, you'll notice an improved screen that appears. It's still not at the level of OOTP Baseball, but that took years to develop and won't impact how this game is viewed.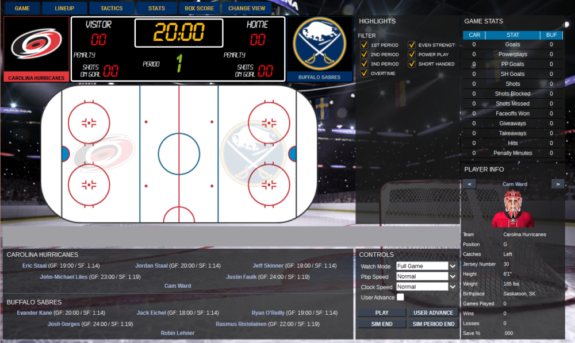 Inside the game screen, it can become a bit tedious to try and make any in-game changes. The one big drawback here is that changing lines and getting players on the ice in different scenarios isn't something that's easily done. In fact, I've found myself avoiding making in-game adjustments just because of how much of a pain it can become. That being said, there's still a lot you can control. I just wish there was more to make it perfect.
Each game ends with a rating that will help coaches decide if a player should continue being given the ice team he has, or if, maybe, someone has earned a bit more playing time. It helps make decisions without solely relying on goals and assists.
Offseason management is where I found myself having the most fun. From deciding on my coaching staff to whether I should cut some players loose, that is where I found the highest level of enjoyment. It was easy to manage, and had no hiccups in the way the original had when it came to contract negotiations. The major hiccup regarding hiring a coach that I had in the preview build of the game – the option to hire a new coach after firing the incumbent would be greyed out and unable to be selected – appeared to be fixed as well.
At the end of the day, Franchise Hockey Manager 2 is a better product than the first game in every single aspect. Adding mods to include real-league logos and player faces makes it an even better experience. The in-game experience could still use some fixing, but that will come with time.
If you're a fan of hockey and simulation games, there's just no way this title isn't worth it. It's really the best way to prove to everyone that you can do just as good of a job as Ken Holland in Detroit or Jim Nill in Dallas.
[Disclosure: Franchise Hockey Manager 2 was reviewed on Windows PC but is also available for Mac OS X. A retail copy of the game was provided for review by Out of the Park Developments.]