The Detroit Red Wings have a bit of a logjam on their blueline, and it's something that is likely to continue into next season, unless Ken Holland decides to get creative. Despite his best efforts, Holland was unable to move Jakub Kindl before Kyle Quincey's return to the lineup. Instead, the Wings waived Kindl, receiving just 950K in cap relief, but also freeing up a spot for Quincey.
While the move was definitely an upgrade, the Red Wings are still left with an average-looking defense corps. This week's edition of The Grind Line examines the team's defenders, their roles, and possible solutions to bolster the group heading into next season.
Brandon Peleshok: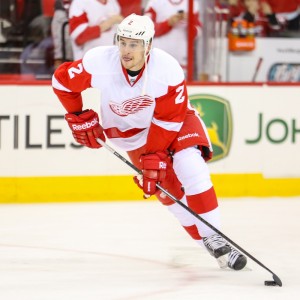 It's fair to say that the Wings' brass probably hoped for more offense from their defense corps at this point in the season. Mike Green and Niklas Kronwall lead the team with 17 points, respectively. With just 11 points through 40 games, Danny Dekeyser is not on pace to match his offensive totals from last season. However, he is the team's most reliable and steady defender, capable of eating big minutes and playing in any situation. Despite the dip in his point totals, DeKeyser will command a hefty pay raise this offseason.
Despite looking average for most of the year, there have been a few pleasant surprises on the Red Wings' blueline this year. Brendan Smith has had one of the best seasons of his career. His breakout passes have improved, as he is far less prone to defensive zone turnovers than he has been in the pass. While his defensive awareness is still lax at times, it has also improved throughout the course of the year. Another pleasant surprise for the Red Wings has been the steady play of Alexei Marchenko. With Quincey out of the lineup, the 24-year-old defender filled in admirably on the Red Wings' third pairing, as well as on the penalty kill.
Ideally, I would like to see the Red Wings get some of their younger players into the lineup. Marchenko has been given a shot, but Xavier Ouellet and Nick Jensen deserve a look, as well. Along with Ryan Sproul, the aforementioned defensemen will no longer be exempt from waivers next season. Holland would be wise to get a good look at each defender to determine whether or not they have a place on the 2015-16 starting roster.
As it stands, the Red Wings have five defenders who have played in the NHL this year signed locked up next season – Kronwall, Ericsson, Green, Smith and Kindl. Danny DeKeyser is essentially a lock to be re-signed in the offseason, which leaves the Red Wings with little room to get their prospects into the lineup. Personally, I would like to see the Red Wings move Kindl and let Quincey hit the free agent market.
Jacob Messing: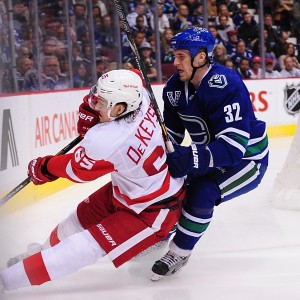 Petr Mrazek has been Detroit's best defenseman this season. Period. One can argue that he should be, because after all he is a goalie, AKA, the last line of defense. But what's troubling is the mediocrity of the entire Red Wings blue line.
Detroit's top two offensive defensemen (Niklas Kronwall and Mike Green) have a combined five goals and 34 points. That's not very good for a team that expects their defense to jump into the play and provide offense. Last season, they combined for 19 goals and 89 points—albeit Green (10 G, 45 pts.) was scoring with Washington. For Detroit to continue to push for the top spot in the Atlantic Division—currently second; behind Florida—the defense will have to provide more offense.
Defensively, Danny DeKeyser continues to be a stud (leads defense with plus-8 rating). His defensive know-how has been huge for Detroit and because of it he will earn a long-term contract ahead of next season. He leads the defense in blocked shots (58) and goals (four), as well and averages more time on ice than all other Detroit defenders not named Kronwall.
Alexey Marchenko has been a nice surprise for Detroit this season, making the roster out of camp in his last waiver-exempt year. Analysts and scouts have called Marchenko NHL ready for a while now and while he isn't the flashiest of players, he plays the game smart. Marchenko has quietly done his job, playing in 36 of Detroit's 45 games this season and tallied his first NHL goal in addition to four assists.
I've been hard on Brendan Smith during his time in Detroit. But he has found a way to stick in the lineup most nights and has even strung together a couple of point streaks this season. Those streaks have seen his numbers reach three goals and seven assists for ten points, none are career highs, but if he can continue his current pace, the 26-year-old will find himself in a career year.
Tony Wolak:
Looking at the Detroit Red Wings' defensive corps so far this season, their cumulative average has been, well, average. Niklas Kronwall has looked his age. Brendan Smith is playing better, but nothing more than a solid third, maybe second pairing defenseman. Alexey Marchenko has been consistent, but lacks offensive creativity. Danny DeKeyser's offensive production has been down, but has been a shut-down defenseman for Detroit.
Basically, the Red Wings have a bunch of second- and third-pairing defensemen. No one has been spectacular and no one has been terrible.
With the luxury of having Nicklas Lidstrom for 20 years, the Red Wings are used to having at least one solid top-pairing defensemen. Niklas Kronwall has been that for the past few years, but this season has been different for #55. His 17 points and -11 rating does not reflect that of a top defenseman.
But is this the way the NHL now operates? Is it a new trend in the NHL to have third solid, equal pairings that each play close to 20 minutes per night? The Red Wings have done this all season—played six (or seven) defenseman who each had their own strengths. Kronwall is a team leader with an offensive mindset. Jonathan Ericsson and Kyle Quincey's size and strength help with the penalty kill. Mike Green and Brendan Smith are dangerous in the offensive zone. DeKeyser and Marchenko make intelligent plays on the ice.
Either at the deadline or during the offseason, the Red Wings should consider consolidating their defensive talent. Xavier Ouellet will lose his waiver eligibility and Quincey will become an unrestricted free agent. So the Red Wings could potentially enter the new season with seven or eight NHL defenders. Why not consider top-end trades and free agents that could raise the average? It would mean parting with talent, but this kind of add would improve the roster as a whole.