Three years ago, when Frank Vatrano signed in Boston, it looked like the Bruins had found a diamond in the rough.
After a rather tumultuous start to his college hockey career, Vatrano re-surfaced with the University of Massachusetts in Hockey East. After sitting out his freshman year, the hard-shooting winger rebounded with a successful sophomore campaign with the Minutemen. He put up 28 points in 36 games on a team that won just 11 games during the regular season.
After UMass was bounced from the Hockey East tournament by Notre Dame, Vatrano signed his entry-level deal with the Bruins. He even shared the accomplishment on Twitter:
Absolutely humbled and honored to sign with the @NHLBruins organization! What a dream come true! pic.twitter.com/5uPl77YBqT

— Frank Vatrano (@Frank_Vatrano) March 12, 2015
In his first full professional season, Vatrano dazzled at the AHL level. He racked up 36 goals in 36 games, and ended with 55 total points. He even got a taste of life in the NHL, as he appeared in 39 games, tallying 11 points. While that number doesn't exactly jump off the page, keep in mind that he was just a 21-year old rookie. Based on the AHL numbers, it looked like the Bruins had found a promising player at a great bargain.
Over the last two seasons, however, Vatrano has struggled to earn a consistent spot in the lineup. He only played in 44 of the Bruins' 82 games last season, recording 18 points. This season has been more of the same, as he has just two goals in 20 games played.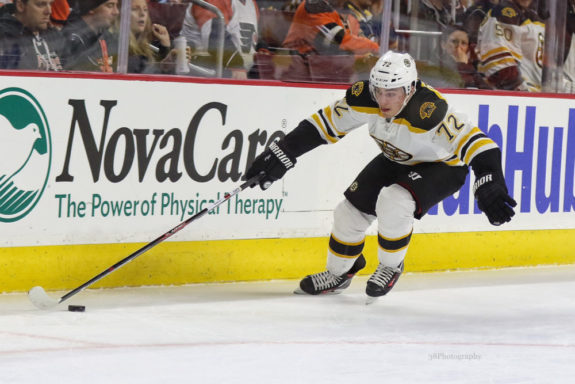 It's becoming increasingly apparent that the Bruins should consider moving Vatrano. He sat out all but two of the Bruins games in the month of December. With the success of younger wingers like Danton Heinen, who is playing himself into the Calder Trophy race, Vatrano continues to slide down the depth chart.
So, what are the Bruins' options, and which one would work best for Frank Vatrano?
Keep Him on the Bruins Roster
The first option on the table is standing pat.
Now, Vatrano will try to say that he's at peace with the recent trend of scratches, "I'm a team guy and I want the team to win when I'm in the lineup, or when I'm out of the lineup," Vatrano said to Conor Ryan of MassLive.com.
Let's be real, though. Every athlete wants to get better, and every member of a hockey team wants to be in the lineup every game. Vatrano has seen success at every level except the NHL, and undoubtedly wants a chance to prove himself at hockey's highest level.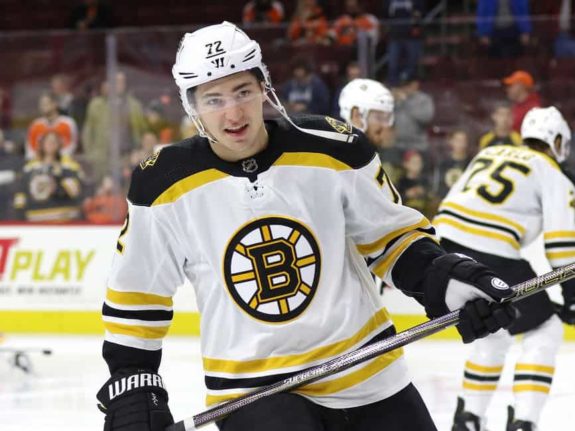 Realistically, how much longer can you keep Vatrano scratched? We're right around the halfway point of the season. He's played in roughly half of the team's games, a similar trend from a season ago. The problem, however, is that his playing time is trending downward, and as long as the current lineup stays healthy and continues to win, no changes will be made. The team's scoring depth has become a strong suit, and that only makes it more difficult for him to crack the lineup.
Some say that getting a chance to watch a game as a healthy scratch can give players a fresh perspective. Watching every game from the press box, however, can be demoralizing. If the Bruins continue to stand pat, it could stunt Vatrano's development at the most crucial time of his career.
Send Him Down to Providence
The next option is sending him to the minors. While this does seem like the most logical option for his development, there are a few problems.
The first is a logistical issue. Since Vatrano played more than 80 games with the big club during his first two professional seasons, he is no longer waivers-exempt. He would have to pass through waivers, meaning that all 30 other NHL teams would have the chance to claim him before he could be sent to Providence. Though he hasn't had a great deal of success in Boston, that doesn't mean he wouldn't fit elsewhere.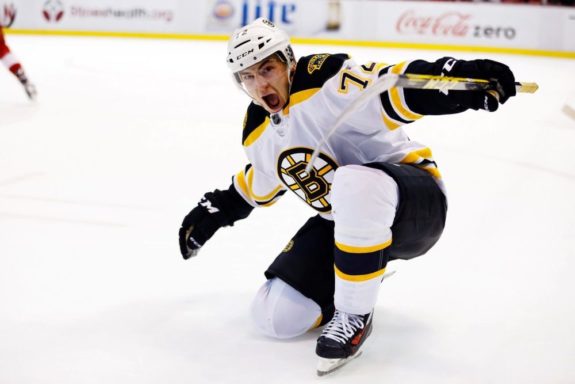 The second problem is, quite frankly, he may be too good for the AHL. He scored at a goal-per-game pace with the Baby B's two seasons ago, and that was his rookie season.
Just how good was Vatrano that season? He led the AHL in goals with 36, while playing only 36 games. The next-closest player was Chris Bourque, who scored a respectable 30 goals. The difference, however, was that Bourque scored those goals in 72 games, twice as many as Vatrano played.
Quite simply put, if he's sent down, Vatrano will be a monster in Providence. Yes, he'll play every game, and play important minutes. The problem with that plan is that he's still just 23 years old, and won't be able to develop the defensive skills necessary to make it in the NHL. In order to survive as a bottom-six forward with the big club, a player needs to be responsible in their own zone. Sending Vatrano down to Providence won't help him improve that facet of his game, but it may be a short-term improvement from his current situation.
Trade Him Elsewhere in the NHL
It's never easy to part ways with a hometown kid. But, for both the Bruins and the Massachusetts-native Vatrano, this may be the best option. Considering that he's still only 23 years old, he still has a good deal of value. He could still fetch a decent draft pick, or be a supplementary piece of a larger deal. Every team in the league could use a cheap scorer, and if put in the right situation, Vatrano could be just that.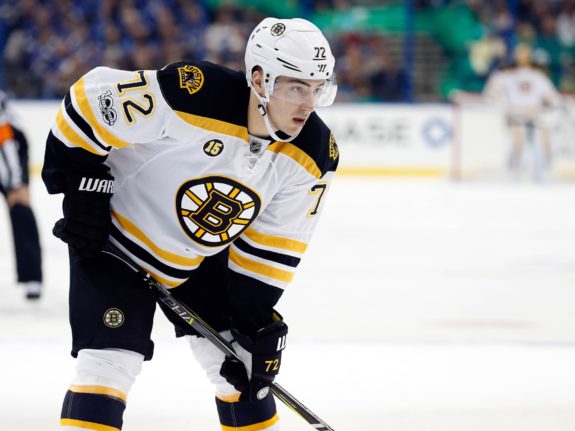 The problem with Frank Vatrano's situation is that there's no immediate solution. There are a number of players in his position, and around his age, that have done more with the chances they've been given. The Bruins' depth has been one of the largest reasons for their recent success, as Joe Ochs writes. While players like Heinen and Jake DeBrusk started even with Vatrano, they've played themselves into the lineup, while Vatrano has done the opposite.
There are a number of top-loaded teams in the league that could use a depth scorer like him. The Chicago Blackhawks and Los Angeles Kings both have large contracts on their salary caps. Both teams could use younger players like Vatrano to supplement their stars. The San Jose Sharks are another team that could use a little more depth. They've struggled to build around Joe Thornton, Joe Pavelski and Logan Couture, and Vatrano might even be able to play himself into a top-six role.
The bottom line in this conundrum is clear. While it's a dream-come-true to play for your favorite team, the writing is on the wall for Frank Vatrano. It may be time to head for greener pastures elsewhere.