Yesterday the Anaheim Ducks traded goalie Frederik Andersen to Toronto for a 2016 first round pick (30th) and a 2017 second round pick.
This past weekend GM Bob Murray, who had indicated he wanted to keep the netminder in Anaheim, mentioned that contract discussions were not going well with Andersen. He could have played Andersen and John Gibson to start the season and then decided who to keep. Due to the expected expansion draft next summer, Murray would have had to move one of them or else risk losing one without a return.
According to comments made yesterday, Murray's plan was never close to becoming a reality. As a result, Murray traded Andersen for draft picks. Obtaining more draft picks was a desire made known by Murray at Anaheim's Select-A-Seat event this past weekend. Anaheim currently has six draft picks in the draft, 1st round (24th overall, 30th Overall), 3rd round (85th overall), 4th round (93rd overall & 115th overall), and a 7th round (205th overall).
After the trade was made, Toronto signed Andersen to a five-year deal worth $25 million. It appears the cost and term were more than Murray was willing to give. The money not spent on Andersen and the draft picks obtained now give Murray more options to help make additional decisions with the rest of his roster.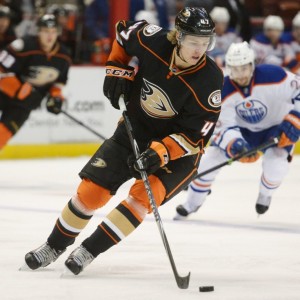 Lindholm And Rakell Are Top Priorities
This past weekend, Murray stated Lindholm and Rakell were his top priorities amongst the restricted free agents(RFAs) left to be re-signed. According to Generalfanager.com, the Ducks have approximately $14 million in cap space, which can be used to re-sign both Lindholm and Rakell. Lindholm will likely be looking for a similar deal to Sami Vatanen's $19.5 million four-year deal. Rakell will likely be looking at a deal in the neighborhood of $3-4 million per season.
If Murray can reach a deal with both, then Anaheim would have approximately $5 million left in cap space. The only other remaining RFA left would be Brandon Pirri, but it appears he is a lower priority and may not return next season in Anaheim.
Veteran Backup Goaltender Desired
Murray mentioned yesterday that another priority will be to get a veteran backup goaltender for Gibson. Murray is hoping to get a goalie that can play 25-30 games next season. Even if Lindholm and Rakell are re-signed, then Murray may be able to obtain a veteran goalie at low cost to help prevent overworking Gibson next season. The additional draft picks may come into play in making a trade to get the quality backup goalie desired by Murray.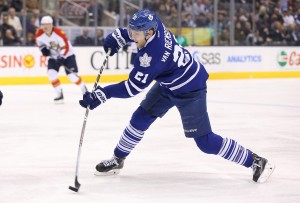 Left-Shooting Left-Wing
Another priority for Murray is acquiring a left-shooting left-wing, which he expressed this past weekend at Honda Center. Rumors are that James van Riemsdyk(JVR) and Rick Nash could be potential players that Anaheim would target. Anaheim could try to trade for JVR, but it may not be likely having just traded Andersen to Toronto. Nash may also be a possibility, but with his large cap hit(approximately $7.8 million per generalfanager.com) Anaheim would have to move several players to create room to be able to bring him in, which is not likely.
Cap Space Concerns
The problem facing Anaheim is the amount of cap space they have to work worth in order to make the above stated priorities obtainable. In order to re-sign Lindholm and Rakell, get a decent backup goalie, and a quality left winger, Anaheim is likely going to have to make a trade or two. The $14 million in cap space is too small in achieve all of these goals.
Even if Lindholm was not re-signed, Murray still has several unrestricted free agents(UFAs) to consider. The Ducks current UFAs are Shawn Horcoff, Korbinian Holzer, Jamie McGinn, David Perron, Mike Santorelli, and Chris Stewart. Murray expressed desire in keeping McGinn and Perron yesterday.
If another trade is to be made in Anaheim, then look for a defenseman to be moved because that is where Anaheim has the most depth. If Murray is able to re-sign Lindholm, then it opens the door for trades to be made with Cam Fowler and Simon Despres. Stoner might be another player who could be traded, but that may be difficult given his large contract. Players not likely to be moved are Kevin Bieksa because of his no movement clause, Vatanen with the obvious new deal, and Josh Manson, who is earning $825,000 this season.
Murray heads to Buffalo today with plenty of decisions to be made, but at least he has options with additional draft picks and extra depth on the blueline to work with.