Jim Neveau, NHL Correspondent
St. Paul, Minnesota – Final preparations are underway for the 2011 NHL Entry Draft, which will take place on Friday and Saturday at the Xcel Energy Center in St. Paul. The next generation of NHL stars will find out which team will be selecting them, and of course there will be the vast array of draft day trades that will inevitably take place.
Those trades started a day early on Thursday, as the Flyers traded away Jeff Carter and Mike Richards in a duo of blockbuster deals. After going into today having their first selection be the 84th overall, they acquired the 8th and 68th picks in this year's draft from Columbus in the Carter deal, and also acquired highly-touted prospect Brayden Schenn from the Los Angeles Kings in the Richards trade. It was a huge amount of movement that caught some insiders by surprise, but it also underscored just how quickly things can change when the NHL Draft is involved.
With all that action going on behind the scenes, there is still plenty of hype going on about the 210 young men who will be selected over the next few days. Players like Ryan Nugent-Hopkins and Adam Larsson are grabbing plenty of headlines as the main contenders to be selected first overall, but there are also other players who have definitely caught the eye of NHL teams in their time here in Minnesota.
One of those players is Dougie Hamilton, who was the fourth ranked North American skater according to NHL Central Scouting (NHLCS). He is highly touted as a defenseman because of his incredible conditioning (he averaged over 30 minutes a game with Niagara last season), and his shot is also one that makes scouts drool.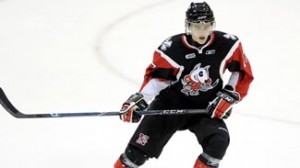 Hamilton is also a guy who is very confident in his abilities, telling reporters on Thursday that "I'm a complete player. I am big, I can skate, and I'm skilled offensively and defensively." He also added "I don't think I have any glaring weaknesses that I need to improve on, so that's a strength too."
Hamilton was also asked about one of the running jokes among the players in this year's draft concerning Kitchener product Gabriel Landeskog. Born in Sweden, Landeskog has gained notoriety for not sounding even remotely Swedish. However, Hamilton did say that when Gabriel "is around the Swedes he's talking Swedish, and it's not fun for us because we don't know what they're saying. He's pretty Canadian when he hangs out with us, and a lot of people wouldn't know (about his real origin)."
Landeskog isn't a prototypical Swede, but he does look up quite a bit to Swedish star Peter Forsberg, envying "the way he controls the ice with his skill and his physical game." He also discussed how Forsberg "dominated with his physicality in some games, and some games he did whatever he wanted with the puck." He was quick to point out, however, that he wasn't referring to himself as "Peter Forsberg, Jr."
Landeskog is also the first European-born player to ever be the captain of the OHL's Kitchener Rangers, an honor that he took very seriously. "It wasn't something I was expecting, but at the same time, I took a lot of pride in it," he said. "To get that kind of confidence from a coach and from a team, to get that respect and responsibility is something that I really cherish and it's something that I'm going to bring along with me for the rest of my career."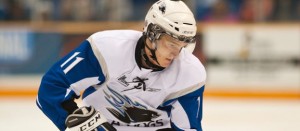 There are also players among the group of top prospects who are refreshingly candid about their skill sets. One of those players is center Jonathan Huberdeau, who played for the Memorial Cup champion Saint John Sea Dogs. He had a great statistical season, scoring 43 goals and dishing out 62 assists, but he was very humble about his chances to make the leap immediately to the next level. "Maybe not right now, but after the summer maybe," he told reporters when asked about making the jump. "I'm not that big and I need to get bigger. I know at the next level there are a lot of big guys and I'm gonna work very hard on my skating and I'll be ready for camp."
Aside from the serious approach that Huberdeau is taking to his preparations for the NHL, he is more than capable of having a good time. During an outing that the prospects took to go to the Mall of America, the players all ended up going on roller coasters. Huberdeau used the chance as an opportunity to get over his fear of roller coasters, and he freely admitted to reporters that he was afraid of them, but "you don't want to be the guy that doesn't go on them, though."
Finally, there is the evidence that these guys are really all still young men who are embarking on a life changing endeavor in a matter of hours. Chief among that crowd was Ryan Murphy, a teammate of Landeskog's at Kitchener, who told nhl.com that he would go to dinner with Oprah Winfrey, Bill Gates, and Sidney Crosby if given the chance to dine with any three famous people. When pressed about the exclusion of his favorite actress Jessica Alba from that group, Murphy chuckled and said "I don't remember answering that question but I did read that and I don't know why I didn't say Jessica Alba." Then, as if he needed to explain himself, he added that "she's a pretty good looking woman."
The sense of optimism among the members of the group was palpable on Thursday. They've been the subject of some very intense scrutiny over the course of the past few months, and that will only intensify as they get closer to the NHL. Even with that in mind, however, these players are focused on enjoying their teenage years, and they're enjoying the crazy ride that they find themselves on. It will be interesting to see where the next step of their journey takes them when the Edmonton Oilers make their first selection tomorrow night.