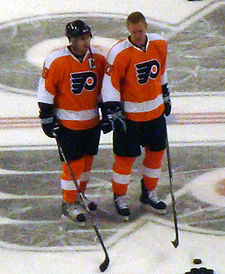 The Philadelphia Flyers fixed their goaltending issues, trading for, then signing, Ilya Bryzgalov, but that may have opened up some new holes. Trading Jeff Carter to the Columbus Blue Jackets for Jakub Voracek and first and third-round draft picks this year made a lot of sense. GM Paul Holmgren knew going into the offseason he would have to trade one of the team's established players to make room for a capable goalie and Carter was a likely candidate. At 6-foot-3, he is a big center who can score consistently, but has a cap hit of $5.27 million, plenty of space to clear up in order to pay Bryzgalov who signed a nine year, $51 million deal with a cap hit of $5.67 million. The length of the deal means they are going to win the Stanley Cup with Bryzgalov.
Then again, it looked like they were going to win the Stanley Cup with Mike Richards when they signed him to a 12-year pact in 2008. Now he is in Los Angeles due to a trade that brought top prospect Brayden Schenn, Wayne Simmonds and a second-round draft pick to Philadelphia. With comparisons to Bobby Clarke since he was drafted, this was supposed to be Richards' team; he was the captain and provided a lot of the heart and soul while being one of its top offensive players. Trading away their captain and franchise player after the commitment they gave him doesn't show much confidence in what they have which may make other players tense up and not perform well. If they can trade Richards and Carter, then anyone can be traded.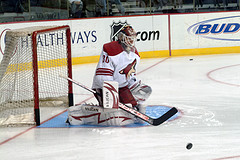 That certainly is a steep price to pay when Bryzgalov hasn't proven himself to be the answer yet at 31. He has 156 career wins including 76 in the past two seasons, but that is in the regular season. They Flyers have no trouble there getting at least 40 wins in 10 of the past 11 seasons with the likes of Roman Cechmanek, Robert Esche and Antero Niittymaki in goal so that is not the issue. He had a six-game winning streak in 2006 with Anaheim, but aside from that he is 6-13 in the playoffs, not exactly numbers you look for to provide stability in net. In the past two playoff years he is 3-8 with a 3.77 goals-against average and a .905 save percentage.
They certainly got a lot of youth out of the deal, not a single player is over 22 years old and they got three draft picks, but Richards and Carter, both 26, weren't exactly graybeards. They have only been in the league six years and have over 100 combined games of playoff experience. They are getting 16 games of playoff experience in return. It was only a short while ago when the Flyers were the envy of the league for their depth and prospects. They have given a big portion of that up and have broken up a team that went to the Stanley Cup final last season.
Yesterday, the Flyers had four players capable of being a a top-line center. Richards, Carter, Danny Briere and Claude Giroux would all be on the top line on another team, but there is only so much ice time to go around with an abundance of that talent level around. As a result, one of them, usually Carter or Briere, had to play wing, where neither of them were as effective as they were at center. Had they just made one of the trades, they would have been able to roll out three scoring lines and a checking line centered by Blair Betts. Now Giroux will likely take over the top spot where his continued development and chemistry with James van Riemsdyk gave Holmgren the confidence to move both of these players.  Briere will be on the second line and Schenn will get the opportunity to center the third line. Should he be unable to hold that spot, as unlikely as that is, the Flyers may have issues down the middle.
While Briere set a career high of 34 goals this season, the 33-year-old slowed down in the playoffs after a hot start, only managing one point in the final three games against Boston. A decline in performance will likely not be noticed this season, but his time as one of the elite players in the league is coming to a close. Carter and Richards were more than ready to step in when his skills start to decline. Now their strength may turn into a weakness in a few years depending on youth development.
The Flyers do have cap room now, over $7 million to spare when they last less than a million yesterday, though they could have even more if they went for a slightly cheaper option in goal. That is money they can use to give contracts to Voracek, Simmonds, Dan Carcillo and Ville Leino. Having some extra space is a relief, but is it worth trading away the faces of the franchise? That will be aswered a year from now.