With the 2011 NHL draft right around the corner there has been a lot of discussion about who the Avs should or shouldn't draft with their first round pick, number two overall. This question has been debated for days on Twitter by Avs fans from around the continent. A lot of names have been thrown around but the consensus seems to boil down to four players.
Gabriel Landeskog seems to be the most, if not only, NHL ready player in this years draft class. He has been compared to Mike Richards of the Los Angeles Kings and could develop into a great leader down the road for the Avalanche. He has captained Team Sweden's 16, 17, and 18-under teams as well the Kitchener Rangers of the Ontario Hockey League. He was the youngest player in 30 years to be named captain of the Rangers at seventeen years old.
Central Scouting's Chris Edwards believes that Landeskog should be able to step right into the NHL and help whichever team drafts him achieve the ultimate goal of winning the Stanley Cup.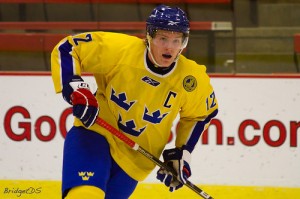 Avs fans might remember a certain player by the name of Chris Stewart. Landeskog plays a game similar to Stewart in that he is a huge offensive threat, but will also stick up for teammates and drop the gloves if he has to. In both of the past two seasons he fought three times.
Jumping from the OHL to the NHL is definitely a big step, but Matt Duchene made this exact move two seasons ago and produced 24 goals and 31 assists in his first professional season with the Avalanche. His last year in the "O" Duchene tallied 79 points in just 56 games. Landeskog didn't quite meet those types of numbers with the Kitchener Rangers, but did manage 36 goals and 30 assists last season through 53 games.
Another great choice for the Avs would be Adam Larsson who played in the Sweden Elitserien last year with Skelleftea AIK. Although his stat line from last season looks pretty bleak (1-8-9 in 37 games) he is an exceptional skater who considers himself a two-way defenseman. His speed and mobility allows him to join the rush, but still be responsible, and fast, enough to get back and protect in front of his own net.
Larsson could be compared to a John-Michael Liles sort of player. Liles loves to jump up in the play and try to produce scoring chances whenever he has an opportunity, but still makes it back to play in his zone without causing too much trouble. Larsson appears to be the same sort of player and it would be interesting to see how the Avs would fair with Liles on one defensive pairing and Larsson on the next.
If the Avs want defense another option would be Nathan Beaulieu of the Saint John Sea Dogs of the QMJHL. Beaulieu recorded 45 points in the regular season which led the defense on his team. While setting that mark he also managed to break the team record for best plus-minus rating as a defenseman with plus-44. The record was plus-43 set by Beaulieu last season.
It has been said that Beaulieu models his game after Los Angeles King Drew Doughty with his great skating and passing ability. Avs fans have been dealing with frustrations caused by Doughty for years and it would be great to have an answer to that. Beaulieu is ranked second highest among defenseman on Central Scouting's list and fifth overall.
One of the five ranked above Beaulieu is Jonathon Huberdeau, his Saint Johns teammate. Huberdeau is listed as a center which the Avs definitely have enough of, but there's a reason why the team should draft him. He's versatile. He played mostly left wing for Saint Johns throughout last season due to their depth at the center position.
Huberdeau recorded 105 points last year which was a point increase of over 70 compared to his 2009-2010 rookie season. His offensive production continued into the playoffs as well as the Memorial Cup where he was awarded the MVP award for both tournaments. He netted a total of 36 points in 23 games throughout the post season.
His teammate, who centered his line, Zack Philiips praised Huberdeau and how well he see's the ice.
"He's a winger for me and unbelievable with getting the puck off the boards and up to me at center. We work off each other really well with nice passes and he's rated very high and deserves to be there." said Philipps in a recent interview for NHL.com.
It appears that Greg Sherman has a lot of different options. Do you go for an NHL ready forward in Landeskog who will step into an eventual leadership role? Maybe a big fast defenseman with Larsson or Beaulieu? If not then there is always the versatile left wing/center Huberdeau.
You make the call. Who do you want to see the Avs draft tomorrow night?
Photo Courtesy of bridgetds
Mike Verminski joined THW at the beginning of the 2010-11 season. He has lived in Central New York his whole life, but that doesn't effect his love for the Avalanche. Mike also runs his own Avalanche blog called Put It On Ice.