Over the last few weeks, Fenway Park served as home to four outdoor men's ice hockey games for certain teams from the NCAA's Hockey East conference. Colleges and universities such as Providence College, Boston College, UMass-Lowell, Northeastern University, the University of Maine, and Boston University were among some of the institutions that put their hockey programs on full display while willingly pitting themselves against the elements of nature.
While the January 4th match-ups (Providence v. Merrimack/Boston College v. Notre Dame) did not fail to disappoint in terms of entertainment value, last Saturday's contests demonstrated just how talented and competitive the Hockey East Conference could be. From the rescheduled playing times to the hour-plus rain delay, there really wasn't a concrete way to put a figurative or literal damper on the events that transpired between four hockey teams on January 11th. With the atmosphere set and the crowd behind their respective teams, it was hard not to notice just how difficult play can be in one of the NCAA's toughest and most talented conferences.
The "Day-Cap" (Northeastern vs. UMass-Lowell)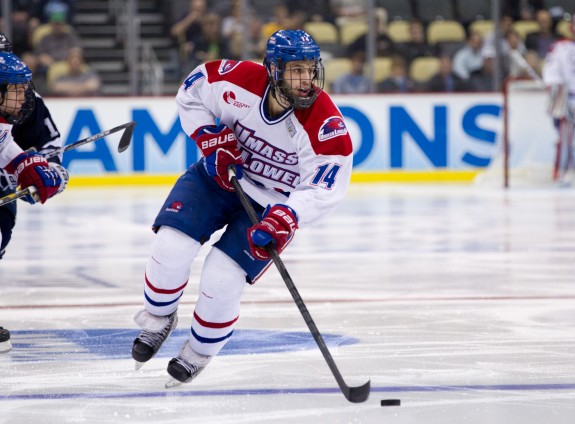 After arriving to Fenway Park and soaking in the energy of the ballpark and its fans, Northeastern and UMass-Lowell put on quite a show for the early-bird fans. Despite the fact that UMass-Lowell wound up losing the game by a score of 4-1, the River Hawks made it a point to pepper Northeastern goaltender, Clay Witt. Not only was Witt equal to the task that UMass-Lowell threw his way, he was able to receive stellar goal support from the likes of Josh Manson, Matt Benning, and Braden Pimm – all of whom made Doug Carr's night quite a challenge between the pipes for UMass.
When the game drew to a close, The Hockey Writers had a chance to hear from Joseph Pendenza of the UMass-Lowell River Hawks about the challenges that players were faced with when playing in an outdoor environment:
"It was definitely a lot harder, the ice was harder yesterday, that's for sure, and a lot smoother. There were probably better conditions yesterday, but it is what it is. On the bench, we continued to say, we have to stay heavy on the pucks and stay over them. They stuck to the ice a couple of times and that's why it's important to stay strong on pucks. So that was kind of the biggest adjustment – to stay strong on pucks and not over-handle them."
Pendenza and head coach Norm Bazin spoke at length about the impact of weather conditions on game-play and the experience and excitement associated with playing in an outdoor game, but it was plain to see that neither the team nor the coach were too pleased with the outcome of a key intra-conference match-up. Head coach Bazin elaborated on UMass-Lowell's position going forward when THW asked him how the River Hawks could utilize their games in hand against conference leaders such as Boston and Providence College:
"It's interesting, I think games in hand are certainly valuable, but only if you gain points from them. We're going to concentrate on trying to succeed with every single game that we play and we'll see where we fall from then on, but there's certainly an emphasis on finishing off in the top five in our conference. It's a tough conference as you know, and we're going to have to catch those teams, but the good thing is that we're playing a lot of four-point games and playing those opponents head-to-head, so the decision will be made for us."
While Bazin stressed the importance of finishing off strong within the conference, his counterpart, Jim Madigan, was illustrated the keys to success that the Huskies have been having by taking a very fundamental approach to their games when he stated:
"I think our guys, they're a simple group. They want to play the game and take it to the simplest form, and that's chipping pucks in, and just being strong and heavy on pucks, and taking pucks to the net. We probably have one of the most skilled players in the league, or one of the top two skilled players in the league in Kevin [Roy], but he's not afraid to chuck pucks in, play down low, and get pucks to the net, so what he does and what our other skill players do, it's an easy one (example) for our team to follow."
Not only did coach Madigan highlight the factors that have played into the success of the Huskies, he also talked to THW about the way that the Northeastern Men's Ice Hockey program has taken steps towards the right direction:
"We're plugging away each and every game, that has been our approach. We haven't had any success, we've had some wins, and we're just solely looking at the next game. We've been down the last couple of years, we know how tough this league is, and we truly are just focusing on the University of Vermont next Friday night – and that is what has allowed us to build a foundation from game to game, and we're not going to stray from that."
The Main(e) Event (Boston University v. University of Maine)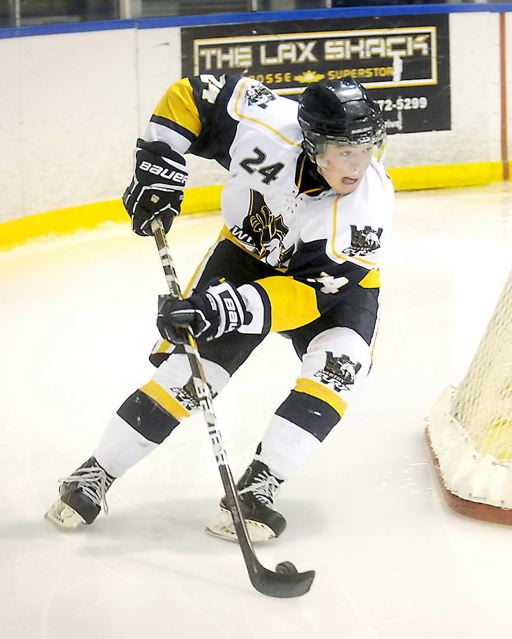 The play on words above might have been a bit excessive, but that could be the best descriptor of the "night-game" between the Terriers and Black Bears. While Boston University made it an interesting game in the third period by scoring three goals, the Black Bears' offensive outburst (five goals) in a rain-delayed (1 hour 19 minutes) first period proved to be too much to overcome for the Terriers.
Aside from adverse conditions that the rainy weather created at Fenway Park, the Terriers dug a hole for themselves through undisciplined play and allowed the Black Bears to maintain a 50% (3-for-6) efficiency rate on the power-play. Despite the fact that the University of Maine also had its fair share of undisciplined play, BU was only able to capitalize on one of their eight opportunities with the man-advantage.
Special teams certainly dominated the University of Maine v. Boston University game, and Terriers' head coach David Quinn spoke about the effect that penalties had on BU during the Frozen Fenway game:
"You give up three power play goals. We're down 4-0 before the first period ends, which hasn't happened to us all year as our penalty kill has been pretty good all year. Right now, we're in a situation where it's one thing right after another, it's a different problem every game – and that's something that we're going to have to correct. I actually thought we got off to a good start the first 10 minutes of the game I thought we were playing pretty well, but again, penalties have crept into our game. Early in the season they were a huge problem for us and I thought we corrected that as the season went on, then the break happened and we've taken five, six, seven, or eight penalties in a game since the break ended and that is a big problem for us. You cannot have success if you take penalties and we try to keep it to four or less. We haven't been successful doing that and it certainly has put us in a difficult situation since the break has ended."
Coach Quinn illustrated the fact that he was proud of how his team played in the third period, but he also refrained from sugar-coating the Terriers' situation when he indicated that the team has been in a fragile state as of late. Not only was Coach Quinn candid in his description of the way that special teams factored into the final score of the intra-conference match-up, he also told THW what it would take for the Terriers to get back to winning ways:
"Hopefully we could build on what happened in the third period. We get distracted a little bit easily, we're young, so sometimes guys lose a little bit of focus. The next step as you climb the hockey ladder is much more mental than it is physical and when you have nine freshmen in the lineup every single night, there are times in the game when you think, 'Are there three freshmen out there right now?'. They are all good players, and they're all going to be great players, but we have those lapses. The first goal wasn't a lapse by a freshman, we did a good job killing the first part of that penalty, and we come back into our end and we have two forwards on either side of the rink and the middle of the rink is wide open, and our forwards need to understand that on the penalty kill it's balance of the ice. We're in that little funk, where you fix one hole in the dam and then the other one springs loose and you put your finger on that one, and then another one springs loose, so we have to find a way to put our fingers in all of the holes and stop that dam from leaking all over the place."
While Coach Quinn was very frank in his assessment of his hockey team and their play, it was plain to see that the coach did not lose confidence in his team. Transitioning to a new head coach after the retirement of Jack Parker would be a difficult task for any hockey team, but after witnessing the demeanor and attitude of David Quinn, it was hard not to believe that the coach would gradually return the Terriers' hockey program to its prior strength.
Meanwhile, on the other side, individuals such as Devin Shore highlighted the development of the Black Bears' hockey program. Shore didn't fail to impress the crowd as he recorded a multi-point night that featured the forward scoring two goals and notching an assist as well. When THW asked Shore what has allowed him to bust out offensively in his second year with the Black Bears, the forward responded:
"Maybe confidence. I worked hard over the summer to develop physically and I'm trying to take more of a leadership role on the bench, and it doesn't just mean points, it means trying to show the team how we should get going. It could be face-offs, it could be strong defensive play, but any way you can help your team win – that's what we're trying to do here."
While Shore also told THW what it has meant to wear the "A" on his sweater this season, head coach Red Gendron outlined the perfect scenario that he could envision for his team by the end of this season:
"What we're really trying to do here is to give our players responsibility to prepare themselves. I've told them [the players] that if this season turns out perfectly, like my vision, then the last game of the season that we play, I stand on the bench with my arms folded and I have nothing to say other than who the next players up are. And that's part of the philosophy, I want them [the players] all to be good leaders and good teammates, and we don't stratify the team by class (freshman, sophomore, junior, or senior). You get to the point where I don't have to say anything – the best definition of a great teacher is one who seeks to and makes himself unnecessary, and that's what we're trying to do here in a nutshell."
What Frozen Fenway Really Meant
Aside from the obvious experiences and emotions that made this an enjoyable event, play on the Frozen Fenway stage demonstrated the commitment that certain hockey programs have when it comes to building a reputable and consistent competitor in the Hockey East conference.
Of course, two winners and two losers had to ultimately be decided by the end of the day's action at Fenway Park, but that shouldn't necessarily define the prowess, or lack thereof, of the on-ice participants. Rather, the effort that all four teams put forth demonstrated just how tough it is to keep up with Hockey East play.
While Northeastern University and the University of Maine had tremendous performances and have seemingly improved upon their previous year's records, coaches and players from both of the aforementioned teams were not ready to view their success as something that is fixed. Instead, the success of the Northeastern and Maine University hockey programs is being viewed as steady progression in a highly competitive conference.
Despite the fact that Boston University and UMass-Lowell left Fenway Park with one more loss tacked on to their respective records, neither team left with any semblance of a defeated attitude. Better yet, David Quinn and Norm Bazin gave credence to the fact that their individual hockey programs are well aware of what it will take to either maintain their position or rise in the Hockey East standings.