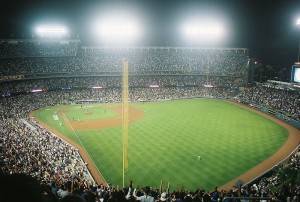 Bitter cold. Blowing snow. 106,000 raucous fans crowded into Michigan Stadium to witness the Detroit Red Wings and Toronto Maple Leafs do battle. This year's Winter Classic had all the ingredients you'd expect of a sport played in chilly venues during the winter — minus the roof.
Fast forward 24 days, and next up in the NHL's great outdoor hockey experiment will be the Los Angeles Kings and Anaheim Ducks at Dodger Stadium. Naturally, there won't be a roof there either. Instead of falling snow, it'll be sunbeams and seagull guano. Not only will name-brand celebrities be in attendance, but rock stars and beach volleyball games will be key entertainment themes. Hockey invades Hollywood in a big way on January 25th.
The Dodger Stadium game and 80 degrees
In Los Angeles, the word 'winter' is basically a calendar demarcation. I lived there for almost 20 years, and remember well the frequent summer-like temperatures in January. Sure, the daytime highs aren't generally quite so robust, but let's just say a possible 80 degree day won't phase the locals one bit. Heck, the thermometer reached 85 degrees today. In contrast to the thirteen degree game-time temperature in Ann Arbor, it'll be toasty enough for swimsuit-clad volleyball players in La-La land. Seriously, that's actually going to happen.
Contrast that to the frozen environment at the Winter Classic, which saw the wind chill factor fall to zero. Subject to the whims of the local weatherman (and just in case math isn't your strong suit), that's a potential 80 degree swing. It's almost unimaginable, playing hockey outdoors in a temperature that could reach 80 degrees, but with the hot Santa Ana winds blowing, it could very well happen. As I wrote a few days ago, I'll be there myself, so I'll get to take in all the sights and sounds first-hand.
Ten interesting points about the upcoming Dodger Stadium game
This is sure to be an environment like none other in NHL history. With that said, there are quite a number of tasty tidbits to discuss about the game besides the possibility of 80 degree weather. Here are ten of them.
This will be the first U.S. outdoor NHL game west of the Mississippi. Hence, the 80 degrees. Maybe they'll play one in Miami next year and see the temperature surpass 100.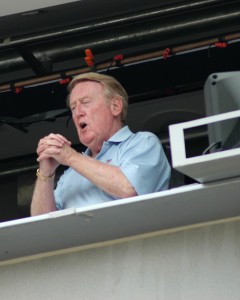 It will be the southernmost outdoor game ever. Again, 80 degrees is starting to appear more and more likely, given the geography and the long heat wave Southern California has been experiencing. It's the hockey equivalent of Bizarro World.
Palm trees, beach volleyball and street hockey. Speaking of Bizarro World, reports are there will be palm trees in center field, affixed with the logos of each team. A street hockey court and beach volleyball court will be in the outfield.
80 degrees notwithstanding, the ice will remain frozen. A 40-man crew will lay the ice sheet, and a reflective cover will be placed on top to keep the sunlight from melting it away. As for the immediate vicinity, compressors and air conditioning units will be there to chill the air. With all that equipment belching cold air, it may even be a bit nippy alongside the rink itself. The other 50,000 or so not near the ice will be slathering on suntan lotion.
Seating capacity is expected to be about 54,000. As of last report, about 80% of the tickets had been sold. It's expected the game will ultimately be sold out.
Ticket prices range from $49 to $279. As of 30 days ago, sales were lagging a bit, prompting a price reduction for a certain category of seating. It's a bit of an expensive golden ticket, but think of it this way: where else can you see ice hockey, street hockey, beach volleyball, rock stars and warm weather all in one smoggy, open-air facility?
Wayne Gretzky will be there. The Great One can afford it, and having been in the desert, 80 degrees won't phase him one bit. Gretzky has been in a four-year dispute with the NHL over back salary owed from his days with the Phoenix Coyotes, but the Board of Governors finally agreed to pay him the $7-8 million he was due. With that issue now settled, Gretzky is returning to the league's forefront. "Wayne started it all, and in many respects not to have Wayne at this event would be almost unimaginable," said NHL Chief Operating Officer John Collins.
So will Dodger announcer Vin Scully. The living legend has been calling Dodger games since 1950. A little history lesson: the President of the United States back then was 'Give 'em Hell' Harry Truman. You didn't know that, because you probably weren't born yet.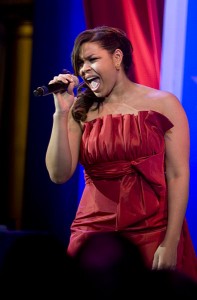 The performers are set. Rockers KISS, former American Idol Jordin Sparks, John Ondrasik (Five for Fighting) and the USC Trojan Marching Band are scheduled to entertain the crowd. That is, those that aren't utterly transfixed by the beach volleyball game.
There's a game to be played. Lost in the Bizarro World temperatures and settings is the fact that the Kings and Ducks are crosstown rivals, playing the second of a hugely important home-and-home series. Anaheim is rampaging through the regular season, sporting a league-best 36-8-5 record (77 points). Los Angeles is having a strong regular season themselves, with a 29-14-5 mark (63 points). If the Kings have any hope of closing the gap, they'll need to make hay in this series.
Outdoor hockey coming to sunny Los Angeles. 80 degrees of separation, indeed.