Last week the American Hockey League announced its 2014 AHL All-Star Classic roster.
The format differs from previous years. Instead of seeing to it that every team was represented by at least one player, no matter how awful the team, the AHL has assembled a single 20 man roster. This team will play Färjestad BK of the Swedish Hockey League on February 12.
From the format itself, to the scheduling of the game, to the head-scratching roster selections, all things point to one thing: The AHL is playing to win. Not just the game itself, but additional fans as well. That's good because they need the fans: If the current pace remains unchanged, league-wide attendance will be down 14 percent from last year, and will be lower than it has been in at least a decade.
THE SNUBBERY
In adopting this format, 14 of the league's 30 teams got snubbed, including the league's marquee team the Hershey Bears. At least 20-30 otherwise deserving players were also snubbed. Of course, a limited roster will have that effect. But this isn't just about a limited roster, it's about a very selective roster. This squad speaks less to the league's best players and more towards leveraging as much NHL recognition as possible.
THE INTERNATIONAL FLAVOR
The roster includes the top-scoring forward in the league, Travis Morin, and the top-scoring defenseman, TJ Brennan. Along with Chad Billins, these three players represent the only Americans on the squad. Alexey Marchenko is Russian. The remaining 16 players are Canadian.
This is as close to an AHL Team Canada as the league can get.
THE TIMING
The NHL's Olympic 'pause' begins February 9. Three days of no hockey in the middle of hockey season is enough to drive fans nuts, so the good news is that the 2014 Winter Olympics in men's hockey begin the preliminary rounds on February 12. Specifically, the Czech Republic vs Sweden and Latvia vs. Switzerland will play at what amounts to noon ET. Eight hours later, the AHL All-Star game begins.
I don't recall any recent AHL All-Star games ever being played on a Wednesday.
THE GOALIES
For the All-Star Classic, the AHL has reunited the duo that backstopped Canada to a silver medal in the 2010 World Junior Ice Hockey Championships: Jake Allen and Martin Jones. In a different format, Jeremy Smith in Springfield, Keith Kincaid in Albany, Nathan Lawson in Binghamton, and Joni Ortio in Abbotsford would all have been better choices than either Allen or Jones.
Jake Allen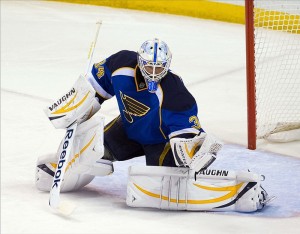 Allen has been tending the farm for the St. Louis Blues for over three seasons now.  He has a 14-7-2 record for the Chicago Wolves to go with a 2.17 GAA and a .922 save percentage. During his first two seasons in the AHL he split duties with Ben Bishop, then split them last year with journeyman goalie Mike McKenna. Thus far in Chicago, with Matt Climie struggling, the starting job appears to be Allen's to lose.
Still, Allen leads no statistical categories among AHL goalies, and the Wolves are currently in fifth place in the Western Conference. His selection is slightly suspect.
Martin Jones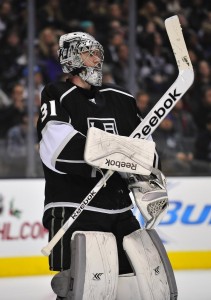 Jones has handled a good share of the goaltending duties for the Manchester Monarchs following Jonathan Bernier's promotion to the Los Angeles Kings in 2010. This season, Jones has posted a 10-2-0-2 record in 14 starts along with a 2.16 GAA and .930 save percentage. This is his second trip to the AHL All-Star Classic; his first coming as a rookie in 2010-11, when his numbers through early January looked very similar to his numbers this season. All that aside, it is Jones' NHL debut in December that likely landed him here. He was big news in Los Angeles, winning his first eight starts for the Kings while allowing just eight goals before losing his next three. Jones was the NHL Co-Rookie of the Month for December, generating plenty of excitement until Jonathan Quick returned from injury.
Curiously, Jones was named to the AHL All-Star team on January 9 despite not having played an AHL game since November 9. The recent trade that sent Kings back-up Ben Scrivens to Toronto gave Jones the back-up job in Los Angeles, calling into question whether he will be available for the All-Star game.
THE DEFENSEMEN
Chad Billins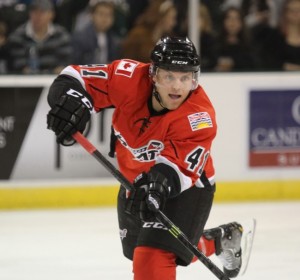 Undrafted out of Ferris State, Billins landed an AHL contract last year with the Grand Rapids Griffins. In his rookie season the undersized blueliner appeared in all 76 games, scoring 10-27-37 points to lead Griffins defensemen. He then appeared in all 24 Calder Cup playoff games for Grand Rapids on their way to the championship, collecting 2-12-14 points along the way. In July, the Calgary Flames signed Billins to his first NHL contract, a one year, two-way deal worth $925,000. In 34 games for Abbotsford, Billins has 6-20-26 points.
T.J. Brennan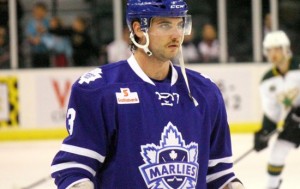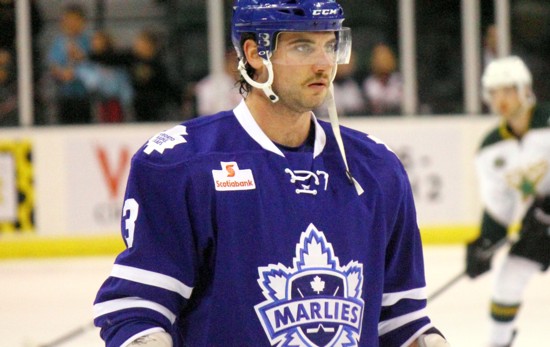 A 2nd round pick by the Buffalo Sabres in 2007, Brennan burst out of the gate for the Toronto Marlies this season by picking up 10 points in his first three games, including two hat tricks. After four years spent mostly in the AHL with Buffalo's affiliates, this past summer Brennan inked a one year contract with the Toronto Maple Leafs. Averaging a point per game for a very good Marlies club, Brennan's contract is a one-way deal paying him $600,000 to play in the A.
Cody Goloubef
Goloubef was a 2nd round pick by the Columbus Blue Jackets in 2008. While with the Wisconsin Badgers Cody played alongside Brendan Smith, Justin Schultz, Jake Gardiner, John Ramage and Ryan McDonagh. This is Goloubef's fourth season in Springfield.  Decent size, great skater, high hockey IQ, can move the puck well, none of which explains why he's an All-Star.
Frederic St. Denis
A teammate of Goloubef in Springfield, Frederic St. Denis was undrafted out of the QMJHL and battled his way to a spot with the Hamilton Bulldogs before landing his first NHL contract with Montreal in 2010. This summer he signed a one-year, two-way deal with Columbus. His 8-13-21 points in 35 games is the second most on a Springfield team with the best record in the AHL.
Brayden McNabb
Brayden McNabb is another Buffalo draft pick, this one from the 3rd round in 2009. McNabb has 15 points in 20 games for a struggling Rochester team this season to go with another ten games for the Sabres. He's currently on his third call-up to Buffalo.
Alexey Marchenko
This 6'2″, 212 lb defenseman was a 7th round pick  by the Detroit Red Wings in 2011. He signed an entry-level contract this summer and has been outstanding for the Griffins, scoring 2-14-16 points in 33 games. Marchenko's +15 rating is good for 6th overall in the AHL. Four the past four seasons, Marchenko has been playing in both the KHL and the MHL (Russia's AHL equivalent).
THE FORWARDS
Brian Gibbons
Brian Gibbons last played for the W-B/Scranton Penguins on December 14, after which he was called up to Pittsburgh for the second time this season. Up to that point, he did very well, with 27 points in 23 games.  Gibbons has played 13 games up in Pittsburgh, picking up 2-4-6 points along the way.
Travis Morin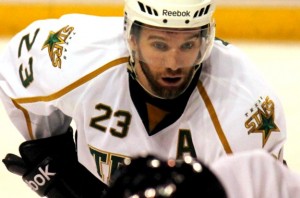 Travis Morin, the Minnesota-born veteran Texas Stars centerman, is having a career year, tearing up the AHL. He has 23-27-50 points in 33 games this season– nine points more than the next player on the list.
Brandon Pirri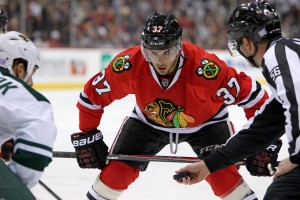 Last season, Brandon Pirri led the AHL in scoring. That would be difficult to achieve this season, as he's played just 13 games for the Rockford IceHogs, scoring 10 points. Meanwhile, he has appeared in 24 games for the defending Stanley Cup champion Chicago Blackhawks. His addition to this roster makes no sense.
Colton Sceviour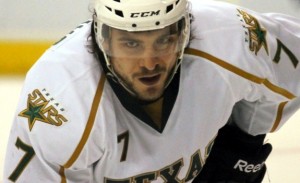 Number three in AHL scoring and tops in goal scoring, the Stars' Colton Sceviour has 23-17-40 points in 32 games for Texas, and his goal total in just half a season has already eclipsed his previous personal high. Sceviour made a big splash in Dallas in December, scoring three goals in his first four games with the parent club.
Colton Sissons
AHL rookie Colton Sissons has an impressive 14-10-24 points in 35 games for the Milwaukee Admirals, having finished his Junior career in Kelowna last spring. The 2012 2nd round pick by Nashville has been the Admirals' best player this season.
Mike Hoffman
Binghamton Senators left winger Mike Hoffman is that player behind Morin in the scoring race, having tallied 16-25-41 in 36 games. This is Hoffman's fourth season with the Senators.
Ryan Strome
The young forward from the Bridgeport Sound Tigers ripped up the league early on, scoring 33 points in 23 games. Since mid-December he was up with the New York Islanders, earning 4 points in 15 games before being sent back down on 15 January.
Linden Vey
The Manchester Monarchs centerman has played in 20 AHL games this season, earning 22 points. Currently on his second call-up to Los Angeles, he has 5 points in 14 games with the Kings.
Ryan Spooner
Ryan Spooner has 23 points in 21 games with Providence, but he hasn't played in Providence since early December. After 20 games with the Boston Bruins, he has 10 assists.
Ben Street
The Abbotsford Heat played great hockey in the fall, and center Ben Street was a big part of that, scoring 17-16-33 points in 31 games. He earned his first call-up to Calgary on 12 January.
Jason Jaffray
Jaffray is the proverbial bone tossed to appease the home crowd, as the squad's elder statesman (born 1981) leads the St. John's IceCaps with 9-15-24 in 37 games so far.
Brian Connolly
The 6th overall pick in the 2010 draft, Brett Connolly has 9-14-23 point playing for Syracuse this season, and he's also logged 11 games with Tampa Bay, registering one goal.
THE COMPETITION
For what it's worth, the Wikipedia entry for Färjestad BK cites the club as the most successful Swedish professional hockey team of the 21st century, owing to its four championships between 2002 and 2011. Their current roster includes some names that may be familiar to some North American hockey fans, including Danny Taylor (G), Shawn Belle and Garrett Stafford (D) and Jack Connolly (F), the 2012 Hobey Baker winner.
THE LOCATION
Raise your hand America if you can find St. John's on a map. I'll spot you a 250 mile radius. You'll never guess. Think New York City. Now go northeast, through Rhode Island, Vermont, all the little states. When you hit Augusta, Maine, keep going, you still have 850 miles to go. St. John's is at the southeastern end of the island of Newfoundland. It looks to be the closest AHL rink, geographically, to Sweden.
By injecting the format with an international flavor; by stacking the roster with high-scoring forwards who have plenty of recent NHL experience, many on high-profile teams; and by scheduling the puck drop so as not to conflict with the Olympics, but rather to attract some of the excitement from them, the American Hockey League is showing its teeth. I for one am thrilled about it.