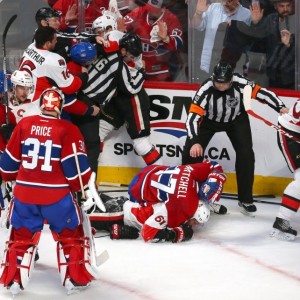 Picture this. David Desharnais, Alex Galchenyuk, Michel Therrien and a referee are all placed in a locked steel cage, WWE style. Surprise, surprise, Therrien and Desharnais team up to attempt to weaken down Galchenyuk. Since this is a hockey style steel cage match, there are different rules than a regular one. Somehow, Therrien ended up with a powerplay and decided to send out Desharnais instead of Galchenyuk (Go figure). The crowd is not having ANY of this and there are boo's from all over the arena. (Oops, did I forget to mention this is also being scripted on ice?). Now just as Galchenyuk was in a position to get himself a victory, Therrien called out some of his favourites in Douglas Murray, Dale Weise and Franky Boullion to make the save and secure a Desharnais victory. Afterwords, Therrien was seen cutting a promo and had the following to say:
"It's a respect thing. I just didn't feel Galchenyuk deserved the win. He's not ready to be a winner yet."
Well, I hope you had a good laugh reading this, but now let's take a look at whether Galchenyuk or Desharnais being at center puts the Canadiens in a better position to succeed.
The Case for Alex Galchenyuk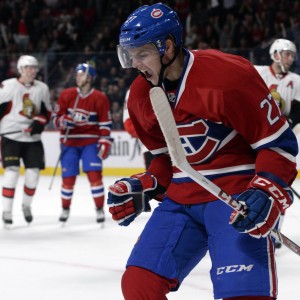 There are no two ways around it, Alex Galchenyuk fell into the Canadiens laps in 2012 and he was selected to be the game changing center that the Canadiens were missing. His development has taken an interesting path since transitioning to the NHL, and has had only a few small stints at center with the rest of his time being spent on the wing. Picking up Alex Semin has made it more of a possibility for Galchenyuk to transition to center this season and this news will make Canadiens fans happier. There is without a doubt still a log jam at center, with Plekanec, Desharnais, Eller and Mitchell set down the middle, but this is where the debate begins, on whether Desharnais or Eller switches to wing and opens up a spot for Galchenyuk at center. Ultimately, Galchenyuk will have to prove his worth down the middle, but first he needs to be placed there. Desharnais makes the most logical sense to play wing, as Eller has looked lost at times on the wing when he has tried to played there and is much more effective down the middle of the ice where he can utilize his vision and skating ability.
Galchenyuk's best asset of his game is his vision and ability to adapt in situations with his slick hands and lethal shot. His vision can't be utilized as much on the wing and this ultimately hurts a Canadiens team that is already very desperate for offensive punch. If you put Galchenyuk down the middle and pair him with Semin and Pacioretty, he will certainly show the coaching staff that he is mature enough to play center and ready for the responsibility. Pacioretty quietly plays Selke level defense and if you look at the advanced statistics, Semin is surprisingly a lot better defensively than he is given credit for. Desharnais has had a few small stints on the wing, and though his play level goes down because he relies on his vision and skating skills and is better suited at center, the upside Galchenyuk has at center is well worth it to make the transition.
The Case for David Desharnais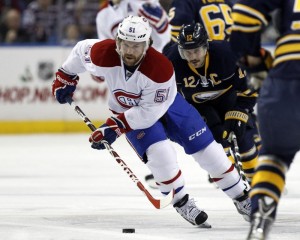 The case for Desharnais to continue on as a center is certainly there, but does it make the most sense for the Canadiens? Lets face it, the Canadiens rely on Carey Price too much and it would be nice to add some goals to this team and not have to have Price steal so many games. Desharnais certainly has value down the middle for the Habs, but his spot there is taking away from the potential that Galchenyuk has there. So therefore we have to look at whether or not to trade Desharnais in order to free up a spot for Galchenyuk at center or to transition him to wing. My answer for this is to give Galchenyuk a hard look at center in the pre season, and really see what you have in him there for an extended look. The 10 games he was a center last season and put up 9 points, that is not an extended look. Im talking about giving him 25-30 games right out of the gate and sticking with it, even if there are mistakes along the way, which there will be because he is human after all and still developing. As a coach, it is Therrien's job to put his players in the best position to succeed in order for the betterment of the team. Therrien has to slowly transition Galchenyuk to center and start with easier minutes and develop him to play tougher competition. It also really depends on if there is even a market for Desharnais to be traded. His contract is certainly not as bad some may see it, but that doesn't necessarily mean you would get anything back for him without taking another teams bad contract. Desharnais can be effective for the Habs, but he has to be used in a role that suits his playing style better, and if you move Galchenyuk to center, I'm not certain there is a fit for him on the roster.
Consensus 
If you look at the data and consider what is better for the Canadiens, the smart money would be to bet that Galchenyuk gets a nice stint at center next season and it will be his job to prove that he belongs there. Desharnais, albeit an asset to the Canadiens when placed in situations where he can succeed, is much better suited playing easier minutes and receiving higher offensive zone starts. If Galchenyuk is placed at center, he will finally be given the chance to breakout and show everyone why he is so highly touted and has the ability to be a massive difference maker in the success of the Canadiens going forward.
Zack joined The Hockey Writers in 2015 and has been writing about hockey for over 4 seasons. He currently covers the Montreal Canadiens and Peterborough Petes for The Hockey Writers.