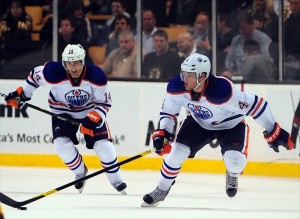 Edmonton Oiler fans probably feel like they've been waiting forever to see their team in game action. Even though most NHL teams opened their season yesterday, the Oilers had to wait a little longer. But the wait is finally over, as the Edmotnon Oilers are set to open their season today against the Vancouver Canucks.
While the Oilers are pumped to get started, the Canucks find themselves limping into this game after getting a beat-down at the hands of the Anaheim Ducks last night. New starting goaltender Cory Schneider was chased from the net after allowing five goals. Roberto Luongo allowed two in relief and is scheduled to get the start tonight against the Oilers. Edmonton will go with a goaltending tandem of Devan Dubnyk and recent call-up Yann Danis, as Nikolai Khabibulin is not yet ready to return from injury.
The Oilers forward lines have been set, and the trio of Taylor Hall, Ryan Nugent-Hopkins and Jordan Eberle will start things off. First overall pick Nail Yakupov and Ales Hemsky will be centered by Sam Gagner on the second line. Ryan Smyth, Shawn Horcoff and newcomer Teemu Hartikainen form the third line, while Ben Eager, Eric Belanger and Lennart Petrell round out the forth line. Rookie Justin Schultz will pair with Nick Schultz (no relation) on defense, Ladislav Smid will line up with Jeff Petry and Ryan Whitney will skate with Corey Potter. Newly acquired Marc Fistric will sit out this game.
The young Oilers are excited to get this season started, and Jordan Eberle did a great job summing up the mindset of the team going into today's game:
"We're really excited, but we have to focus on the things that make us successful, skating and pushing the pace." – Eberle (Edmonton Oilers)
It may bode well for the Oilers to open up the season on the road. Gives the team the chance to bond, and takes some pressure off of the young guys to deliver right off the bat in front of the home crowd. The Oilers will make their home debut on Tuesday against the San Jose Sharks.
There are cautious expectations for the Oilers this season, who are looking to take a step forward as they continue to gain experience. It feels like a fresh start for Edmonton, with a new coach, and a core group set to prove they are growing up. If nothing else, and if the first half of the season in Oklahoma City is any indication, Edmonton will be a lot of fun to watch. Fans just hope all the excitement translates into some playoff hockey. They are certainly due.