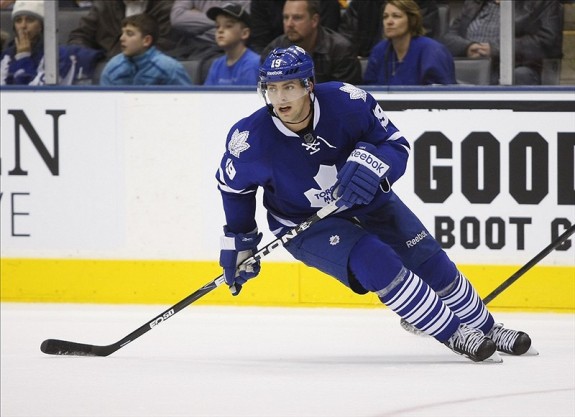 The Toronto Maple Leafs re-signed all-star winger Joffrey Lupul to a five-year contract on Sunday that is reportedly worth a total of $26.25 million. The new deal, which Lupul and the Maple Leafs needed to agree on by July 1, is believed to carry an annual cap hit of $5.25 million through the 2017-2018 season.
According to TSN's Darren Dreger, the contract also includes a limited no-trade clause in which the Maple Leafs can request a list of 14 teams Lupul is willing to move to.
5 year ext for Lupul. $5.25 average salary. Ltd no-trade. Leafs can request list of 14 teams. #TSN

— Darren Dreger (@DarrenDreger) January 20, 2013
Lupul had a career year in 2011-2012 with 67 points in an abbreviated season of 66 games. Those 67 points consisted of 25 goals and 42 assists, putting him second on the team in all three stats.
There is no doubt that Lupul was one of the Leafs' top overall players last season, but was his play worth a cap hit of $5.25 million? The first thing that must be noted is that fact that almost all of Lupul's success came with Phil Kessel.
Read:  More Toronto Maple Leafs News
Like Lupul, Kessel had a career year last season by scoring at a point-per-game pace. They fed off each other night in and night out, resulting in plenty of offensive success for the Maple Leafs.
If head coach Randy Carlyle, who knows Lupul from their days with the Anaheim Ducks, decides to move him to a separate line from Kessel, would he be able to continue his success?
If such a move was made, it's likely that Lupul would find himself on a unit with one of Clarke MacArthur, Nikolai Kulemin or James van Riemsdyk, all three of whom play drastically different styles than Kessel. Although it's unclear just how well Lupul would line up with any of those three, their playing styles just don't seem to match up well enough to replicate the success generated by him and Kessel.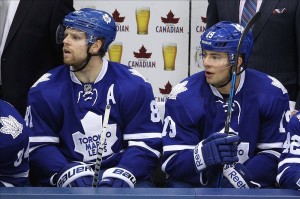 Assuming Kessel and Lupul are able to continue their magic from last season in 2013, the Leafs have reached a more than fair agreement with the 29-year-old scorer. Otherwise we could be staring the next Mike Komisarek contract right in the face.
The crucial relationship between Lupul and the Leafs' top goal scorer from last season isn't the only factor that puts wonder inside the mind of the average Leaf follower. No matter how close you are to the team, you are likely aware of Lupul's past injury troubles. Although those troubles are no longer quite as severe, they still exist.
Lupul went almost an entire year without playing in an NHL game due to a back injury that needed surgery which resulted in an infection. Among other runs of bad luck he has suffered from is a separated shoulder  in March of 2012 that caused him to miss the remainder of last season.
His injury problems may not be quite as extreme as Tim Connolly's but Lupul has certainly ran into his fair share of issues. All the Leafs can hope for on the Lupul injury front is that his string of bad luck ends immediately.
The decision to reach a relatively long agreement on a lucrative contract for Joffrey Lupul isn't all bad, though. Not only has he taken on a leadership role with the Maple Leafs this season, but he is also a strong contributor to the Toronto community.
Pretty good few days for Lupul: Friday unveiled 'Lupe's Troops' initiative, Saturday named alternate captain, Sunday contract extension

— Mark Masters (@markhmasters) January 20, 2013
For those who aren't aware of what it is, Lupe's Troops is a program launched by Lupul and the Maple Leafs where Lupul donates two tickets, jerseys and food to each Leafs home game.
Another positive factor in the signing is that, as noted above, Lupul and Carlyle know each other from the time they spent with the Ducks. Lupul spent two of the three seasons the duo was together in Anaheim dealing with injury issues, but there is no doubt that he still managed to succeed under Carlyle with a total of 80 points in 130 games. That doesn't include the playoffs, where Lupul notched 11 points in 16 games.
No one can argue the fact that GM Dave Nonis and the Toronto Maple Leafs are taking a big risk in signing Joffrey Lupul to a five-year, $26.25 million contract without watching him play for the first few weeks of the 2013 season.
Maybe it's the term, maybe it's the money. No matter what, the end result could be terrible, but it could also be great for both Lupul and the Maple Leafs.
Twitter: @LukasHardonk | Email: lukas.hardonk@gmail.com | Lukas' archive
For every Leafs article on THW, follow @THW_MapleLeafs on Twitter.
Check out Maple Leafs Central, a THW Network site.