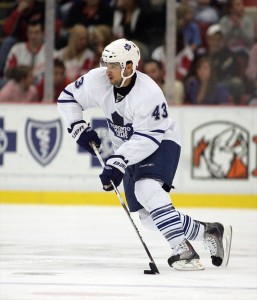 The Toronto Maple Leafs 2-1 victory over the Montreal Canadiens sure wasn't pretty, but it was a step in the right direction for a team that hopes to make the playoffs in this shortened 48-game season.
Both Toronto goals came on the power play, with Nazem Kadri and Tyler Bozak getting the puck past Canadiens goaltender Carey Price, who played well for Montreal, finishing the contest with 24 saves.
At the other end, in a bit of a surprise move to some fans, Maple Leafs head coach Randy Carlyle elected to start Ben Scrivens between the pipes. Scrivens struggled with a number of rebounds and some poor positioning at times, but his overall game was good enough to earn the win. Scrivens, who was the second star of the game, stopped 21 of 22 shots, giving up his only goal to Canadiens forward Brian Gionta (a power play marker) midway through the third period.
Forward Nazem Kadri continues to impress the Leafs' brass, scoring the opening goal and looking dangerous offensively throughout the contest. Despite only playing a total of 09:53, Kadri earned first star honors, registering the goal, two shots, four hits and two penalty minutes for his tough hit on Canadiens defenseman Andrei Markov.
Defenseman Mike Kostka had an exceptional debut for the Maple Leafs, assisting on Kadri's power play marker, and looking very much at home throughout the contest, finishing the night with 22:59 of ice time, which was the second highest on the team.
Captian Dion Phaneuf led all players with 26:43 of ice time. Phaneuf played a solid game, assisting on Bozak's goal and a couple of blocked shots.
To be fair, both teams looked lethargic at times, especially in the second period, and struggled to find their chemistry throughout the night, often giving up the puck and taking a number of penalties. If not for the play of the goaltenders this easily could have been a 5-4 game.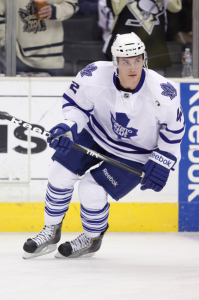 Toronto struggled in the faceoff circle, winning just 21 of 55. Bozak was quick on the draw most of the night, but even the Maple Leafs best faceoff man managed only a 43% success rate.
Meanwhile, hard luck defenseman Mike Komisarek had a very good game for the Maple Leafs, finishing second in hits (6), first in blocked shots (4) and limited his giveaways to just one over 16:27 of ice time.
New addition Leo Komarov registered eight hits and looked good in an antagonistic role. Komarov saw 12:56 in ice time, look for that number to increase as the season roles on and Komarov's value increases.
Phil Kessel led all players with two assists, proving again that, despite his defensive short comings at times, he can put up points with the best of them. Meanwhile, Boston Bruins forward Tyler Seguin and defenseman Dougie Hamilton combined for zero points in a 3-1 win over the New York Rangers. Just in case you were wondering.
Acquired in the off-season for defenseman Luke Schenn, forward James van Riemsdyk was all but invisible in his debut with the Maple Leafs, registering one shot, one hit and two penalty minutes. With just 13:48 in ice time, Riemsdyk was used sparingly. He will have to find his niche if he intends on getting more ice time from Carlyle. For the record, Schenn played 17:11 for the Philadelphia Flyers in a 3-1 loss to the Pittsburgh Penguins, registering a plus-1, two hits, two giveaways and one takeaway.
The Maple Leafs will now put their perfect season on the line when they turn their attention towards the Buffalo Sabres, who will be in Toronto to play the Blue and White on Monday. Buffalo will meet the Flyers today, so look for them to be tired when they arrive at the ACC.