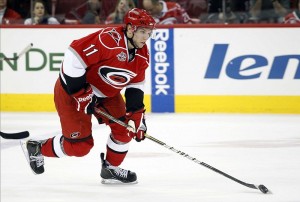 Take a deep breath and relax. Yes, the Carolina Hurricanes lost, and, yes, it wasn't pretty or promising. But, this isn't the end.
Cam Ward didn't look too great in net last night, but maybe he just needs a little time to shake off the rust of an extended off-season. It was the first period full of power play goals that threw off Ward and the rest of the team.
The offense wasn't present for Carolina either, but there were some great chances to make this game more of a contest in the second and third periods. The game would have been tied if the first period didn't count.
So let's face it: It could have been worse. The Detroit Red Wings were shut-out 6-0 by the St. Louis Blues (not that we should justify the loss by comparing it to the surprise downfall of a quality team).
This game needs to be put in perspective. The Hurricanes lost one game, and it was against a solid Florida Panthers team—a team that probably would have advanced far in last year's playoffs if it wasn't for clutch performances by Martin Brodeur. And yesterday's game was played in an arena still feeling the rush of last year's playoffs.
Remember, there are 47 more games left in the season.
Keep in mind that the pieces of success can be seen on the Hurricanes' roster—Jeff Skinner, Eric Staal, Jordan Staal, Justin Faulk, Alexander Semin, and Cam Ward. It's just a matter of time before we see the makings of a cohesive team.
So now isn't the time to turn off the TV or to stop caring about the season; save that for the summer. Prepare to see the growth of a team that needs a little time to build chemistry throughout the season.
Becoming a contender in the Eastern Conference will be a process that may be long and difficult for the Hurricanes. But, who knows, maybe this first game will act as a wake-up call.
It's not like hockey is ever a predictable sport.