By Mike Miccoli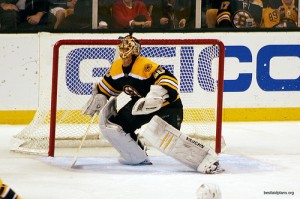 Remember when David Krejci reminded everyone that hockey was really just a game of seconds on Thursday night?
Yeah…about that.
With about 100 seconds left in Saturday's game, the Boston Bruins were clinging onto a one-goal lead against the one-win New Jersey Devils. After a double-minor high sticking call against Torey Krug, followed by a delay of game penalty on Patrice Bergeron, the Bruins would be outnumbered by two. Exit Martin Brodeur, approximately 39 minutes later than everyone would have guessed after allowing three goals on eight shots in the first period, enter the extra attacker for the Devils, who were already two for four on the power play, and you'd double the amount of New Jersey skaters on the ice against Boston's.
It only took 23 seconds for the Devils to score twice on the power play to take the lead and the eventual 4-3 win.
Game of seconds, right?
It was an uncanny night for the usually defensively-sound Bruins, allowing four power play goals on seven attempts against a Devils team that entered Saturday night's game five for 33 with the man advantage.
"I don't think I've ever seen anything like that," said Tuukka Rask, allowing a season-high four goals in the Bruins' loss. "They ripped us apart."
The Bruins had two, two-goal leads in what looked like a lightning fast start that caused Peter DeBoer's Devils to use their timeout after Brodeur allowed a second Bruins goal in as many shots. Brodeur bounced back, making 29 saves for his first win of the season and New Jersey's second of the year. It was a bizarre meltdown for a Bruins team that was playing in their third game in four days.
"I don't know if they were that good or if we were just not on top of our [penalty kill]," said Rask. "You're leading by two at the end of the first, you should definitely have everything under control and then we just let up a little bit and someone lets one goal gain and it's anybody's game."
The Bruins opened the scoring in the first on the power play when Krug ripped a slap shot past Brodeur for his fourth goal the season. Goals from Jarome Iginla and Milan Lucic followed, bookending Adam Henrique's tally, New Jersey's first power play goal of the evening. The second period, however, brought out a more-determined Devils squad and a lackadaisical Bruins club.
"I think we're confident we have the lead, we think we can hold it" said Iginla, who finished with a goal and two assists on the evening, a part of each Bruins score. "It was just the second period that we weren't as good. We weren't skating as well. We weren't first to the pucks like we were in the first period. You give them credit, they got better. But the third, with the lead by one goal up until the last four minutes, it was the way we want to play that.
"Being at home we'd like to put them away, but we weren't able to. They hung around and they got the power plays late and they took advantage of it."
First goals from defensemen Marek Zidlicky and Andy Greene served as the game-tying and game-winning goals for the Devils on the power play. Bruins coach Claude Julien commented on the Bruins having "too many mediocre players" in the loss, something they'll want to address right away with some time until next Wednesday's tilt against Pittsburgh.
"Three games in four nights isn't always an easy thing to go through," said Julien. "You wish you could have pulled this one through and had a real good week but unfortunately that wasn't the case. We have to regroup, and another back-to-back and another three in four coming up there next week so hopefully we learn from that."