The only news that's coming out of the Canucks dressing room today is much of the same – Roberto Luongo is starting Game Two on Friday night. And, not much else to announce.
There is little comfort in that Game One's 3-1 loss to the San Jose Sharks wasn't completely Luongo's fault. At least he showed up for the first two periods. The whole team in front of him however, was a complete no-show. Here are the messy highlights:
The Sedins didn't show up, Ryan Kesler sort-of showed up, Kassian was gooning it up at the wrong place & time, and the Canucks top scorer of the season, Alex Burrows, registered zero shots. The offense as a whole was simply non-existent. The greatest asset that the Sharks carry is their ongoing ability to frustrate their opponents. They blocked shots, forechecked aggressively, made the Canucks regroup, and regroup, and regroup until they coughed up the puck a few times at the Sharks zone. The Canucks' offense simply didn't show up and the pressure is on. They can't afford to go to San Jose down two games to none. Talk of sweep has become very rampant once again, because the Sharks have made it so easy to frustrate a supposedly talented "offensive" squad.
Wee Little Shark…with Bite
Logan Couture played a heck of a game drawing penalties and scoring when it counted. He earned a goal and an assist in Game One, and he has really elevated his play under the shadows of Big Joe Thornton, Little Joe Pavelski, Patrick Marleau and other experienced forwards. The great thing about playing in San Jose is that the Sharks aren't the only sports gig in town. There's the neighbouring San Francisco Giants and 49ers to occupy the sports scene. It's hard to believe that Couture has been playing in his fourth full NHL season since he was drafted in 2007. You could say that he has slipped under the radar, scoring 32, 31, and 21 goals in the last three seasons without drawing much attention. His 7 goals in the 2011 playoffs was stellat until he was defeated by those same Canucks in the Conference Final. If Couture leads the offense again, he could be moving toward bigger and better things this postseason.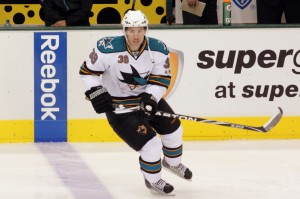 Canucks Must Muster Something
With Cory Schneider still missing in action because of the "mystery injury," Coach Alain Vigneault shook up his lines, however leaving the first line of Zerrows-Twin 1-Twin 2 intact. While that is somewhat comforting, it doesn't discount the fact that everyone else MUST contribute in Game Two. The players to watch for:
Zack Kassian (0 shots) – The callers on the TEAM 1040 phone-in show at the post game were very critical of Kassian. His goof of a penalty on Couture cost the Canucks the lead and then the eventual game. He looked lost playing on the Sedin line briefly. If he can't score, he needs to contribute at least by forechecking without taking dumb penalties.
Derek Roy (2 shots) – Although he hit the crossbar, Roy needs to continue to show his trade worth to GM Mike Gillis. He was traded from Dallas to help alleviate the depleted centre position. In this postseason, he must continue to get this chances, perhaps by sticking with Chris Higgins and Ryan Kesler if he's really, really healthy.
Alex Burrows (0 shots), Mason Raymond (4) & Jannick Hansen (2) – These three were hardly in play every time they enter the Sharks zone, they either cough up the puck or turn away from the goal area. Speaking of goal area…
Canucks Defense – They must dig deep. Dan Boyle was able to walk in undetected and score the game winner. With the exception of Kevin Bieksa's phantom goal courtesy of former Canuck Raffi Torres, the defense needs to answer back and get into the grill of Antti Niemi if they want to improve their scoring opportunities.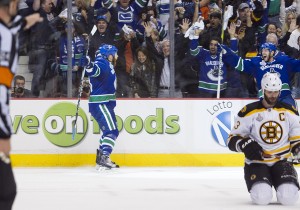 Everyone wants Game Two to start, and it can't start soon enough for a club that's desperately looking for something, anything, to get their offense back in gear. Rogers Arena used to be an intimidating place. So far, San Jose is soaking up the moment, just like Los Angeles, Boston, and Chicago have before them.
All roads to the Stanley Cup have gone through Vancouver in the past three seasons. And if San Jose happens to win it all this year, many Canucks fans are going to have a fit.