One fact was pretty clear before the start of the Minnesota Wild's first round series against the Chicago Blackhawks. The Wild would need their rookies to step up and be counted in their first ever playoff action. That fact was only reinforced after Minnesota were edged out 2-1 in overtime in a fascinating and tightly played Game 1.
Playoff hockey is a significant step up from the regular season. That was very evident in Tuesday's opener, but Mike Yeo had his team ready and in pretty good shape to start Game 1. In fact, the Wild arguably had the better of the first period and entered the first intermission with a 1-0 lead courtesy of a Cal Clutterbuck tally. Minnesota acquitted themselves significantly better than the likes of the New York Islanders and Toronto Maple Leafs, who both looked out of place in their first playoff action for several years.
Five of Yeo's starting six blue liners were seeing their first ever playoff action on Tuesday, as were four of the forwards. This is a team that will have to learn as it goes against their high-powered opponents and a team that will rely heavily upon young players to play pivotal roles. Rookie wingers Charlie Coyle and Jason Zucker, and blue-liner Jonas Brodin are particularly important in that equation.
None of Coyle, Zucker and Brodin were expected to break through during the shortened 2013 season. They were all expected to be top end prospects refining their games in the AHL with the Houston Aeros. However, all three ended up being crucial parts of the roster that claimed Minnesota's first playoff berth since 2008. All three will need to take their games to the next level if the Wild are going to pull off a first round upset.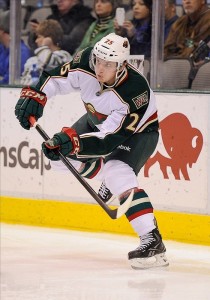 Jonas Brodin: The Veteran Rookie
Brodin has unquestionably been the story of the season for Minnesota. The 19-year old came into the line-up at the end of January and was quickly promoted to playing on the top pair alongside Ryan Suter. That's a place he has occupied pretty much ever since. He averages more than 23 minutes of ice time per game, is a defensive rock and transitions the puck smoothly and calmly.
He was played with Suter in Game 1. That pairing saw a huge amount of ice time and played a critical role in helping Josh Harding to stifle Chicago's offensive star power. He took 41 shifts and played 34:20 minutes of ice time in his playoff debut, a real baptism of fire.
Brodin's value is so important to this team. The blue line is frequently described as the weak point of this Wild team. Yeo will lean heavily on his rookie to cover up any deficiencies in the group as a whole. Brodin will need to continue to playing at a high level. Based upon his demeanor and temperament, there's no reason to bet against him. [See also: Jonas Brodin, the Calder Trophy and Everything Wrong with NHL Awards].
Charlie Coyle: The Perfect Top Line Compliment
Yeo has faced a challenge all season long searching for his ideal line combinations. At the start of the year he loaded up with Dany Heatley playing alongside Zach Parise and Mikko Koivu, but the team struggled to get scoring from other lines. He then mixed his lines around, but ultimately struggled to find a player who complimented Parise and Koivu effectively enough to form a true top trio.
The answer was Charlie Coyle. The 21-year old had a promising but ultimately unsuccessful five-game stint at the start of February. He was recalled again at the end of the month and never looked back. Standing at 6'2″ and weighting 205 lbs, Coyle quickly adapted physically to the NHL. With good skating, strong puck cycling ability and a well-rounded offensive skill-set; Coyle proved himself to be the perfect compliment to Parise and Koivu.
Coyle's regular season numbers don't stand out. However, he did score two goals and five points in the final six games and is undoubtedly an important facilitator for the top line's success. His presence on that top unit has also allowed for more balanced forward lines overall.
In this series the Parise-Koivu-Coyle line needs to be productive. Coyle saw more than 20 minutes of ice time in his first playoff appearance and played a pretty good game. The Wild will be looking for their young talent to up his game once again tonight.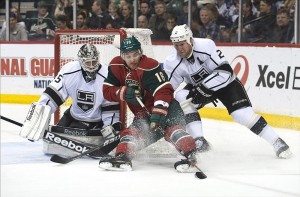 Jason Zucker: Secondary Scoring
Zucker played in only 20 regular season games and he hasn't tallied a point since March 10. However, the 21-year old's role in this first round playoff series isn't much less significant than that of either Brodin or Coyle.
He was conspicuous in Game 1 breaking past the outside of the Chicago blue liners on a couple of occasions and picking up chances driving to the net. He's currently playing on a line that enjoyed success at the beginning of March. Yeo is hoping that Zucker, Devin Setoguchi and Matt Cullen can re-discover that chemistry and provide valuable secondary scoring. That lines contributions are even more important with Dany Heatley sidelined for the postseason and Jason Pominville sidelined for at least Game 2.
Minnesota need to continue to match Chicago's speed in this series. Zucker and his fast, north-south style of hockey are a key ingredient in that match-up.
Brodin, Coyle and Zucker all played pretty well in their postseason debuts. However, as intense as the NHL playoffs are, they are also relentless. Yeo will lean on his rookie trio heavily once again in Game 2, and how they respond to the pressure and the competition against the Blackhawks will be a key factor if the Wild are going to pull off an upset.
Seb has been writing about the NHL and ice hockey online for over a decade. A long-time passionate Bruins fan, it's a dream of his to be writing about this team, but don't expect him to hold back from telling some hard truths when necessary. Follow him on twitter @seberead