Lars Eller goes down as Canadiens lose first game of opening round series against Ottawa Senators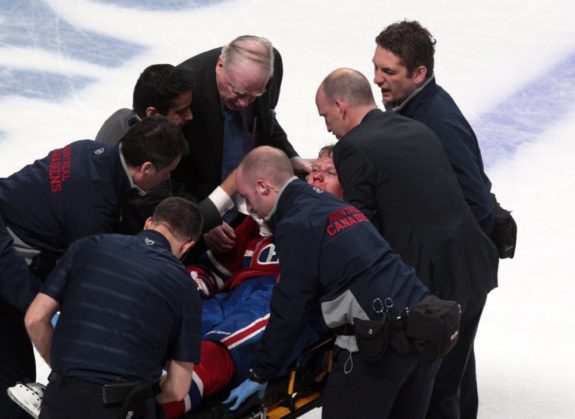 Hockey. It's a rough sport. Things happen. Things happen at a fast pace. Very fast.
Now fast-forward (or is it rewind?) to last night's tilt in Montreal where the Habs faced off against the Ottawa Senators in Game 1 of their opening round series. The Canadiens finally got one past Halak-a-like goaltender Craig Anderson when Rene Bourque roofed a backhand up under the bar, and shortly thereafter bam!
A player lay flat on the ice.
That someone was Lars Eller. Number 81 was streaming across just inside his own blueline when Raphael Diaz passed sent the puck his way. Eller unfortunately had his head down to receive the pass and boom! Eric Gryba clocked him silly–shoulder catching face dead-on–sending the young Dane into the air before landing face first onto the ice. He lay there, listless… unresponsive.
Gryba was given a major and game misconduct. The league will surely review it, and maybe even give him a suspension. After all, Eller's head took the entire hit.
But ultimately, the consensus after the game was that the hit wasn't vicious. Sens Head Coach Paul MacLean in his post-game presser summed the play up as "a hockey play gone bad," referencing Scott Stevens and Doug Harvey. And though it's sad that Eller was carried off on a stretcher, having suffered a concussion, a broken nose and damage to a few teeth — he's right.
It was a hockey play gone bad. Therrien didn't want to discuss it afterwards because he too knows that ultimately, d-man Diaz put Eller in a very tough position by making that pass up the middle and Eller too suffered a lapse by not having his head on the proverbial swivel.
And though the Canadiens scored early on that powerplay to make it 2-1 with Brendan Gallagher's first-ever playoff tally, they couldn't get another past the simply amazing Anderson on this night, including during a 5-on-3 that lasted almost a minute and a half. The Sens got a huge lift from their goaltender and their penalty kill, and stole the game in the third.
Eller's hit and result was shocking and evoked Max Pacioretty's injury two years ago. And like then, the energy in the building completely changed. For the worse.
The Canadiens sagged instead of rising to the occasion and not capitalizing on the 5-on-3 to build their lead was the turning point of the game. That and Carey Price letting in a softie off of Jakob Silfverberg to tie the game early in the third period. After that, Price fell back on his heels and fought the puck the rest of the way through. Two more goals including another bad one resulting from a soft rebound that richocheted off of none other than Guillaume Latendresse… and c'est le match.
Ultimately, the Senators' impact players outplayed the Canadiens' impact players. Anderson Halak-ed the Canadiens and Carey Price, who looked strong and aggressive in the first two periods cracked in the third and deflated his team. He needs to be better.
Erik Karlsson was also a difference maker and got the Sens on the board in the first period. Subban couldn't equal his superstar counterpart.
And the Canadiens need a lot more from the Plekanec line if they are to advance. If they are to win Game 2. That's for sure.
But there were positives. If the Canadiens can play for 60 minutes like they did for 40 minutes last night, good things will happen. If they use the Lars Eller hockey play gone bad as a rallying cry, as a team they could rise above it.
Now is a time for character. We know the Canadiens have it. Let's see if they can use it. Luckily they don't get much time to think about it as Game 2 goes tonight.
Did you know I'm on twitter, usually tweeting live during games!? It's true! @HabsFanLeafLand
I'm a goalie — apparently that says a lot. Writer, producer and bon vivant I'm from Montreal but live in Toronto and write from that perspective on HabsFanInLeafLand.com. Young enough to be hip; old enough to remember where I was when Guy Lafleur scored against the Bruins in the infamous "too many men" game in the '79 playoffs. Can you say that?
You can contact Ari Grief on Facebook or on twitter @habsfanleafland