Former NHL enforcer Georges Laraque wants to be the next man to fight "Iron Mike" Tyson who's preparing for his upcoming Nov. 28 exhibition boxing match against Roy Jones Jr. on American Thanksgiving weekend. In an interview with the French-language Montreal radio station, 91.9 Sport, Laraque claimed that arrangements for the fight "are 75% done."
Tyson has announced that his share of the purse from the fight will be donated to charity. Laraque has also said that proceeds from his own proposed Tyson fight would be donated.
Tyson, of course, was one of the most feared fighters in the heavyweight boxing game. Laraque was one of the most feared in the NHL.
Mike Tyson's Career
Tyson was Heavyweight Boxing Champion from 1987-90, successfully defending his title nine times. He was the first heavyweight boxer to simultaneously hold the WBA, WBC and IBF titles. His career record is 50-6 with a 75.9% knockout average. He was the youngest boxer to win a heavyweight title.
Related: Georges Laraque – Ask the Alumni
Earning the nicknames "Iron Mike," then "The Baddest Man on the Planet," Tyson won his first 19 professional fights by knockout, 12 of them in the first round. He is probably best known for biting off a piece of Evander Holyfield's ear in a 1997 World Boxing Association (WBA) heavyweight match. Tyson was disqualified from the match and lost his boxing license.
At 5-foot-10, Tyson has reportedly lost 140 pounds from his highest ever weight for his upcoming match against Jones. Despite this, he will still tip the scales at a hefty 240 pounds.
Georges Laraque's Record
Eleven years younger than Tyson, Laraque is 6-foot-4 and HockeyDB.com lists his playing weight at 245 pounds. He has never fought professionally, but he did grapple with Mixed Martial Arts champion (MMA) Georges St-Pierre in a three-round exhibition match where Laraque did not score any takedowns.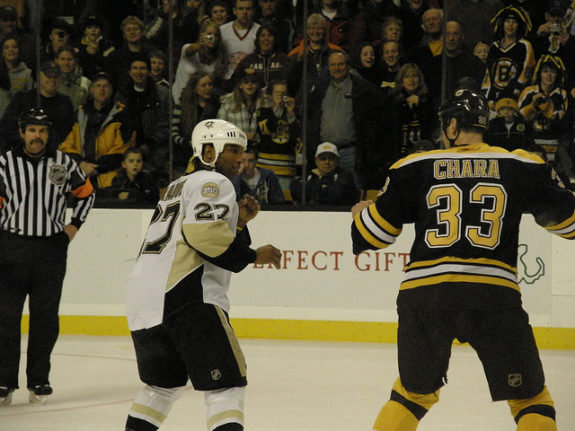 A skillful fighter on the ice, Laraque's name appears often on the list of best hockey fighter ever. While there is no wins vs. losses record, Hockeyfights.com lists him as having had 131 career fights playing for the Edmonton Oilers, Pittsburgh Penguins, Montreal Canadiens and Arizona Coyotes. He backed down from no one, repeatedly facing feared enforcers like Derek Boogaard, Stu Grimson and Donald Brashear.
| | | | | | |
| --- | --- | --- | --- | --- | --- |
| Rank | Player | Number of Fights | Rank | Player | Number of Fights |
| 1 | Matt Johnson | 11 | 6 | Donald Brashear | 4 |
| 2 | Stu Grimson | 7 | 7 | Todd Fedoruk | 4 |
| 3 | Jody Shelley | 6 | 8 | Eric Godard | 3 |
| 4 | Wade Belak | 5 | 9 | Steve McKenna | 3 |
| 5 | Derek Boogaard | 4 | 10 | Darcy Hordichuk | 3 |
Laraque's Most Frequent Fighting Opponents (Hockeyfights.com)
Other NHL Players Who Boxed Against Professionals
Brashear played parts of 18 seasons in the NHL for the Canadiens, Vancouver Canucks, Philadelphia Flyers, Washington Capitals and New York Rangers, putting up 2634 penalty minutes. During the 2004–05 NHL lockout, Brashear used the time to fight as an amateur boxer, compiling a 2–1 record. Later on, he trained with former heavyweight champion Smokin' Joe Frazier.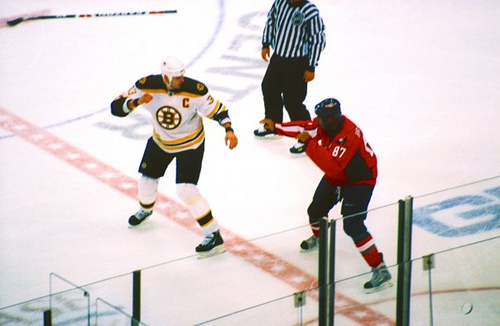 Dave Semenko, another ex-Oiler high on the all-time "best fighter" list, fought in an exhibition match against Muhammad Ali in 1983. The three-round exhibition fight in Edmonton was arranged by Mark Messier's uncle, Larry, and took place in front of an estimated 6,000 fans.
They fought to a draw, "though that's likely only because Ali spent much of the three rounds toying with Semenko," wrote Jared Clinton in 2016. Ali was killing time, pretending to be injured by Semenko and doing the patented "Ali-shuffle," waiting until the final minute to throw a few punches that bloodied Semenko.
Related: Oilers' Semenko Was a Special Guy
Who Would Win a Tyson-Laraque Fight?
Hockey analyst and former NHL executive Brian Burke noted recently on the Edmonton radio show, Oilers Now, that he thought Laraque would have a chance against Tyson because he has power and excellent technique. He added that he was genuinely scared for his own brawlers when his teams faced Laraque and recalled that Laraque ended fellow enforcer Grimson's career in a fight.
I disagree with Burke. Fighting in the ring is very different from fighting on skates on ice bashing visors and helmets with un-taped bare fists. It's comparing apples and oranges, pond shinny with your family on Boxing Day and lacing them up for Game 7 of the Stanley Cup Final.
Even Georges knows that:
"It's not what people are thinking," Laraque said from Montreal. "I'm not that dumb, but a lot of people who don't know boxing, that's what they're thinking about. Online, you see people calling me crazy, saying I'm nuts, that what am I thinking that I could beat him? They don't understand. I'm full of energy, but my head is all there. I know what's a good and a bad situation. I'm not in a state of mind where I'm going to do something irrational that would hurt myself, you know? Imagine if I said, 'Are you kidding me? I'm going to knock him out.' I mean, come on."
Thankfully, Laraque understands that any exhibition match against Tyson would be for entertainment, not boxing, like Semenko's bout against Ali.
Laraque vs. Semenko
Laraque would win a boxing match between the two, but Semenko was the more effective enforcer. Laraque was, no doubt, a feared fighter, but he was very much a gentleman, even in the enforcer's role. He would ease when a challenger was outmatched and never deliberately tried to hurt an adversary.
That's well and good when it comes to a one-on-one fight, but the enforcer's role was not just to beat their opponent in a fight but take the momentum away from the opposing team and create space for his teammates or ensure that the opposition didn't hurt their team's most skilled players. Semenko was more effective in that role.
Will the Fight Even Happen?
"75%" does not equal "done." Nor has Tyson given any indication he is interested in the bout at this point. I respect Laraque for the honour and dignity he showed doing the hardest job in hockey, but I'm not sure if there is a market for this fight, especially in the COVID era. I, for one, am already tired of seeing old-man slap fights in the last US Presidential election coverage. As for fighting Tyson? I'd careful of biting off more than I could chew.
---
---