There is something about a guy who was once a no nonsense cop that became a Stanley Cup winning coach. In between, Pat Burns was unabashed and gruff but he certainly was never dull. The truth is that Coach Burns may not have been the world's best hockey coach but he was something more. This was a guy who was the best man.
"Burnsie" as he was affectionately called by so many was the epitome of class acts. One had to respect the way he handled media, players, and the such. Granted there were moments where he just flat out lost it but that passion is what made him, Mr. Burns.
His coaching record was only 14 seasons in length but in that time, Burns went 501-353-151. It just seemed that Pat Burns battled it early, late, and often. Nothing ever really came easy for a Burns coached team but they could never be counted out. Burns won three Jack Adams awards in his career and his teams made the postseason 11 times.
As for coaching style, the cop was a cop on the beat err on the ice. There were many players who bluntly said, "If we did not do it his way, we did not play".  One of the best quotes I remember about Pat Burns was from former New Jersey Devils player, John Madden. This was the simple, honest truth.
"He tells us exactly what he wants," John Madden, who played for Burns on the Devils, once said. "If you don't do it, you don't play. He's very strict. He brings an edge. He wants honest, solid hockey. If you don't give it to him, he gets mad."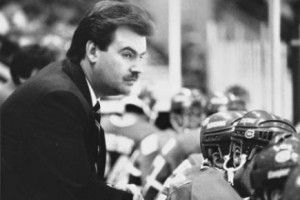 This was a coach who demanded and expected 110% all of the time. There was a New York Times article that was so succinctly perfect. He was a man who was never overly happy on the surface but there were just times where it would peak through.
One of those times was the 2003 Stanley Cup Final. New Jersey would go on to win in seven games and in that seventh game, there was a point where one could see Burns finally let it all sink in. It was a moment no one will ever see but those who were at that game do distinctly remember it. When Jeff Friesen scored to make it 3-0, Burns cracked the largest smile probably anyone ever saw. He had finally done it. Pat Burns had won his sport's most signature prize and was able to raise it above his head with a pride like no one could imagine.
The press conference afterwards was of sheer simplicity and yet his family was very much prominent. What few remember was how much of a family man Pat Burns was. Here was a coach and a man who was one in the same. The austere public man was anything but in private. He was humble, full of class, and most importantly had an undeniable fighting spirit. It was that spirit that truly would touch us all later.
In the season after the Stanley Cup, Pat Burns may have been enjoying the best regular season of his coaching career when injury struck Scott Stevens. Stevens would eventually have to retire due to post-concussion syndrome. It was not even into the new year and New Jersey was nearly 20 games over .500 with the best record in the NHL. Burns was able to steer the team into the playoffs but by March something was clearly wrong. It was later to be determined as colon cancer, which caused Burns to prematurely retire. He did stay in the New Jersey organization as a special scout.
Burns would later defeat liver cancer in 2005 and even as late as 2008, it seemed like he was well enough to potentially make a comeback. However, at the time, the coach seemed apprehensive. Maybe he did know something. The cancer had begun to spread again and by January of 2010, the cancer was into his lungs.
This was a man who had fought so long and yet his former professional life was impacted by him. He never did get to see the completion of the Pat Burns Arena but he was there for the groundbreaking. Burns succumbed to cancer on November 19th, 2010 at the age of only 58 years old. His funeral made headlines unfortunately when Line Burns' car was robbed. However, the story is much more than all of this.
=======================================
The Hockey Hall Of Fame
=======================================
There were a few chances for Pat Burns to enter into the Hockey Hall Of Fame. The movement began early in 2010 when it became apparent that this version of the cancer was looking more and more likely to be fatal. It was something that began to grow in its media and fan attraction but in the end, Burns was never voted into the HHOF. After he passed away, there was another push last year but that ultimately fell short as well despite the pleas of so many hockey dignitaries.
Then yesterday, the 2012 class was named and once again, there was no mention of Mr. Burns. Was the class deserving? Yes they most certainly were but the biggest problem may be the glut of "builders". Besides Burns, you have Don Cherry and Fred Shero, who were iconic hockey figures in their own right. When a selection committee has three such choices, how can there be any kind of consensus?
Adam Kirshenblatt is a Hockey Hall Of Fame writer who is an expert on the political side of the hockey business wrote a very detailed article yesterday on the process.
Just for the record, here was this year's selection committee:
The Selection Committee comprises of:
Pat Quinn (Co-Chairman)
Jim Gregory (Co-Chairman)
Scotty Bowman
David Branch
Brian Burke
Colin Campbell
John Davidson
Eric Duhatschek
Mike Emrick
Michael Farber
Marc de Foy
Mike Gartner
Anders Hedberg
Igor Larionov
Lanny McDonald
Serge Savard
Peter Stastny
Bill Torrey
Take a long and deep look into this list and just think about how much hockey these guys have forgotten, because that is more hockey than you and I will ever know. It really is true. This is where the balancing act begins because one realizes well why isn't Fred Shero or Don Cherry already in these hallowed halls? The answers are murky at best but clearly there are always a little politics tossed into any discussion like this and bridges are burned. There is no question about that.
However, with so many chefs in the kitchen, disagreements are bound to happen. They have to form a relative consensus after all and that is why only four players were voted for induction this year. Should there have been a builder? Yes, all three mentioned are very deserving but it was not meant to be.
Pat Burns made a profound impact in the hockey world that still permeates to this present day. Why? Because his work as a scout was immeasurable to the New Jersey Devils organization. In his last few years post coaching career, Burns found the time to teach so many. He was a great teacher and that often gets overlooked in these debates. Add in the fact that his scouting led to several present Devils players being drafted and one can make a stronger case.
Yet this all pales in comparison to the man himself. Pat Burns was a prideful man who was a legend because he was just what he was. Simply Burns was a great human being who was a cop on and off the ice. Hopefully someday, the selection committee and the NHL figures out a way to nominate at least one builder minimum for induction each year because there are so many others that are worthy.
What do you think hockey fans? Should the selection committee have to place at least one builder into the Hall each year or should the process stay the same. We leave the floor to you right now not only on that but also on who should have made the Hockey Hall Of Fame for this year. Let us have it!
Simply a hockey writer who is a jack of all trades. No question is too big or too small and in fantasy hockey there is no such thing as a stupid question. Now a proud, accredited member of the FSWA. I am also a New Jersey Devils lead writer, prospects writer, humorist, and so much more. You can find me on Twitter at @ChrisWasselDFS