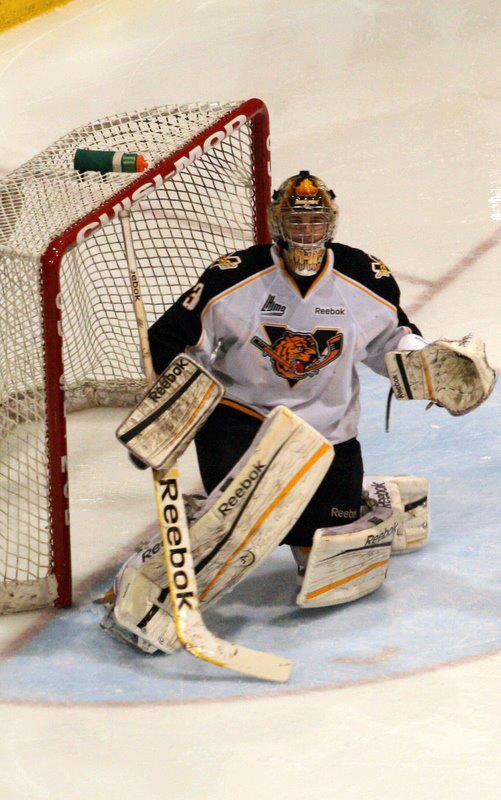 Nova Scotia isn't known for being a high producer of top quality hockey talent.  Until recently, the claim to fame for Nova Scotia has been Sidney Crosby, arguably the best player to come from the Maritimes of Canada.  Coming from Cole Harbour, Crosby was noticed at an early age, and has propelled his way to National Hockey League stardom.
While it has traditionally been recognized that most players emerged from the urban centers like Cole Harbour and Halifax, some small town players have emerged as well.  Hall of Fame defenseman Al MacInnis came from the small town of Port Hood, Cape Breton.  Former Boston Bruin Glen Murray came from Nova Scotia's south shore, calling Bridgewater home.
Now another small town player is set to break out on the big stage.
The Annapolis Valley of Nova Scotia is home to several tiny communities.  One of these communities lies at the base of the North Mountain.  Centreville is a tiny community of approximately 1050 people.  One of these Centreville residents has set his sights on the NHL.
Brandon Whitney, 18, was the number 2 ranked goalie in North America.  He was eligible for this year's NHL entry draft, held June 22 and 23 in Pittsburgh.  Combining size and skill, Whitney has fought his way out of the Valley and onto the big stage.  He played high school hockey in the Valley for the NKEC Titans, and was instrumental in leading his school to provincial success.  He then moved on to the Valley Wildcats Midget AAA club, where his outstanding play caught the eyes of scouts.  He was drafted to the QMJHL's Victoriaville Tigres, but his first season was anything but memorable.
"The experience taught me a lot about hard work and showed me how good I really needed to be. Honestly I wasn't ready to play last year," Whitney remarked in his first year's assessment.  He appeared in only 26 minutes his first season with the Tigres before being sent back to Midget AAA, and the Halifax Taylar Made Titans.  It was a move Whitney now recognizes was important to his development.
"I was lost my first year.  Being sent back for the one season was probably the best thing for me," Whitney said.  He was right.  After helping lead the Halifax squad to a successful season, Whitney reported for the Tigres' 2011-12 training camp with a new attitude.  It's rare when a rookie goaltender snaps up most of the playing time for a higher ranked CHL team, but Whitney won the starting job and ran with it, posting a 22-4-0-4 record, including two shutouts.  He posted a sparkling 2.74 goals against average, and he credits his years of high school hockey for some of his success.
"It helped me both mentally and physically," Whitney said.  "Being 3-4 years younger than the rest of the team helped my maturity and my athletic ability.  The crowds helped me also. My first game (in the QMJHL) against the Quebec Ramparts was sold out! 12000 people!  I wasn't as worried as you'd think though, having played in Canning rink filled with your closest friends."
Even after the NHL draft, Whitney remains focused on what is right in front of him.
"Right now I am training hard trying to help my Victoriaville team next season," said Whitney  " It's my dream to get a shot with an NHL team for sure, but my season with Victo will really show if I have what it takes to make it."
It's a maturity that few his age have shown. With his positive attitude and skill set Whitney has fought his way through a relatively unknown hockey program from the Annapolis Valley, and despite his success, he has never forgotten his roots.
"It means a lot that people are pulling for me back home and encourages me to further myself," Whitney commented when asked about his Maritime roots.  Indeed, his play has captured the hearts of Valley residents who have had the privilege of watching him play.
How did the Brandon Whitney saga end on June 23?  He was drafted 191st by the Chicago Blackhawks.  He will be attending the Chicago Blackhawks' rookie camp later on in the summer.
For a teenager from Eastern Canada, another hockey dream has come true.
Born in the Annapolis Valley of Nova Scotia, and living in Port Williams, Nova Scotia, Justin has been involved with hockey for over 15 years. He has written for local newspapers from 1994-2009. He brings a combination of passion and humor to his articles that frame his love of hockey. His style includes opinion pieces and historical fact. He finds game reviews "boring on their own" and aims to bring each piece to life in its own way. He currently owns www.openingfaceoff.net, and is looking forward to contributing regularly to thehockeywriters.com.