A grinder, a penalty-killing specialist, and a heart-and-soul player. All three of those accurately describe Brandon Prust. However, one description that most likely won't be accurate for Prust after July 1st is a 'forward for the New York Rangers'.
According to multiple reports, Prust and the Rangers weren't close in negotiations for a new contract, and the two sides seemed reluctant to budge from their latest offers. According to the reports, Prust was looking for a three-year contract that would pay him $2.2 million per year. Rangers President and General Manager Glen Sather was willing to give Prust a three-year deal, but he wasn't willing to give the forward, who made $800,000 last year, more than $1.8 million per year.
Since being acquired from the Calgary Flames halfway through the 2009-10 season, Prust has become a big part of the Rangers' identity. The London, Ontario native has added grit, toughness, and a willingness to block shots before it became a prerequisite to play for John Tortorella. Prust's style of play earned the respect of his teammates, and made him a fan favorite at Madison Square Garden. In 2010-11, Prust was voted by the fans as the winner of the Steven McDonald Extra Effort Award, given to a player who goes "above and beyond the call of duty."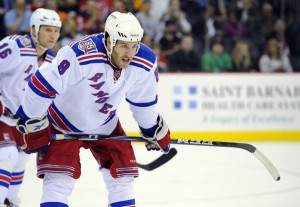 Although Rangers' management and Prust haven't been able to come to terms on a deal, the respect and admiration between both sides appeared to be evident before the reports surfaced. In talking about Prust, Sather said, "I like him, the team likes him, everybody likes him." In Prust's end of season interview, he indicated that he wanted to return to the Rangers, saying that he "loved it here, and we have a good thing going." There was also a little bit of foreshadowing in that end of season interview. When asked about what would happen if the Rangers didn't meet what Prust felt his market value was, the forward said, "money is a factor, but it isn't the biggest factor for me."
As much as the Rangers would like to have Prust back, they made the right move by not signing him to the three-year/$6.6 million contract. Even though he was at the head of the Rangers' own free agents that they wanted to bring back, the need that they have to address in order to take the next step is offensive help. If the Rangers were to re-sign Prust to that contract, they would be overpaying for a grinder and potentially limit the number of options of help they would have to look at via free agency.
While Prust has been valuable to the Rangers, the notion that he is irreplaceable isn't valid. The Rangers will be able to find a grinding-type forward through free agency that can provide what Prust gave to the Rangers over the last two and a half seasons. Sather has said that he plans to be "aggressive" in free agency, and one name that is at the top of the list as a replacement for the fan favorite is Zenon Konopka, who made less than Prust last year and probably won't ask for (or get) more than $2 million per year on the open market.
Whether or not Prust will get the contract he wants remains to be seen. However, that deal won't come from the Broadway Blueshirts.
Michael Rappaport is a junior at New York University majoring in Sports Management. He is one of the Featured Writers for the New York Rangers for The Hockey Writers, and joined THW in January of 2012. In addition to his work for THW, Michael has been featured in numerous publications such as New York Hockey Journal, Yahoo's Puck Daddy Blog, The Huffington Post, Spector's Hockey, and Kukla's Korner to name a few. You can talk hockey with Michael by sending an e-mail to michael.rappaport@nyu.edu, or if you want to shoot a quick message, following @Mike_Rappaport on twitter.