When Sabres captain Brian Gionta finished the 2016-17 season, he had a feeling his chances of returning to the team were remote. The Greece, N.Y. native had just finished a strong season in which he compiled 15 goals and 30 points in 82 games. He skated more than 16 minutes a night, playing in all situations.
After his contract ran out, the veteran started to look at other opportunities. Roughly six months later, Gionta will captain Team U.S.A. at the 2018 Olympics.
From Americans to Team USA
The Sabres' American Hockey League affiliate, the Rochester Americans, announced Monday that the team has signed Gionta to a one-game professional tryout. "Gio" is expected to be in the lineup this Friday when the Toronto Marlies visit the Amerks. He'll then head to the Olympics.
"Brian has been practicing with us on a regular basis since early in the season," said Amerks GM Randy Sexton. "These practices were part of his preparation for the Olympics. Given the Olympics are just around the corner, a game was the final tune-up for him to get ready to captain the U.S. Olympic team. The entire Buffalo Sabres organization wishes Brian all the very best in his pursuit of a gold medal."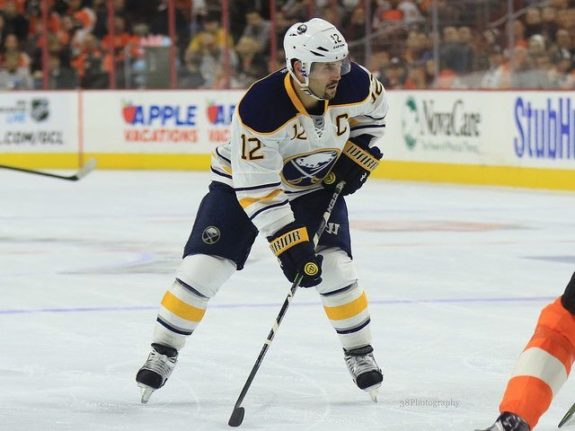 Friday night's Amerks' game is billed as its "Hometown Heroes Night." The team will honor police officers, firefighters, EMTs and military members. It will be preceded by an exhibition match between the Rochester Police Department and the Monroe County Sheriff's Office Jail Bureau at 4 p.m.
If Gionta can come home from South Korea with a gold medal, he'll be welcomed home as a different kind of hero.
A Decorated Career
Gionta, now 39, served as captain of the Sabres and the Montreal Canadiens. His resume includes a Stanley Cup with the New Jersey Devils in 2003 and 1,006 NHL games played with the Sabres, Habs and Devils over 16 seasons, collecting 588 points (289 goals and 299 assists).
BAH GAWD, that's Brian Gionta music. The former #Sabres captain & Rochester native has been practicing with the #Amerks as he gets ready for the upcoming Olympics! @WKBW pic.twitter.com/O2nEMh4AWG

— Matthew Bové (@Matt_Bove) January 16, 2018
Who's on the Team?
There will be no Jack Eichel, Patrick Kane, Auston Matthews or Johnny Gaudreau. These Olympics are the first without NHL players since 1994. It brings a different dynamic with the NHL choosing not to send players. Since national federations couldn't pick any player with an active NHL contract, the tournament is wide open.
The U.S. squad has versatility and experience consisting of several players from the NCAA, fifteen European professional leagues and a few AHLers. Collegiate players will join the team from Denver, Boston University, St. Cloud State and Harvard.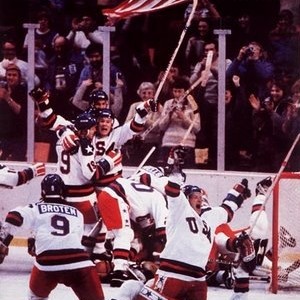 It's not a rag-tag bunch of college kids like the 1980 gold-medal-winning "Miracle on Ice" team. They have young talent and veteran players that bring leadership and experience. At least fifteen players on the roster have appeared in the NHL, including AHL-star Chris Bourque and European-based forwards Mark Arcobello and Jim Slater, and defensemen James Wisniewski and Bobby Sanguinetti. They will be coached by Tony Granato, who played at the 1988 Olympics and now coaches at Wisconsin.
"We have a decent amount of players that are already used to playing in Europe on the big ice, which can be helpful," said defenseman Ryan Gunderson, one of the eight players on the roster without NHL experience and who plays in Sweden. "(We have) some younger, college guys, which I'm sure will bring a lot of skill and energy, then proven AHL players that can produce, as well. Gio, of course, has experienced the Olympics before and will lead the way."
Going For Gold
The U.S. seeks its first Olympic gold medal since the 1980 ''Miracle on Ice''. They lost the bronze medal game to Finland in 2014 and won the silver in Vancouver in 2010.
In 2006, Gionta played for Team U.S.A. in Torino, Italy where the team failed to medal, finishing eighth overall. Gionta will be gunning for Gold. "It's one thing I don't have, I haven't been able to achieve, is an Olympic medal," he said. "I would love to end my career with something like that."
The Olympic Games are set to begin in PyeongChang, South Korea on Feb. 9. The U.S. faces Slovenia in its Olympic opener on Feb. 14.
Jeff has been covering the NHL for over a decade for various sites. He's been with The Hockey Writers as a lead Sabres writer three years, while also writing a satire column called "Off the Crossbar."