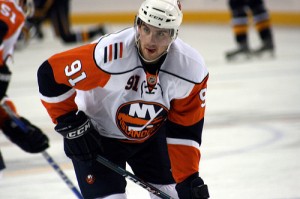 I was not the Isles correspondent here at The Hockey Writers over the summer or at the start of the season, as I have recently just started working for this site. But for any of you who may have happened to read my blogs at HockeyBuzz or recently at The Checking Line would have known my original prediction for the Islanders: to finish the year around 12th or 13th in the East, fooling fans and experts that they may make the playoffs around this time of the year with their competitive play before losing games down the stretch due to inexperience of veteran finishers.
That may just be unfolding before our eyes. But is there anything wrong with that? No. Not one bit.
Garth Snow started his youth movement last season by bringing Kyle Okposo along and signing guys like Gervais, Nielsen, Bergenheim, Bailey, Hillen, Comeau and Tambellini to NHL contracts, giving them a chance to prove themselves. He said he wanted to mold them into regular NHL skaters and would sprinkle in a few free agents in the off-season to help his team grow. Not to make the playoffs.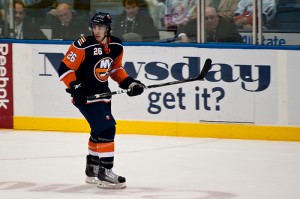 This year is only phase two of a process that takes many seasons. The primary objective should have been to get the 1st overall pick, John Tavares, as well as the previous younger players that were on board to elevate their games passed the rookie status. With Andrew MacDonald, Rob Schremp and Matt Moulson thrown into the mix, we are seeing the second stage bring better results than last year since that objective is being accomplished. Okposo, Hillen and Bailey have more experience than last year and it's carried into their play as we are seeing better results from each individual, thus making the team much more competitive. Therefore, Snow's rebuild is going along as planned. But that still doesn't make the Isles a playoff team.
Another major goal of this year is to get Rick DiPietro back on board as a number one goaltender. So far he has started in five contests and has won two, the second win being a shutout over the New Jersey Devils. The games he's lost have been relatively close, but could have been closer if he didn't let up a few weak goals or controlled his rebounds a little better. But what can you expect from a goalie who missed over a year of real hockey? Many fans are too quick to get on Rick's case, blaming him for his contract and saying that he's hurting the team. Gordon and Snow know how important it is to get him back to his regular playing level, and that isn't going to happen in just five games. It's going to take a few weeks at best, and I hate to say it, we might not see the Rick-of-old back into form until next year. It takes a while to shake off the rust of not just one, but multiple injuries and surgeries. The team knew this heading into the start of the season and will not blame Rick or his injury from a drop-off in the standings. The fans shouldn't either.
However, you can bet that Gordon and Snow really want to see their team continue to emerge and win hockey games with them so close to making the playoffs. But trust me, that still is not their main goal for the 09-10 year. If it happens, they will look at it as an earned bonus, but it is simply unfair to put that at the top of the list when the organization has it's hands full with the development and restoration of it's future.
If the team makes it passed 82 games, I will be ecstatic and at every home game possible. If they fall to where I predicted them to around 12th or 13th, we will have another top pick to look forward too. Teams like Pittsburgh and Chicago had plenty of top picks before they became the contenders they are today.
It's very important that everyone remembers that we only went through one year of the rebuild. There is still plenty of work to be done.