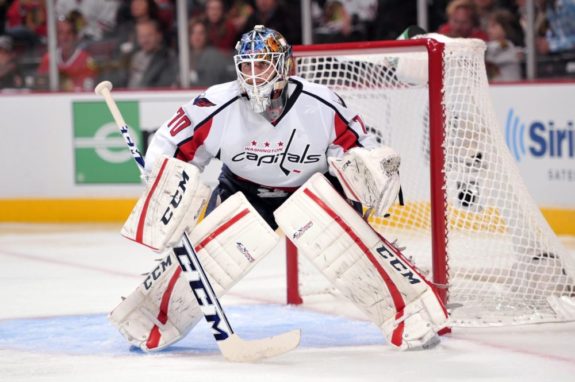 Sorry Alex Ovechkin and Rick Nash, but you two aren't the stars of this show.
The second round playoff series between the New York Rangers and Washington Capitals is well underway, and through three games so far we've already gotten a good taste of what's at the epicenter of this matchup: a colossal goaltending duel between the Rangers' Henrik Lundqvist and the Caps' Braden Holtby.
All three games in the series thus far have been close, low-scoring affairs, but the Capitals have the slight edge and a 2-1 lead. Washington took Game 1 by a 2-1 score, but the Rangers fought back hard with a 3-2 victory in Game 2. Holtby was the difference-maker in Game 3, stopping all 30 shots that he faced to earn the 1-0 shutout.
With each of those games decided by only one goal it's crystal clear how important goaltending will be for the remainder of the series. The margins for error are essentially razor-thin.
Luckily for both teams, however, their men between the pipes are more than ready for the task at hand.
"King Henrik," as he is affectionately known by Rangers fans, is one of the best goalies in the NHL, and has been since he broke into the league in 2005. The 2012 Vezina Trophy winner is now 33 years old and in the later stages of his career, but is still in impressively fine form. He went 30-13-3 in the regular season and put up a solid .922 save percentage along the way. He's been even harder to score on so far in the playoffs, with a stellar .940 save percentage through eight games, five of which came against Sidney Crosby's Pittsburgh Penguins in the opening round.
Holtby is much younger, at only 25 years of age, but represents the next wave of elite NHL goaltending. He went 41-20-10 in the regular season, along with a .923 save percentage, and much like Lundqvist has still somehow managed to elevate his play to an even higher level in the playoffs, with an incredible .949 save percentage in the collective nine games that he's played in. The New York Islanders were a formidable offensive threat in round one, but Holtby managed to shut the door.
Which goaltender will emerge victorious from this heavyweight duel? It could go all the way down to the wire before we find out. Game 4 is Wednesday night in Washington.
Derek Neumeier primarily covers the Dallas Stars, but also other various topics related to the sport of hockey. A Journalism graduate of Mount Royal University, Derek also writes for Defending Big D, and has done previous work with the Edmonton Oilers as a communications intern and Hockey Canada as a freelance writer. You can follow him on Twitter at @Derek_N_NHL