There's tough injury luck, and then there's the endless saga of the Vegas Golden Knights' goaltending situation throughout the 2022-23 season. After heading into last summer with a tentative plan built around Robin Lehner as the starter and Logan Thompson as backup, we've somehow reached a point where the club's Stanley Cup hopes have been jeopardized by an injury to Laurent Brossoit.
---
---
Five netminders saw action this season and of them was Lehner, the anticipated starter. Now, young Jiří Patera, who arguably ranks sixth among signed players on Vegas' depth chart, has now been called up to serve as the emergency back-p in the team's second-round series against the Edmonton Oilers.
It's a credit to the Golden Knights that they remain relatively well-positioned – tied 2-2 against the Oilers with the series heading back to T-Mobile Arena for Game 5 – despite a crease in flux. That being said, some stability would be nice. To properly understand this wild situation, here's a look at the timeline of events:
May 2022 – The Golden Knights announce that Brossoit will undergo off-season hip surgery.
August 11, 2022 – The Golden Knights announce that Lehner will miss the 2022-23 season after undergoing hip surgery.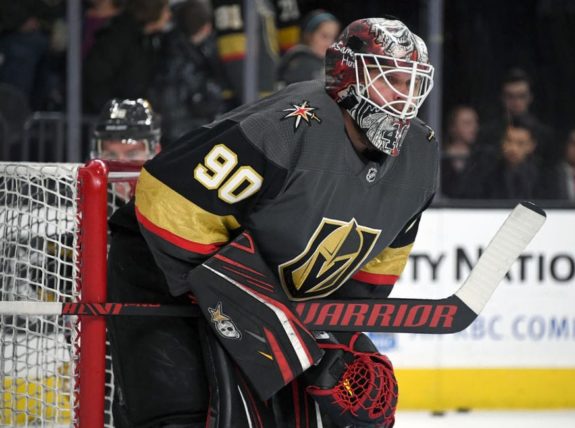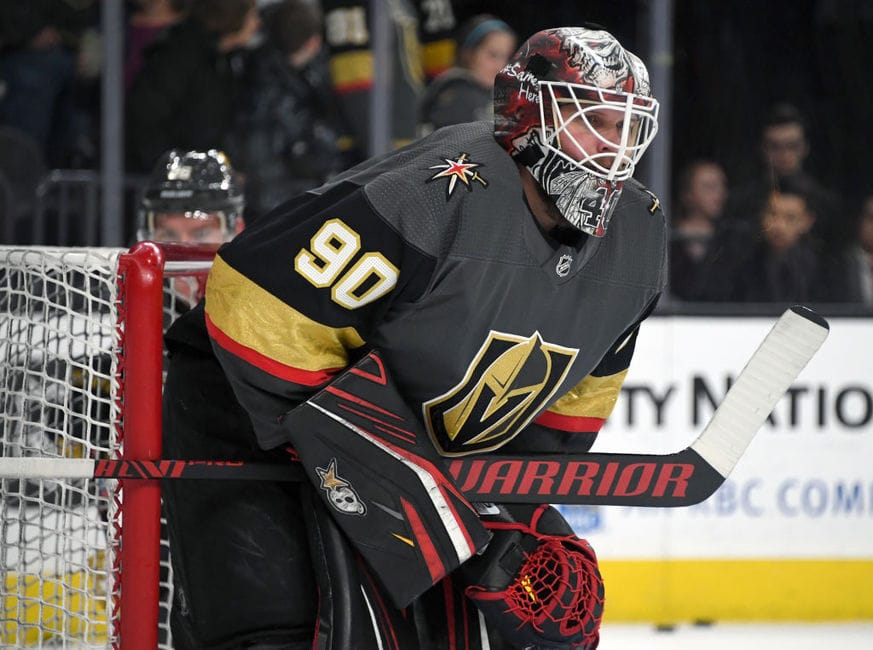 August 29, 2022 – Adin Hill is acquired in exchange for a 2024 fourth-round pick.
October 11, 2022 – Thompson starts in the Golden Knights' season opener, stopping 27 of 30 shots in a 4-3 win over the Los Angeles Kings.
January 5, 2023 – Thompson is selected for the NHL All-Star Game, becoming the first rookie goaltender to get the nod since John Gibson in 2016.
February 11, 2023 – Thompson suffers a lower-body injury in the third period of Vegas' 5-1 win over the Minnesota Wild. Brossoit is recalled from the Henderson Silver Knights.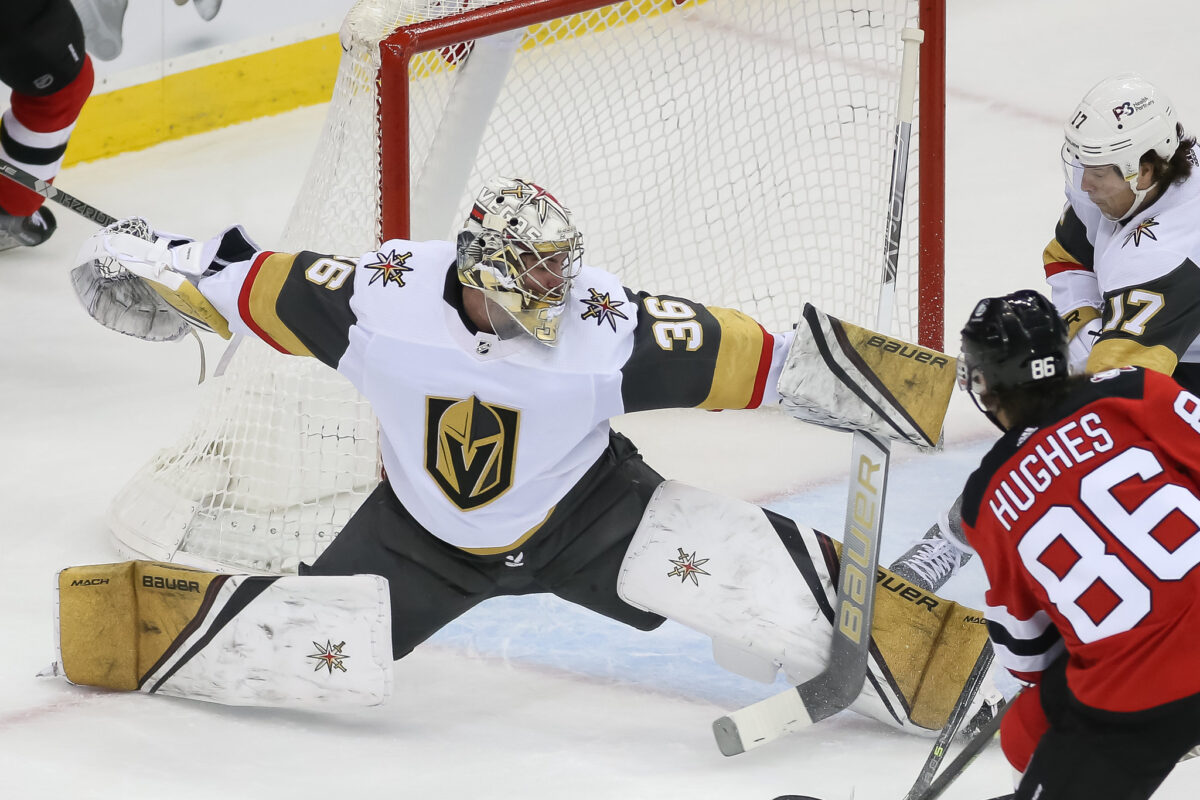 February 21, 2023 – Brossoit makes his season debut, stopping 37 shots in a 3-2 shootout loss., in his first regular-season appearance since March 15, 2022.
February 28, 2023 – Exactly one week after making his 2022-23 debut, Brossoit is placed on injured reserve with a lower-body injury. He returned to the crease just under a month later.
---
Latest News & Highlights
---
March 2, 2023 – One day after being shipped from the Kings to the Columbus Blue Jackets in a deal that shocked the league, two-time Stanley Cup champion Jonathan Quick is acquired by the Golden Knights in exchange for Michael Hutchinson and a 2025 seventh-round pick.
March 7, 2023 – Hill misses practice with a lower-body injury, one day after stopping 40 or 42 shots in a 2-1 loss to the Florida Panthers. While originally listed as day-to-day, he did not play in another game for two months.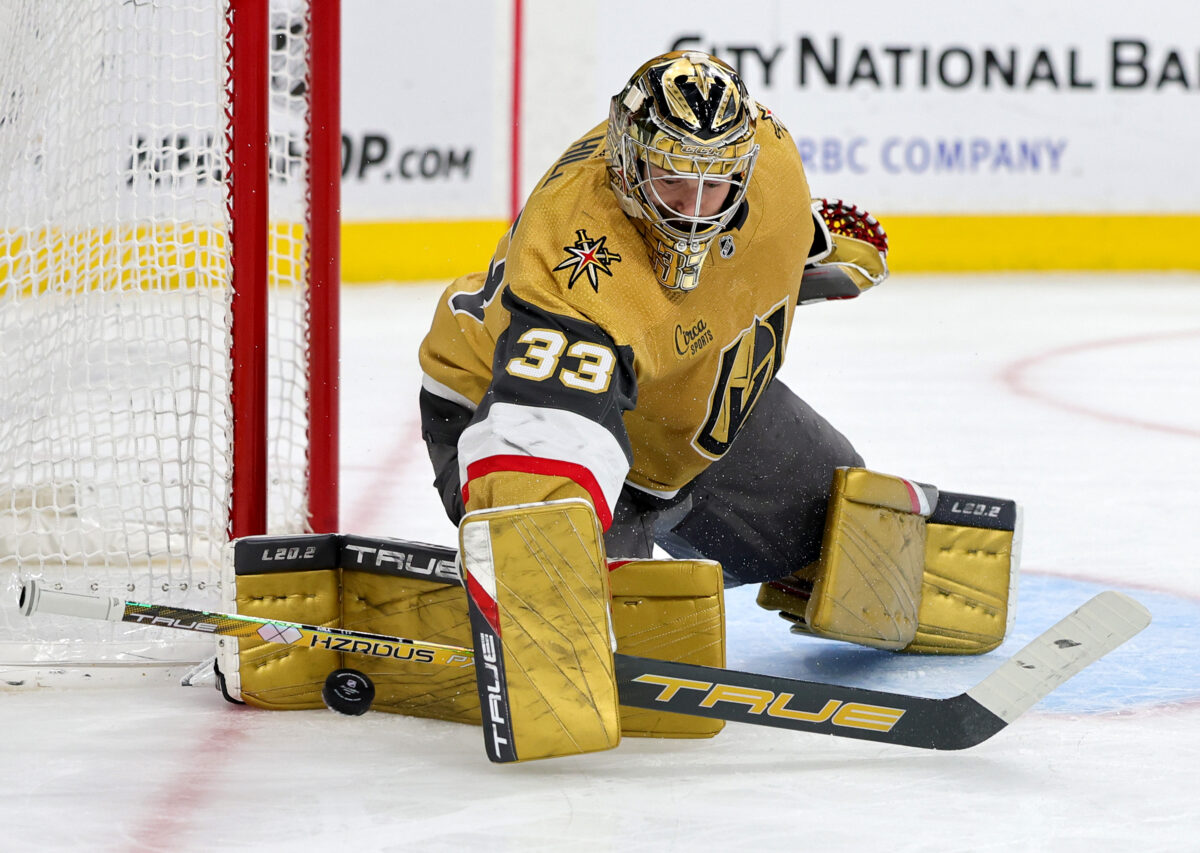 March 12, 2023 – Patera makes his NHL debut, stopping 30 of 33 shots in a 5-3 win over the St. Louis Blues.
March 23, 2023 – Thompson returns from injury against the Calgary Flames but re-injures himself and leaves in the third period. He has remained sidelined ever since.
April 27, 2023 – Brossoit backstops Vegas to a 4-1 first-round series victory over the Winnipeg Jets, his former team. Brossoit recorded a 2.44 goals-against average and a .915 save percentage in the series, outplaying Winnipeg's Vezina-nominated Connor Hellebuyck.
May 8, 2023 – Brossoit is injured in the Golden Knights' 4-1 Game 3 victory over the Oilers. Hill takes over and stops all 24 shots he faces to secure the victory and, at the time, a 2-1 series lead.
You Might Also Like
In hindsight, it's remarkable that the club still produced a 51-22-9 season to finish atop the Western Conference amidst all this turmoil. Whether it's been Brossoit, Thompson, Hill, Patera, or Quick, Vegas' structure and defensive depth have – for the most part – created an environment for their goaltenders to succeed. Whether that's enough to close out their semifinal series against the Oilers with Hill between the pipes and Quick serving as backup remains to be seen.