There is likely no greater feeling than being at the helm of a franchise you own and have built from the ground up. This dream came true for Mr. Bill Foley on June 22, 2016, when his NHL expansion bid was approved by unanimous vote to bring Las Vegas their very first professional sports franchise in city history.
The debatable theory has always been that sunny climates cannot house a professional hockey team. This argument has merit, seeing as six of the ten least valuable NHL franchises are based in cities with predominantly warm weather. Although they are a relatively young franchise, Vegas seems to be an exception.
The city has embraced the Vegas Golden Knights wholeheartedly. In their first season-ticket drive in 2016, within 60 days they received 11,000 deposits for season tickets. It is important to keep in mind that this was for a team that didn't exist yet, nor did they have an arena to play in. Foley sensed the interest in professional hockey in Las Vegas and knew that one of his greatest investments might lie in a team named the Golden Knights.
Numbers Don't Lie
Foley approached his bid for an NHL team with the proper research you would expect from someone investing $500 million. Before submitting his bid for the rights to the 31st franchise in NHL history, he wanted to make sure the team would have enough hometown fans to cheer them on. Needless to say, they were not disappointed by the outcome of their research.
"We did a market study for Las Vegas and determined that we had about 200,000 avid hockey fans, people from Minnesota or Canada, the northeast. People trying to get to a nice climate."

Bill Foley in 2017
It is safe to say Foley's money has worked for him. As of December 2019, Forbes calculated that the Golden Knights are worth $585 million, a one percent increase from their 2018 valuation ($575 million). The 2019 valuation ranks them 13th on the list of most valuable franchises in the NHL, ahead of teams like the Edmonton Oilers (14), rival San Jose Sharks (16) and Stanley Cup Champions Tampa Bay Lightning (23).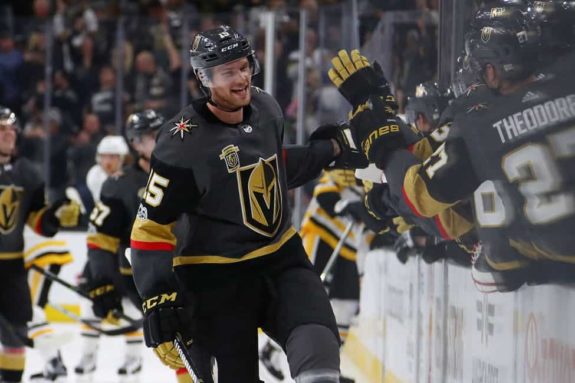 The Golden Knights' valuation can be subdivided into four categories; sport, market, stadium and brand. Their sport value, a portion of the franchise's value based on revenue shared among all teams, is $98 million. Their branding brought in another $88 million while their stadium, T-Mobile Arena, generated $153 million. Finally, their market value, which is attributable to their city and market size, produced $241 million cold hard American dollars. Another key reason for their success and brand growth is the TV deal Foley negotiated for his team.
The Golden Knights have a deal with AT&T Sportsnet for Root Sports that provides coverage not just to the Nevada area, but throughout the Rockies. Foley's TV territory is said to span to Idaho, Wyoming, Montana, Utah, the state of Nevada, eastern and southern California and northwestern Arizona. What's even more impressive is that the Golden Knights have supplanted the Colorado Avalanche in these TV markets.
Humble Beginnings
Foley has roots to the Great White North. Although he was born in Texas, and spent most of his teen years and early 20s there, he completed his elementary school years in Ottawa. It was there that he became familiar with the sport and developed a passion for it, a passion that fed his vision for Vegas' first professional sports franchise.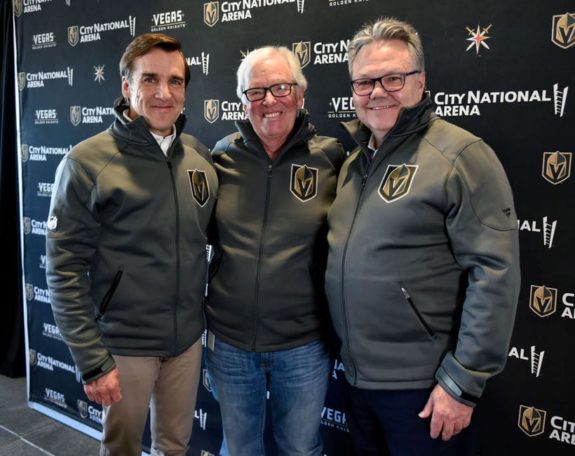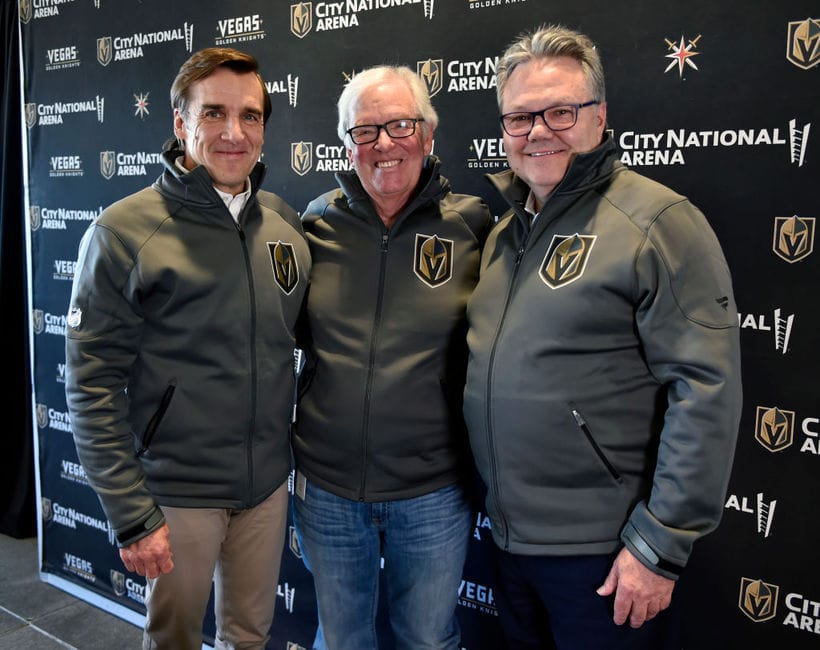 After he returned to Texas, he enlisted at West Point Military Academy, and that's where he discovered his potential for investing. The stock market interested him as a hobby, and during his time there he is reported to have made $40,000 in profit trading equities while he was a cadet. Upon graduation, Foley joined the Air Force where he was lauded for his sharp eye in handling contracts, specifically for Boeing aircraft. By the time he was in his mid-20s, he had the power to approve contracts up to $250 million for the Air Force.
Foley took this knack and enrolled in law school at the University of Washington once his time in the Air Force was completed. He earned a Juris Doctor degree and got a job right out of school at a small Arizona law firm. This is where he really proved his worth and started on the path that led to the Golden Knights.
During his time at the firm, he decided to take a chance and change professions. He took over the law firm's largest client, Fidelity National Financial, who was in the business of small insurance underwriting. This company was fairly small when Foley took the reins, dealing mostly in small commercial and residential contracts.
Foley built them up through key acquisitions and transformed Fidelity National Financial into the $5 billion company that it is today. They are now ranked 375 on Fortune 500's 2020 list of largest American companies. AFter his success with Fidelity, Foley was ready for a new challenge. He stepped down as chairman in 2016 to start building the Golden Knights.
Winning Philosophy
Foley has brought his winning philosophy from those early days in investments and finance to his NHL venture. It's a simple one but very effective: "I always want things to better than they were." When he George McPhee, he asked the 75-year-old business tycoon if he was looking to spend to the cap. Foley was quoted as saying, "Bill Foley wants to win, and he's going to win, there is no budget." You mean business when you refer to yourself in the third person.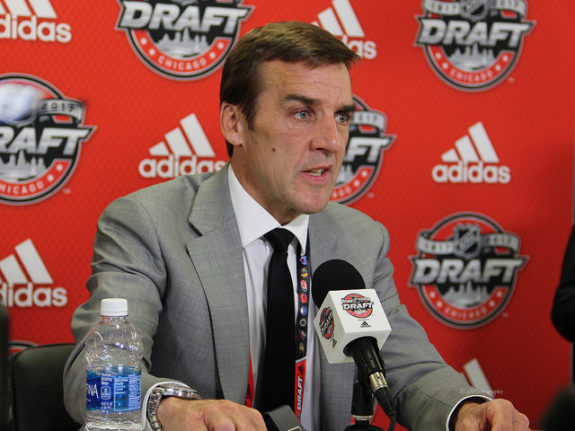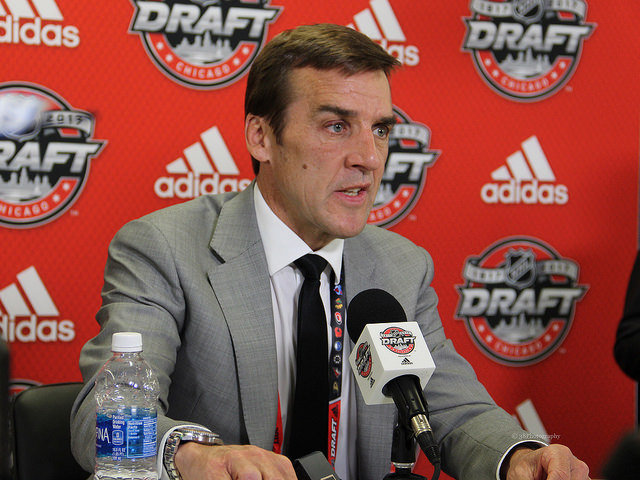 McPhee took this advice to heart and went out and did exactly what he was told. He acquired Mark Stone, a bonafide winger, and locked him up with a wealthy eight-year contract worth an average annual value of $9.5 million. Along with that, the Vegas front office also signed 2020's hottest free agent Alex Pietrangelo and locked him up for seven years with a contract worth $61.5 million.
Foley seems to be following a front office mentality similar to that of the Florida Marlins' first owner, Wayne Huizenga. Huizenga built a World Series-winning team through the acquisition of big names and by signing key free agents who captured the World Series title just five seasons after they entered the MLB. Vegas became the first NHL team since 1968 to reach the Stanley Cup Final in their inaugural season, so it wouldn't be surprising to see them hoist the Stanley Cup soon. If they do, a large part of their on-ice success can be attributed to Mr. Foley and his winning philosophy.
All Eyes on the Future
NHL team values have risen 6% since last year, but this was before the COVID-19 pandemic struck the world and put everything on pause. As uncertainty looms more than ever, we can't help but wonder when or if everything will return to normal. But, as with any investment, the Golden Knights may take a downturn but it is important to see it through and be patient. As Warren Buffet once said, "Successful investing takes time, discipline and patience." Foley's keen eye for good investments may have found his greatest in Sin City.
---
---