New Florida Panthers' general manager Bill Zito has had a very busy offseason, making big-name trades and signings. He brought in forwards coming from Stanley Cup winning franchises, such as two-time winner, Patric Hornqvist and newly crowned champion, Carter Verhaeghe. However, the bulk of his moves seemed to address a glaring problem that has haunted the team for the past few seasons, the defense. At the end of the 2019-20 season, the team was the third-worst in goals against per game at 3.25, the eighth-worst goal differential in the league, finishing the season with a plus-3 rating, and the fifth-worst in goals allowed this season with 225. This cost them valuable points in the standings and ultimately led to their elimination at the hands of the New York Islanders in the qualifying round.
With that, Zito sent away defenseman Mike Matheson to the Pittsburgh Penguins and sent defenseman Josh Brown to the Ottawa Senators in an attempt to shake things up within the defensive pairings. However, his work was far from over. He brought in a couple of new faces to give the blue line the help it desperately needs. That help came in the form of defensemen in Radko Gudas and Markus Nutivaara.
Radko Gudas
On Oct. 9, the Cats signed Gudas to a three-year contract worth $2.5 million per year. This addition brings in what the team has been lacking for a few years, toughness. Most of Florida's blueliners, such as Keith Yandle, are typically playmakers or use their speed rather than play physically or use their size to their advantage in board battles.
Gudas is one of those physical types. At 30 years old, he is a tough and hard-hitting defenseman that has been in the league for eight years with 20 games of playoff experience spanning across four teams, something that most of the young stars on the Panthers could learn from. Last season, he finished his tenure with the Washington Capitals with 15 points (2 goals, 13 assists), which is not unusual for him, as he is not the type of defenseman to typically score goals or put up massive points. Although, he finished last season with a plus-15 rating, a stat Florida would like to bring him in for.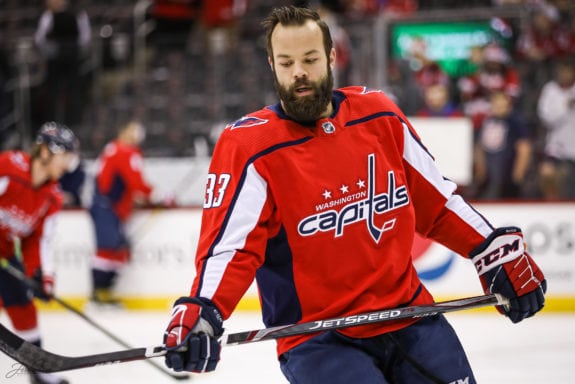 However, there is only one true downside about Gudas. He is infamous for receiving suspensions, being punished four times for a total of 21 games throughout his career. While it does show that he plays a hard-nosed hockey game, the team cannot afford for him to miss time due to suspensions with the way the defense is. If the Panthers are going to use this guy night in and night out, he has to focus on his discipline on the ice and try to avoid suspension. Last season he showed that was absolutely possible, as he played all of his games with the Capitals, including playoff games.
Marcus Nutivaara
On Oct. 8, the Panthers acquired Nutivaara from the Columbus Blue Jackets in exchange for right wing prospect Cliff Pu. With this move, they also acquired his $2.7 million cap hit for the next two years. Zito decided to bring him on board due to his familiarity with him from their time together in Columbus.
Much like Gudas, he is a defensive-minded player who can bolster the blue line. In addition, he's also great at moving the puck and can jump in with the offense with his speed. Coming off of last season with Columbus, he finished with 9 points (3 goals, 6 assists) and a plus-2 rating through 37 games. He did get into two playoff games last season but tallied no points and finished with a minus-1 rating. However, he has played in 12 playoff games throughout his career.
At 26 years of age, he can show the rest of the team he can handle that atmosphere and mesh well with the young core that includes players like Aaron Ekblad and Mackenzie Weegar. Furthermore, he can use his playmaking ability to set up their goal scorers such as Jonathan Huberdeau.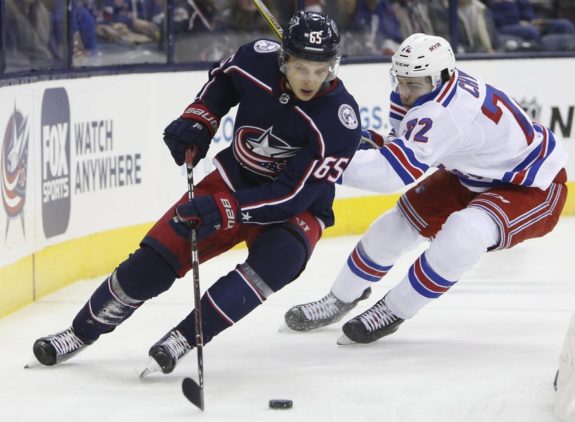 Additionally, he can get along great with fellow countryman and captain, Aleksander Barkov. Their communication, both on and off the ice, could be essential to their success this season and putting together a good team. Additionally, the team has some young Finnish players up on the rise, such as newly drafted Anton Lundell and Aleksi Saarela, who he could easily communicate with on and off the ice.
He should give those players the tools and tricks they need to succeed. Furthermore, he should feel as if he never left Columbus, as he also has former teammates such as newly acquired forward Alexander Wennberg and goaltender Sergei Bobrovsky with him on the Panthers. With all this factored in, Nutivaara is poised to be an excellent addition to Florida for hopefully more than just two years and will become a franchise staple.
How Will These Moves Affect the Current Defense
As previously mentioned, Florida's young core of defensemen is going to get a massive dose of sandpaper and grit with the addition of Gudas. On the other hand, Nutivaara adds youth, speed and good puck-handling elements that complement players like Ekblad and Weegar, and can set up big opportunities in the offensive zone. These two players can also pick up the mistakes made with turnovers that cost this team many games throughout last season.
Furthermore, the team is going see an influx of young and upcoming defensemen, such as Brady Keeper and Chase Priske, plugged into the lineup next season. These two players should be able to give them that defense-first mindset with a pinch of mental toughness. Additionally, the pair of defensemen will be playing for one of the most decorated NHL coaches in history in Joel Quenneville. His 24 years of head coaching experience and his coaching methods will get the most out of these players with his physical and defensive schemes.
With all the pieces coming together in this potential retool, thanks to Zito, the sky is the limit for this Panthers squad, and maybe it could lead into some magical success the team has not had since 1996.
---
---