On Mar. 26, the Vegas Golden Knights punched their ticket to the playoffs in their inaugural season by defeating the Colorado Avalanche 4-1. With the victory, Vegas became the sixth expansion team in NHL history to qualify for the playoffs in its inaugural season. But, the Golden Knights accomplishing the feat was much more difficult of a task than for previous expansion teams.
In today's NHL, eight teams from each conference qualify for the playoffs out of 16 Eastern Conference teams and 15 Western Conference teams. Meanwhile, during the 1960's, 1970's and 1980's, when the league went through its largest period of expansion, eight teams still qualified from each conference but there were only 20 total teams.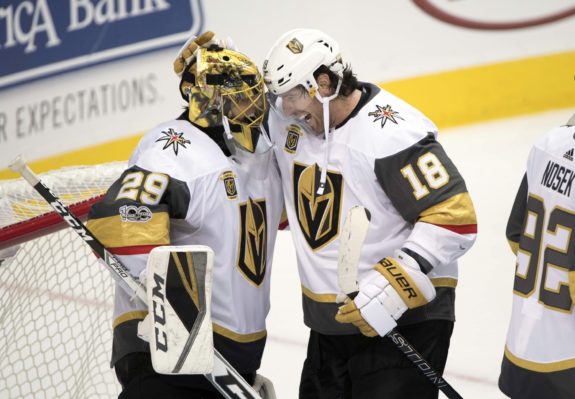 The Golden Knights may not be the only NHL expansion team to reach the playoffs in its inaugural season but they are easily the best expansion team in league history. With a 63.2 win percentage (Win %), not factoring in overtime or shootout losses, Vegas surpasses previous expansion teams. The expansion teams with the second-highest Win % were the Los Angeles Kings and Philadelphia Flyers, both with a Win % of 41.9 during the 1967-68 season. Both also qualified for the playoffs that season.
Outside of the NHL, the Golden Knights inaugural season stands out among expansion teams. In MLB, the 1961 Los Angeles Angels won 70 games for a 43.5 Win %, the highest for a post-1960 expansion team. In the NFL, the 1995 Carolina Panthers hold the distinction for best expansion team. They won seven games that season with a 43.8 Win %. In the NBA, the 1966-67 Chicago Bulls won 33 games for a 40.7 Win %. Of those three teams, only the Bulls qualified for the playoffs in its inaugural season.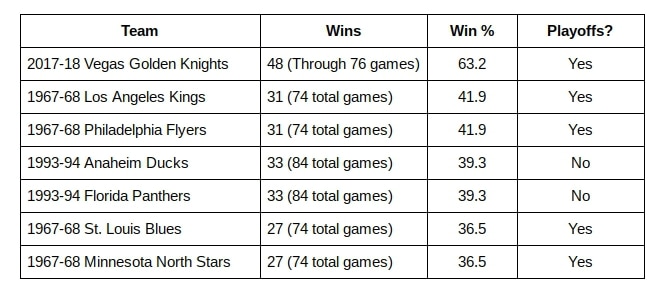 Golden Knights Not Just Lucky
Early in the season, it didn't appear as though the Golden Knights would be able to maintain the pace they set. They had high shooting and save percentages and the team was outperforming the roster's talent level based on previous production levels of the individual players. But, with 76 games played, it is clear that they were able to maintain their success and are a quality team while lacking the elite talent of other winning clubs.
Relative to the league, Vegas is a top-10 team in nearly all offensive and defensive categories. They are third in goals scored (254), seventh in goals allowed (205), ninth in powerplay success (21.83 percent), and sixth in both shooting (10.1) and save percentages (.914). The lone category in which they are outside the top-10, penalty kill success, they are 12th at 81.36 percent.
Even their 5-on-5 advanced metrics point to their quality, positive percentages in nearly all categories. They are 13th in Corsi For percentage (50.83), 11th in shots for percentage (51.10), fifth in goals for percentage (53.80), and tied for ninth in scoring chances for percentage at 51.62. One metric they are sub-50 percent in is control of high-danger scoring chances in which they control 49.09 percent, 19th in the league.
A Balanced Approach
Offensively, the Golden Knights have received production throughout their roster. They have four players with at least 60 points and five with 20 or more goals. On the blue line, they have seven defensemen with 10 or more points and four with at least 20 points. In net, they have had four goaltenders win at least one game, the result of injuries testing the position's depth.
Individually, the team is led by various players. Jon Marchessault has the team lead in points with 72 while William Karlsson leads the them with 40 goals, fourth-most in the league. Both players play on the team's lethal first line that has combined for 201 points, 30 percent of the team's total. Their second line has come through as well. David Perron's 50 assists are tops on the roster and Erik Haula has the team-lead in power play goals with 11.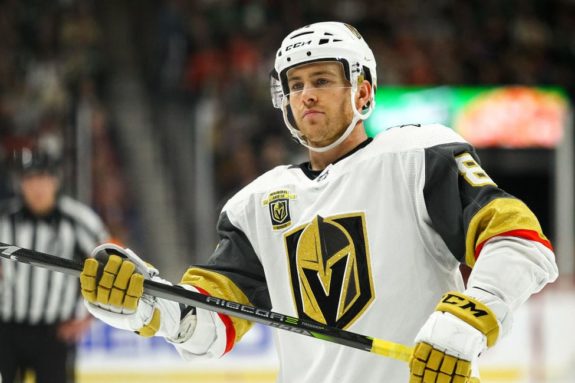 Balanced scoring reflects the team's general plan for deploying its forwards as Karlsson, their first line center, leads their forwards in time on ice with 18 minutes, 37 seconds per game. Although that is common for a top line player, what is surprising is that the Golden Knights have eight additional forwards averaging at least 14 minutes per game.
This balanced approach continues on defense as Nate Schmidt leads the group with 22 minutes, 19 seconds of ice time per game, not high relative to other number one defensemen in the league. In addition to Schmidt, there are three defensemen averaging at least 20 minutes per game and none of their blueliners average less than 15 minutes, 58 seconds per game. Distributing ice time to defensemen in such an efficient manner means that no pair is relied upon too heavily and there isn't the drop-off on the third pair that most teams have. This could make them difficult to play against come playoff time.
How They Have Fared Against the League
In 76 games, the Golden Knights have played against all 30 teams at least twice. The only teams they have failed to beat are the New York Islanders and Minnesota Wild, playing the Islanders twice and the Wild three times. Conversely, there are seven teams Vegas has not lost against. These are the Arizona Coyotes, Buffalo Sabres, Calgary Flames, Chicago Blackhawks, Tampa Bay Lightning, Vancouver Canucks, and Washington Capitals.
In the Pacific Division, the teams against whom they play the most games, Vegas has a 18-3-3 record and has never lost to an in-division foe more than once. They have had the most success against the Coyotes, winning all four games. The team they have had the most difficult time facing, if it can be described as such, are the Edmonton Oilers. Against the Oilers, the Golden Knights have a 1-1-1 record.
Looking Ahead to the Postseason
Having their spot in the playoffs locked up, it is time to look ahead to April and who they will be facing. As of the current standings, Vegas is first in the Pacific Division with a six point lead on the San Jose Sharks. If the Golden Knights hold onto their current position and win the division, they will face the first wild card team, currently the Los Angeles Kings. In four games against the Kings, Vegas has a 2-1-1 record. They won by scores of 4-2 and 3-2, lost in regulation by a 4-1 score, and in overtime 3-2.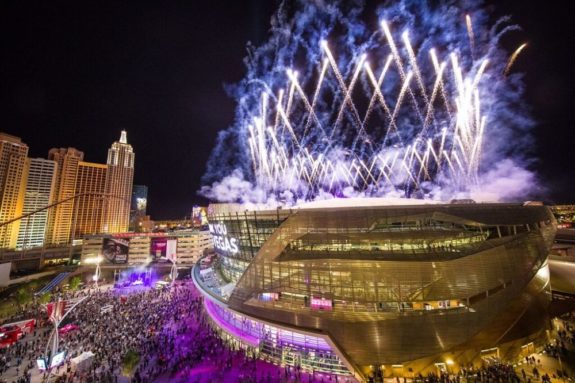 For Vegas, playoff success will come down to how well than can continue their home-ice success. If they win the Pacific Division, they are ensured of home-ice advantage until the Western Conference Final and, for them, T-Mobile Arena has given them an advantage this season. Their 27-9-2 home record ties for the third-most wins at home this season, behind the Winnipeg Jets with 29 and the Pittsburgh Penguins with 28. At home, Vegas control 56.68 percent of goals at 5-on-5 while just 50.68 percent on the road. If they can maintain this success at home, they will have the advantage in the first two rounds.
The biggest question mark to potential playoff success for the Golden Knights will be how teams prepare for them when facing them in a seven-game series. One of the ways they have succeeded is that they caught many teams off-guard at the start because opponents had no track records or video to go off of. Now, with plenty of video to study from the regular season and the benefit of ample time to adjust to Vegas's playing style, their playoff opponents will be better prepared than any of their regular season opponents this year.
Another question mark is whether the lack of a true number one defenseman and a top shutdown pair will hinder them in the playoffs when opponents deploy their top scoring lines a higher percentage of the game than in the regular season. The two areas where Vegas has the personnel to compete and potentially succeed in the playoffs is that they have received elite goaltending from Marc-Andre Fleury this season and they have a top line that can match any other team's. Last season, the Pittsburgh Penguins relied heavily on a handful of forwards and received reliable goaltending while having a questionable defense. That is a framework the Golden Knights can work within.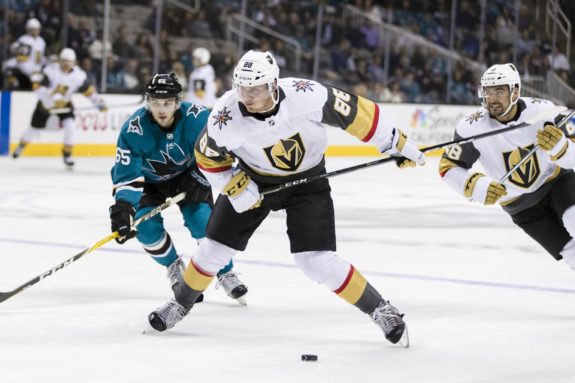 Vegas also has veteran leadership with several players having extensive playoff experience. The player with the most such experience is Fleury with three Stanley Cups to his name and 107 starts in the postseason. With many of the Golden Knights stepping into new roles this season, the ability to rely on a veteran like Fleury is invaluable.
Regardless of what happens in the playoffs, whether they are swept in the first round or win a few series, this season has been an incredible success for the Golden Knights. Already the best expansion team in the history of North American sports, the Golden Knights will forever serve as an inspiration for any future NHL expansion teams, whether that be in Seattle or elsewhere. This success has allowed them to compete immediately and playoff success only better prepares the franchise moving forward with its solid farm system.
*All stats came from Sports-Reference and Natural Stat Trick
My name is Kyle, and although I'm from Pennsylvania and grew up a Penguins fan, I cover the Predators here at The Hockey Writers. And while I would consider myself a Predators fan, I really enjoy watching all hockey and try to always take an objective approach to things. In addition to covering the Preds, I write hockey history and some statistical analysis pieces as well as book reviews.