The Vegas Golden Knights have been one of the best stories in hockey, sitting in second place in the Pacific Division after 25 games. They have a top-five offense and have won in spite of injuries that forced them to use their fifth-string goaltender.
The expansion Atlanta Thrashers won 14 of 82 games in 1999-2000.

The expansion Vegas @GoldenKnights now have 15 wins in their first 22 games.

— Chris Johnston (@reporterchris) November 26, 2017
As mentioned in an article by THW's Eric Hall, the Golden Knights have been propelled by players having career seasons. William Karlsson and James Neal have gotten off to incredible starts and are picking up a roster that is lacking in depth talent. Vegas has several players on-pace to turn in the best seasons of their careers, including both veterans and those early in their careers.
William Karlsson Driving Vegas's First Line
Prior to this season, Karlsson played in parts of three NHL seasons, spending the last two with the Blue Jackets. He accumulated 18 goals and 32 assists for 50 points in 183 career games playing mostly bottom-six minutes. Since joining the Golden Knights, he has been their top center, averaging just over 18 minutes of ice time per game and has been driving the team's most productive line. That top line of Karlsson, Reilly Smith, and Jonathan Marchessault has combined for 29 goals and 67 points and features the top scorers on the team.
Individually, Karlsson's 14 goals are more than his previous season-high of nine, and his 24 points are approaching his career-best of 25. Of his goals, 10 have occurred at even strength, tying a career-high, and his two power-play goals are already his most in a season. Projected over a full season, Karlsson would net 45 goals with 78 points.
A big reason for his goal total is his 25.5 percent shooting percentage, another career-high, and his ability to generate offense. On his own, he has created 70 scoring chances, 33 of which are deemed high-danger, and generated nine rebounds. All three categories project to new career-highs, with his nine rebounds already a personal record.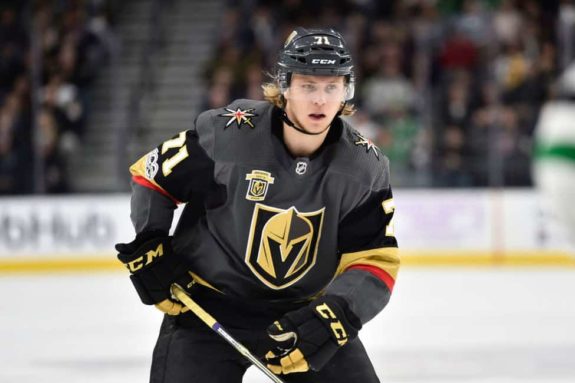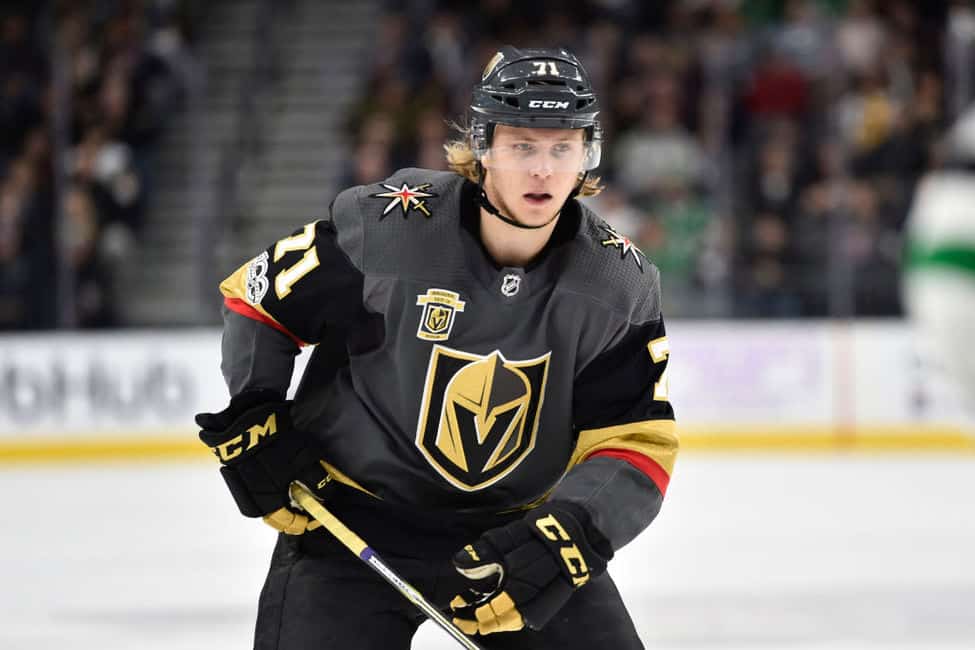 Karlsson's biggest impact has been centering his line with Smith and Marchessault on his wings. With over 200 minutes of shared ice time, this line is the most used on the team. Both wings are proven scorers but still project to set career highs: Marchessault in nearly every offensive category and Smith in power-play goals, assists, and points.
The real effect has been how well this line has controlled play. Using the Fenwick metric, the Golden Knights have controlled play 59.03 percent of the time the trio is on the ice. Furthermore, they are controlling over 58 percent of scoring chances, including 56 percent at high danger. When Smith and Marchessault are on the ice without Karlsson, Vegas's Fenwick drops to 52 percent and the Knights are controlling less than 50 percent of shots and high-danger chances. Karlsson may not be the prototypical first-line center, but he has embraced his role and is excelling in the highest workload of his career.
Balanced Output from the Blue Line
Vegas's defense corps isn't built in the traditional manner of one elite defenseman and a third pair that plays less than 15 minutes per game. Instead, they spread out the minutes, with no one playing less than 17 minutes per game and Nate Schmidt leading the team with 22:23 per game.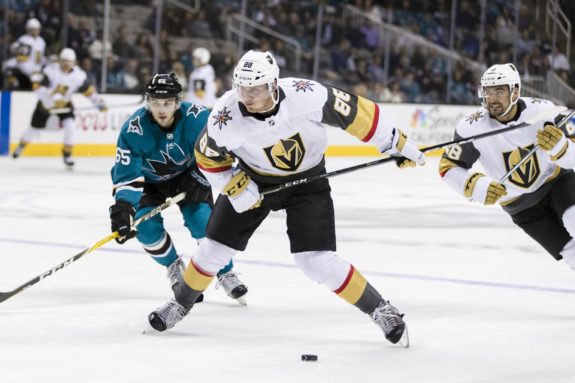 Although there is balanced deployment among defensemen, the pair of Schmidt and Luca Sbisa is the team's most reliable. Playing the most of any pair (246 minutes at 5-on-5), they are receiving 60 percent of their non-neutral zone starts in the defensive zone. Despite starting away from the opposing goal, Schmidt is second among Vegas defensemen with 11 points and Sbisa is fourth with seven points.
Lower on the depth chart, Deryk Engelland, Brayden McNabb, Brad Hunt, Colin Miller, and Shea Theodore are having impacts in their roles. A result of their limited usage in the past, all are on pace to break previous offensive highs, and all have positive Fenwick scores at even strength.
I find Engelland to be the most interesting because he has the most experience and is having his best season in addition to being a feel-good story after coming "home" to Las Vegas. He is in his ninth season but is nearing career-highs for goals, assists, and points. What stands out most is that despite receiving his highest ice time, he is playing a cleaner game than ever before. His 10 penalty minutes are on pace for his fewest in a full season. He has clearly embraced his role as mentor and is serving as a steadying presence on the blue line.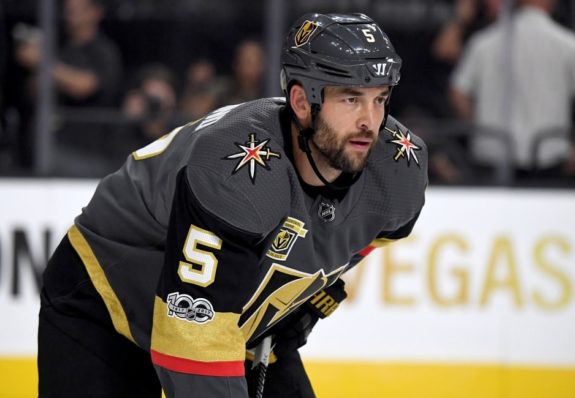 On the opposite end of the experience spectrum is Theodore, who is just 22 and appeared in only 53 games prior to this season. He started off the year in the AHL but has played 11 games with Vegas, posting one goal and four assists. Better yet has been his ability to strengthen the team's possession numbers. In all situations, the team has a 51.05 percent Fenwick, but that mark jumps to 54.55 percent when Theodore is on the ice. This is exactly what the Golden Knights want out of someone who is a foundational piece of their future blueline.
Disposed-of Prospects Having Breakout Seasons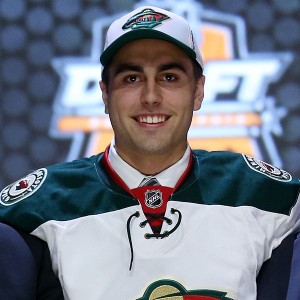 Like every expansion team, the Golden Knights are comprised of players who were deemed non-essential by their former teams. The difference between this expansion and previous ones is that Vegas was able to use the new rules to its advantage and select talented players. Through the expansion draft or by trade, the Golden Knights selected several players once thought of as high-end prospects.
Right wing Alex Tuch is an example of one of these players. Acquired by Vegas from the Minnesota Wild, Tuch is a former first-round pick. He started the season in the AHL with the Chicago Wolves before getting called up to the parent club. In 21 games for the Golden Knights, he has five goals and 11 points and is playing a strong two-way game. Since his recall, Tuch leads the team with a plus-15 turnover margin, and the team's Fenwick is 58.29 percent when he is on the ice, second highest on the team behind Marchessault.
Goaltending Depth Keeping Golden Knights Afloat
No post covering Vegas's season would be complete without discussing the successes of their goaltenders. The Golden Knights have now gone through five goaltenders, including three who have earned their first career win this season. Two netminders who weren't expected to play much are Malcolm Subban and Oscar Dansk, both of whom have been spectacular. Both are playing at a level well above expectations, with save percentages above .920. By comparison, the league's average was .913 last season.
Out of the two, Dansk has been better at making the overly difficult saves. When facing shots that are deemed high-danger, he has an .857 save percentage, the highest on the team and sixth-highest in the league among goaltenders with at least 100 minutes playing time. He has also saved 3.45 more goals than the average goaltender, a solid indicator of his play.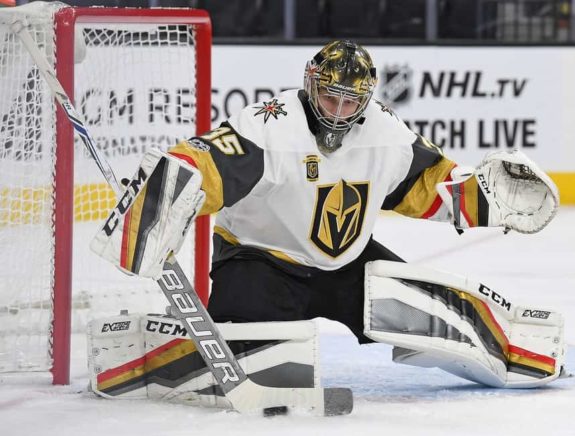 I would argue that the successes of those taken in the expansion draft are the result of underlying motives. Being left exposed meant that their former teams didn't see them as key pieces of the team's future. These players were left on the scrap heap and Vegas coach Gerard Gallant has done a masterful job at bringing them together. The result has been better than expected and increased usage has led to career seasons for many of their players.
*All stats came from HockeyDB, Natural Stat Trick, Corsica Hockey, QuantHockey, and Hockey-Reference.