It's the most wonderful time of the year and if you're a fan of the Nashville Predators, you're really loving the way this team is playing. After treating swarms of fans to a captivating run to the Stanley Cup Final back in June, the Music City Men are now sitting one point out of first place in the Western Conference with an incredibly balanced attack night in and night out and goaltender Pekka Rinne seemingly getting stronger by the game.
Key personnel additions in the offseason like veterans Nick Bonino, fan-favorite Scott Hartnell, and rugged defender Alexei Emelin, along with the acquisition of Kyle Turris early this season, have the Preds primed for a return to the big show. So what's not to love? Well, how about averaging almost five minor penalties per game and leading the National Hockey League in minutes spent shorthanded?
The Predators sport a shiny 16-7-3 record through the first 26 games of the season but they have been playing with fire on an almost nightly basis with their affinity for the penalty box thus far. A rambunctious, high-energy style with several hard-working players that bring significant sandpaper to the lineup will always lead to some penalties, but the group as a whole will have to find a way to curb their infractions, or the results can't possibly continue to be this favorable.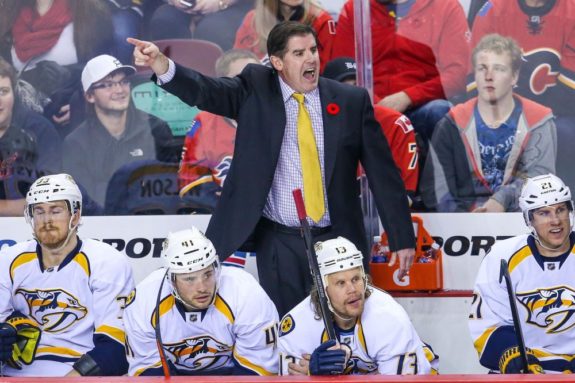 Predators on the Naughty List
Just because a team takes a large number of penalties doesn't necessarily mean it's a problem. There have been several very successful teams over the years who just took masses of penalties as a way of life in their style of play. See: the Broad Street Bullies and their successful Stanley Cup seasons built on a foundation of intimidation.
But we all know the sport itself and the NHL game has changed drastically since those days. Yes, the more time you spend even strength in a hockey game traditionally leads to a better opportunity to emerge as the winner, but that's not always the case. A good penalty kill—which the Predators do possess—can often be a rallying point for teams during games and the lightning rod for some momentums shifts.
There are good penalties and there are bad penalties that are taken over the course of a fast-paced hockey game at all levels. Each team and their coaching staff will probably have different opinions on what constitutes a good penalty versus a bad one, or more accurately, maybe a "necessary" penalty weighed against one that was, simply put, a dumb one. The hard forechecking, physical Preds seem to have caught the eye of many officiating crews both on the road and in the raucous confines of Bridgestone Arena, but the penalties they're being whistled for to this point seem to fall in the category of necessary for the most part.
Good Penalties, Bad Penalties, & Unnecessary Penalties

There are generally three types of penalties that will drive coaches and teammates collectively mad in terms of the circumstantial nature, not the actual technical types of penalties a player can be whistled for. The first is the dreaded retaliatory, after-the-whistle penalty. Clear the front of your net, take care of your goalie, and stand up for your teammates when the occasion arises, but the extra glove in the face or the retaliation whack is categorized as unnecessary.
In fact, they are probably the most unnecessary considering they don't even happen between the whistles and course of play. The Predators are fine here and while they have no shortage of players who will mix it up, they're a pretty disciplined group after the whistle.
Secondly is any penalty taken in the offensive zone. If you're going to spend two minutes in the box, the idea is that you traded that two minutes to prevent a prime scoring chance for your team. Penalties taken hundreds of feet from your own net don't prevent scoring chances and are generally considered bad ones. There are certainly exceptions, and the Predators find some gray area here with their aggressive forecheck and some of the penalties they've generated due to the physicality and dogged nature of their puck pressure.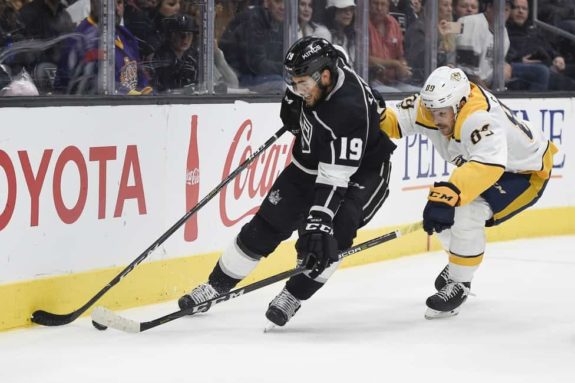 Lastly are the lazy penalties that are simply a result of not taking an extra step, such as hooking or holding and basically getting caught in a bad spot or even worse—just a loss of focus that leads to a bad decision which is penalized. Nashville's busy penalty box could certainly see less traffic if this area got cleaned up and several players were more conscious of their stick and body position, but lazy is certainly not a word that's going to be used very often with this team, and these instances are few and far between for the Preds.
Repeat Offenders or Penalty By Committee?
It takes a team effort and contributions from across the lineup to run up 123 minor penalties in 26 games, so there won't be a lot of finger pointing when it comes to this area of the Predators' "wish list" improvements moving into the holiday season. Ryan Johansen has taken 13 minor penalties this season, with 85 percent of them of the stick nature (slash, hook, hold, etc.), which instantly leads you to believe most of them are unnecessary.
Dig a little deeper though and Johansen, who centers the top line and spends a lot of time low in the defensive zone, has taken seven of those 13 stick minors directly in front of his own net. Statistics are a wonderful thing and fun to sift through, but they don't always paint the whole picture.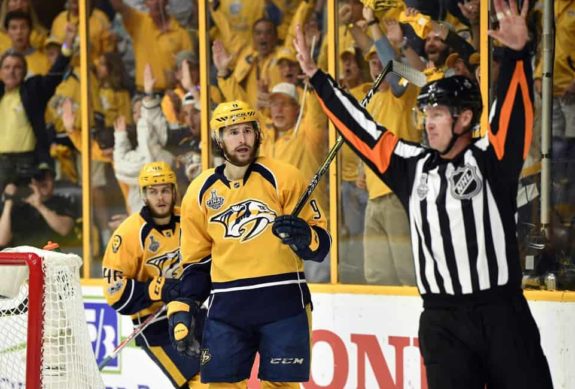 The Predators as a whole seem to be caught in somewhat of an unlucky trend of penalties that fall somewhere between the classification of bad luck and perhaps preventable, like several teams in the NHL go through every season. This is not a lazy team nor is it a team that plays undisciplined hockey, so look for their penalty totals to begin dropping as the season rolls on and players become more aware. The Predators' minor penalties appear to be more of a minor complication than a major problem.