Anyone who predicted the Vegas Golden Knights to make it this far in their inaugural season was either dabbling in some wishful thinking or is a prophet. Anyone who now claims they foresaw a 3-0 series lead over the Los Angeles Kings is likely a liar.
The Golden Knights are in a position to sweep the Kings and propel themselves to the second round of the NHL Playoffs—a surprising feat considering many onlookers thought the Kings would be able to edge them out. What's more impressive is how well they have played in order to get there. They play 60 minutes of solid hockey, can beat teams in all three zones, and have received scoring up and down the lineup—not to mention the play of Marc-Andre Fleury. Simply put, it looks like the Golden Knights have what it takes to go the distance.
Golden Knights Can Go the Distance
If there were any doubts about the Golden Knights' success heading into the postseason, it was the potential lack of scoring up and down the lineup. Though they've received a fair amount throughout the year, the playoffs are simply different and "young" and "inexperienced" have been adjectives tossed around quite often.
But Vegas has 12 point-producers in their first three postseason games. Only five players—James Neal, Shea Theodore, Reilly Smith, Alex Tuch, and Jonathan Marchessault—have two points. If that doesn't indicate that all 18 skaters are contributing then I don't know what does.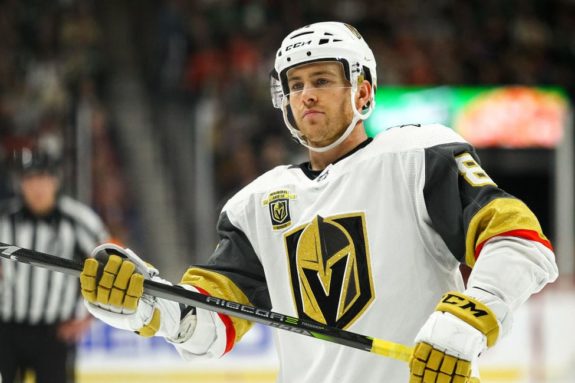 Better yet, the Golden Knights have shown that they can gain momentum quite easily and steal it back if it is lost. They displayed this in Game 3 on Sunday night when the Kings went up 1-0 in the first period in front of a raucous home crowd.
But the Knights were not disheartened, even though they were being out-shot, out-hit, and giving up a plethora of scoring chances. They showed poise by battling back and keeping it a one-goal game up until the third period where they were able to tie it.
After Cody Eakin's goal in the early stages of the third period, Vegas poured on the pressure. They smelled blood and did not want this game going into overtime. They received a goal from Neal and then another from William Karlsson just 21 seconds later, showing that they were not content with sitting on a one-goal lead. This proved to be the difference maker: Anze Kopitar scored with just over two minutes remaining, making Karlsson's goal the game-winner.
Vegas has displayed poise throughout the series thus far, taking early leads in both Games 1 and 2 and snagging a very important double-overtime win before sending the series to Los Angeles. While the Nashville Predators and Winnipeg Jets are widely considered the most formidable Cup contenders in the Western Conference, the Golden Knights have earned the right to be added to that list.
Marc-Andre Fleury in Stanley-Cup Form
Fleury has been Vegas's MVP in the early stages of the playoffs. He shutout the Kings in Game 1 with 30 saves and then saved 29 of 30 shots in Game 2 before stopping 37 of 39 shots in Game 3. After giving up six goals on 18 shots during his last regular-season game, his response in the postseason is certainly inspiring and indicates that it was merely a hiccup.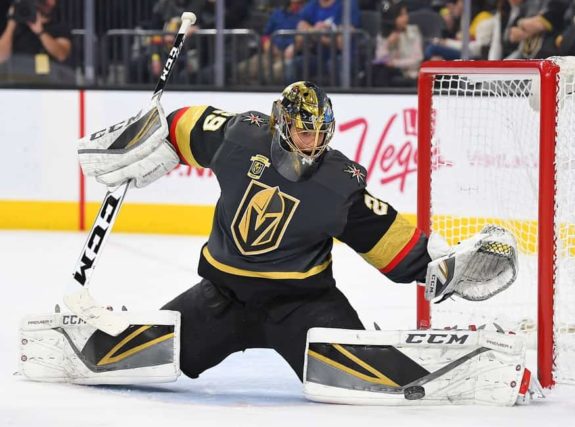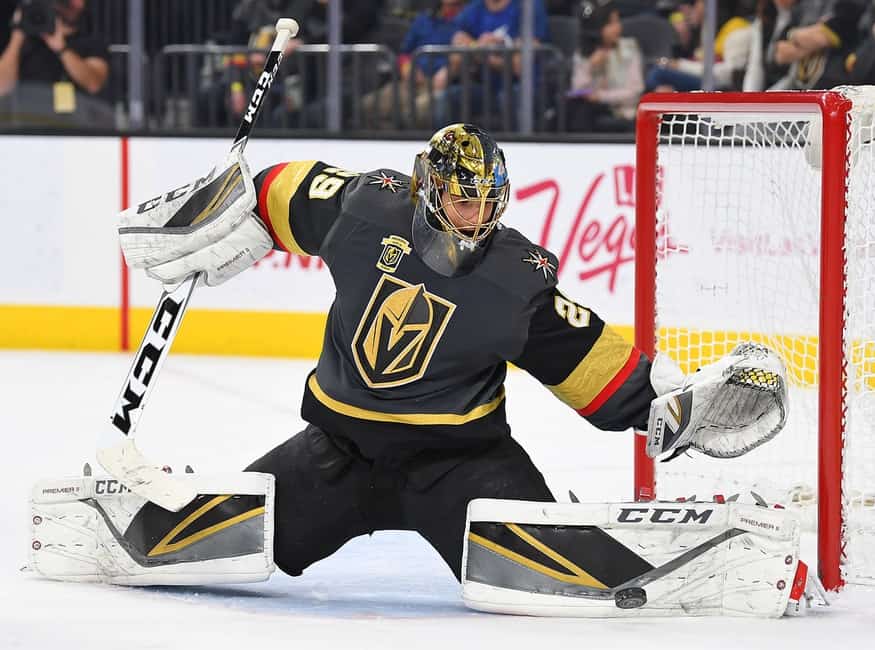 But stellar performances are not a rarity for Fleury. Though some were skeptical that the goaltender would have what it takes to lead the Golden Knights to glory, others saw Fleury as one of the best picks of Vegas's expansion draft. The former Pittsburgh Penguin accumulated a record of 29-13-4 during the regular season to go along with his 2.24 goals-against average (GAA) and a .927 save percentage (SV%).
So far these playoffs, Fleury is 3-0 with some jaw-dropping stats: a .970 SV% and 0.84 GAA. Talk about performing when it matters most—though that is a well-known characteristic of the 33-year-old. After all, Fleury is a three-time Stanley Cup Champion. In 118 playoff games to date, the first overall pick of the 2003 NHL Entry Draft is 65-51 with a 2.59 GAA and a .910 SV%.
The most compelling story of this series is the battle between Fleury and the Kings' Jonathan Quick. The two goaltenders split a total of five Stanley Cups between them, and these individuals are why all three games thus far have been decided by just one goal. Quick made 54 saves on 56 shots during Game 2—the most of his playoff career. Yet, the Golden Knight was able to outlast the 2011-12 Conn Smythe winner three times in this series so far. Fleury has been proving that the role of a goaltender is not to win a race but to win a marathon.
The marathon will continue on Tuesday night when Los Angeles plays host to Game 4 of the series. If the Golden Knights receive the same production up and down the bench and another stellar performance from Fleury, they'll be heading for the second round of the playoffs.