An effective fourth-line center is a valuable asset for any NHL team. Regardless of whether the New York Rangers view themselves as a contender next year or not, solidifying the bottom of the roster will provide an interesting challenge for general manager Jeff Gorton and the new coaching staff.
As it stands today, the Rangers already have a few solid candidates who should be able to adequately handle the role. All have unique skill sets and will have their long-term developments influenced differently, so the choice might not be an easy one. But on paper, the Rangers have healthy options.
Will Fourth-Line Duties Let the Teenagers Develop?
If either Filip Chytil or Lias Andersson ends up a fourth-line center long-term then the Rangers whiffed on a first-round pick. But next year, either one could benefit from a consistent workload on the fourth line. In a vacuum, any 19-year-old earning roughly 13:00 min. per night in the NHL is ahead of schedule in their development, and it's possible that either or both will spend time doing exactly that next year. However, depending on who is getting those minutes, the Rangers' fourth-line deployment could be drastically different.
Chytil, who seemingly has a higher offensive upside than Andersson, would be miscast playing on a grinding, defensively-deployed fourth line. Instead, he'd be best utilized on a fourth line with talented players that get spot duty with favorable matchups. For instance, a line consisting of Chytil, Jimmy Vesey, and Jesper Fast could be devastating against less talented opposition and give the Rangers a fourth-line edge.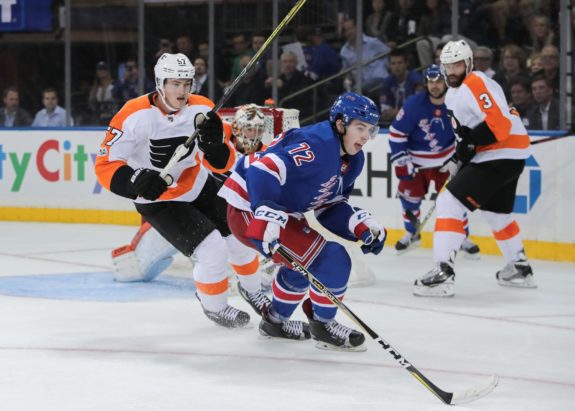 On the flip side, Andersson, who was drafted in the top 10, in large part because of his 200-foot game, may be a perfect fit for this role early in his career. In his seven games this season, he already has a defensive zone start rate (dZS) of 54.9%, which could help ease his transition. Plus, as he's started to kill penalties already in the AHL, he could earn time there as well.
"With his character and his work ethic and how competitive he is, it's hard not to notice him every single game," assistant general manager Chris Drury said. "He's very goal-orientated and he wants to be a Ranger as fast as he can for as long as he can."
For Lias, the fastest way to wearing a Blueshirt sweater every night might just be in a role that less than the AHL.
Related: Lias Andersson – 2017 NHL Draft Prospect Profile
Gabriel Fontaine Has Thrived in Hartford
Gabriel Fontaine is an overlooked Rangers prospect both because of his draft status as a sixth-round pick and the large shadow cast by other prospects, namely Chytil and Andersson. But Fontaine, who will turn 21 at the end of April, fits the bill as a youngster who could step in and take ownership of the fourth-line center role next year. For starters, he's already been doing it in Hartford.
This year, Fontaine leads all Wolf Pack forwards in goals against per 60 minutes (GA/60), ahead of both Chytil and Andersson, despite playing with the second-worst teammate quality, per Colin Cudmore's AHL Player Charts. Ryan Gropp, 21, by comparison, is among the league's worst GA/60 while deployed with slightly better teammates.
Though Fontaine lags behind the likes of Andersson and Chytil in goals generated, his game is predicated on intelligence, defensive savvy, and strong skating that, according to Adam Graves, should allow him to "excel in the pro game." Graves also noted that "[Fontaine]'s a young man that has a great stride and can play in all three zones."
While it's hard to assume that Fontaine will be able to have the same measure of success in a shutdown role at the NHL level, where opponent quality will be drastically better, he's currently thriving in the role with Hartford. But the skillset—mental, especially—seems to be there, and great skating and defensive aptitude are valuable on every team.
Boo Nieves Made a Solid Impression This Season
Even though he, somewhat mysteriously, wasn't called up from the AHL towards the end of the regular season, Boo Nieves will get another long look in training camp. He's got an NHL-ready physique and made a strong (albeit inconsistent) impression during his 28-game look this season.
As a fourth-line center, it's easy to make comparisons to Manny Malhotra, the former Rangers first-round pick who carved out a long career as a bottom-six forward in the league. But Nieves has flashed NHL scoring potential both with his three-assist debut this season and in the AHL.
🚨 "Try stopping me" – Boo Nieves probably 🚨 pic.twitter.com/fL4pCsNtqq

— Hartford Wolf Pack (@WolfPackAHL) March 31, 2018
Nieves, at no level, has put together highly productive numbers, so the highlights will likely remain anomalies. But, fourth-liners who can be threatening and keep opposing teams on their heels are invaluable.
However, it will be his possession stats, not scoring, that will define Nieves' role. He ranked third in Corsi For (CF) amongst Rangers forwards who had a dZS of at least 56%. With a CF of 44.8%, Nieves trailed only Kevin Hayes (45.9%) and Jesper Fast (45.3%) while getting a heavy defensive workload.
And, as Mike Murphy notes:
Nieves' -1.42 Rel CF percentage in just over 263 minutes of 5-on-5 hockey overshadows the rates put up by Desharnais (-4.18), Carey (-5.59), McLeod (-9.47), and Holland (-7.95). Furthermore, Nieves was on the ice for 13 Rangers goals for and eight goals against (5-on-5) during a time of the year when the Blueshirts were struggling to generate offense. For some context: Carey has been on the ice for 15 goals for and 29 goals against (5-on-5) in 57 games this year.
If Nieves can find a consistent 200-foot game to compliment his physical, smart play, he'll be an excellent fit as the Rangers' fourth-line center whether they're competing for the playoffs or rebuilding.
Related: Rangers Accelerated Rebuild Dangerously Ambitious
Short-Term Considerations…Long-Term Implications
There are two things for Rangers brass to consider when choosing a fourth-line center for next year. First, they'll have to decide if they want the position to be filled by a player who gives them the best chance to win immediately, and second, they'll have to weigh how that role might influence the development of whoever wins the spot.
While Boo Nieves or a veteran free agent a la Dominic Moore could give the Rangers the best short-term production, the spot next year could help Gabriel Fontaine cement a spot in the NHL or give Filip Chytil and/or Lias Andersson an opportunity to develop.
Either way, it should be a fun situation to watch develop after the draft and into training camp.
An Upstater and long-time Rangers follower, I've been writing about the Blueshirts off and on since college. My earliest memory is playing as the Rangers on NHL '95 for SNES, and, inconveniently, started watching as a kid right after the 1994 Cup. I look to find a balance between analytics and eyeballs, and wish it was easier to write about board play.