It's the most wonderful time of the year; the 2018 NHL Playoffs are finally upon us. For Los Angeles Kings fans, there was some uncertainty as to whether or not their beloved team would punch their ticket to the spring tournament. Fortuitously, the Kings were able to go on a successful run in the second half of the season to help alleviate the concerns of devoted followers.
Some would point to a home-and-home in late February as the turning point in the Kings' season. The team was starting to integrate recently-acquired, Dion Phaneuf and Tobias Rieder, as well as welcoming back star center, Jeff Carter from a lengthy injury. They were well equipped to take the upper hand on newfound Pacific Division combatant, the Vegas Golden Knights.
Kings-Golden Knights: "A Rivalry in the Making"
Ever since the Golden Knights set their skates on an NHL sheet of ice in September, hockey fans wondered how the team would be embraced in "Sin City". Let's just say, that winning sure as heck can build a fan base, thank you very much. The Knights have exceeded all expectations by registering an NHL expansion-record 109 regular season points and played a fast-paced, exciting style of hockey.
The team's early success, coupled with the short one hour flight to Los Angeles and some heated contests with the Kings during the regular season, has been the driving force behind what NHL.com dubbed "a rivalry in the making":
It's a rivalry in the making.
The @LAKings and @GoldenKnights are going to be seeing a lot more of each other.#StanleyCup pic.twitter.com/ldXre4s10q

— NHL (@NHL) April 8, 2018
A Handful Apiece
The rivalry commenced on Nov. 19, when the Knights hosted the Kings at T-Mobile Arena. Kings star goalie, Jonathan Quick, was pulled after allowing three goals on nine shots and, much like some visitors to Vegas, wanted to erase the entire experience from his memory. The end result was the home team walking away with a 4-2 victory and Kings fans wondering, "Are these guys for real?"
The Kings had a chance for retribution on Dec. 28 at the friendly confines of Staples Center. Things started off swimmingly when forward Marian Gaborik put the home side up halfway through the first period. Unfortunately, things did not end as planned, as the visitors netted a pair of goals that resulted in an overtime period. In the extra frame, veteran forward David Perron, let loose a colossal snipe that gave the Knights a sixth straight victory and left Kings fans in disbelief.
The Kings experienced a resurgence following the mid-February trade deadline. The timing was ideal for L.A. to rekindle their growing, yet seemingly one-sided, rivalry with the Knights.
On Feb. 26, the teams squared off in "La La Land", with the Kings starting off the game at a sluggish, unimpressive pace. This resulted in a two-goal deficit for the silver and black halfway through the final frame. Then something happened. That something was future Hall-of-Famers (Jeff) Carter and Anze Kopitar putting shots past Knights goaltender Marc-Andre Fleury.
Kopitar's goal came with 11 seconds remaining in regulation to send the game to a second consecutive overtime. Leave it to consummate professional Dustin Brown, to be the overtime hero and lead his team to a 3-2 victory.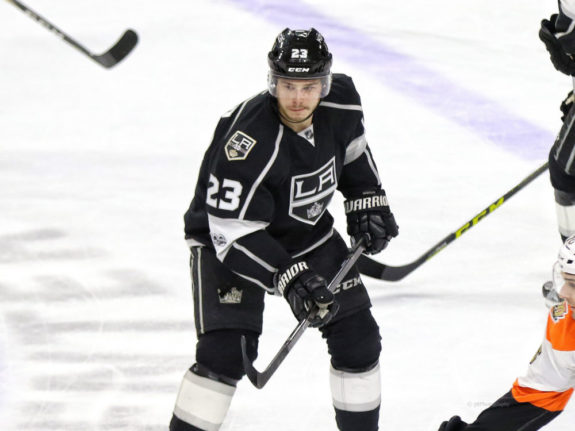 The two clubs traveled back to Nevada the following night to re-acquaint themselves. This match-up, however, was far less competitive than its predecessors. Kings newly-acquired netminder Jack Campbell, stopped 41 shots in a 4-1 Kings victory, to earn his first NHL win. After the dust settled, each side walked away with a handful of points in this fierce four-game affair.
Tale of the Tape
Although Vegas finished a full 11 points clear of the Kings in the Pacific Division standings, the playoffs are a different ball game. With that in mind, here's a closer look at who has the edge in advance of Game 1 on Wednesday night.
Coaching
Gerard Gallant has been nothing short of brilliant this season. During the press conference to announce Gallant as the Knights' first-ever head coach, general manager George McPhee was asked to substantiate the hire. "In the eight months of vetting, we never heard a negative word about Gerard Gallant, the person," McPhee said. "He will bring to our club a plan, a calmness as we grow. As a coach, he has been someone his former employers really respect and liked, as a man and a coach." Gallant has followed through on all counts and is a front-runner to win the Jack Adams Trophy.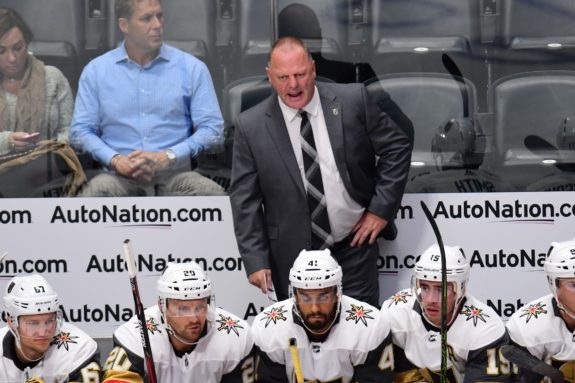 On the opposing bench, Kings coach John Stevens, has done an upstanding job in his first full season as the team's bench boss. They bounced back from an off year in 2016-17 under Darryl Sutter. He should be commended for galvanizing the incumbent stars, Kopitar, Drew Doughty, Brown and Quick.
The Verdict: Golden Knights (Gallant can do no wrong this year)
Goaltending
Quick enjoyed one of the better seasons of his 11-year career. The 32-year old started 64 games and registered his second-highest save percentage (.921). He was instrumental in the team taking home the league's William M. Jennings trophy, for allowing the league's fewest goals (203). He is playoff tested and a two-time Stanley Cup champion to boot.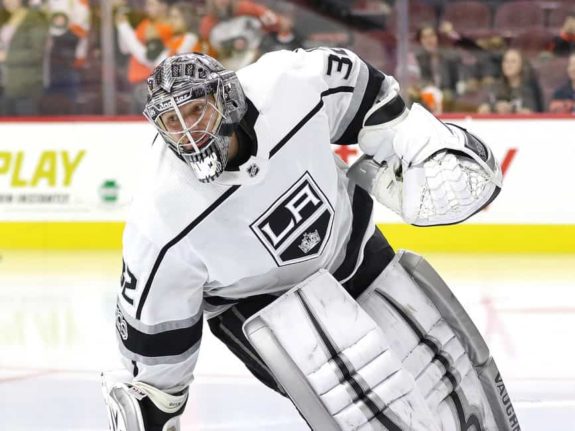 Marc-Andre Fleury is also playoff tested and trumps Quick's two Cups with three of his own. He was equally brilliant this season with Vegas with a 2.24 goals against in 46 games. He has been a stabilizing force on a predominantly youthful squad. Not only has Fleury been impressive, their backup, Malcolm Subban, enjoyed a coming out party of sorts with an absurd 13-4-2 record in 19 games.
The Verdict: Kings (Quick is just too good right now)
Defense
Doughty is doing what he does. For an impressive fourth consecutive season, the all-world defenseman has played in all 82 games for the Kings and may have had his best statistical season to date. He tallied a career-high 60 points and a stupendous plus-23 rating. Doughty will be a front-runner for the James Norris Trophy.
In addition to Doughty, the Kings have veteran leaders like Phaneuf and Alec Martinez, as well as the steady Christian Folin to help organize things on the back-end. However, there are injury concerns with both veteran, Jake Muzzin and steadily progressing, Derek Forbort. With that in mind, youngters Oscar Fantenberg, Paul LaDue and recently signed Daniel Brickley may be thrust into action.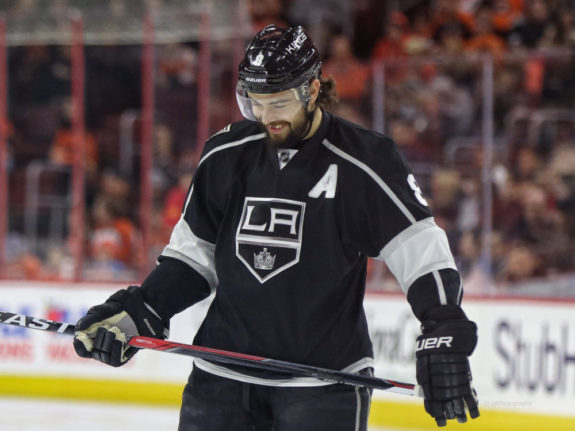 The Golden Knights' defensive core is a steady yet unspectacular bunch highlighted by youngsters Shea Theodore and Nate Schmidt, both skilled skaters who have had some playoff experience in the past. Ex-King Brayden McNabb has revived his career in Vegas. The hulking 27-year-old has played 76 games and has netted a staggering plus-26 rating and chipped in with 52 penalty minutes. Add veterans, Derek Engelland, Collin Miller and Lucas Sbisa to the mix and you have yourself some quality depth.
The Verdict: Kings (Doughty has been known to put a defensive core on his back)
Forwards
Do you think that the Columbus Blue Jackets regret leaving forward William Karlsson exposed for Vegas to pluck in the expansion draft? The 25-year-old Swedish starlet has scored 43 goals in 82 games with a league-leading plus-49. That's right, a plus-49 rating. Although Karlsson was a major factor in the Knights' success this season, he did not do it alone.
Karlsson was joined by Eric Haula, Jonathan Marchessault, James Neal and Reilly Smith as players who registered 20 or more goals. Sprinkle in veteran David Perron and uber talented Alex Tuch and the Golden Knights have firepower across their top three lines.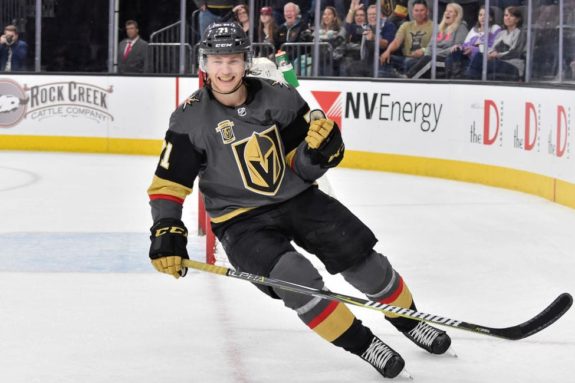 The Kings are no slouches up front. Kopitar had a career year and is deserving of Hart Trophy contention. He improved his point total by 40 year-over-year and was a key factor in leading the Kings to the league's number one penalty kill. His two-way style of play is highly respected around the league and could very well have him in line for his second Frank J. Selke Trophy.
The Kings are laden with playoff proven forwards like Brown, Carter, Tanner Pearson and Tyler Toffoli. The team will also need to rely on youngsters Rieder and Adrian Kempe to help chip in at both ends of the ice.
The Verdict: Golden Knights (a coin-toss, but Vegas' scoring is more evenly distributed)
Series Prediction
Although the Golden Knights have had a historic inaugural season, the Kings simply have the experienced, battle-tested veterans that show up when it counts. Expect a few one-goal games throughout the series but I give the Kings the edge here. Regardless of the outcome, this assuredly will be fun to watch.
The Verdict: Kings in 6 games