Fans hoping for solutions from Marc Bergevin and Geoff Molson at this year's end of season press conference were disappointed. However, they could not have been very surprised. In fairness, this owner and general manager had an impossible task. Some fans are livid. Others have lost faith in this management team. This has been a terrible team hampered by numerous questionable trades. What is worse is that the rhetoric has not matched reality.
This year, instead of being honest with fans, management has demonstrated a fundamental misunderstanding of the essential problems in Montreal. It is a question of vision – or lack thereof. On more than one occasion at the end of year press conference ownership stepped in to clarify the ramblings of Marc Bergevin. Three key takeaways from the post-season press conference can be summed up as attitude, transparency, and the emergence of Geoff Molson.
Blame it on the Attitude
Of late, any appearance by Marc Bergevin invariable leads to tough questions about his management failures.  It would not be a Bergevin press conference unless he tried to pass the buck. This is the real character issue in Montreal. As my colleague Ryan Szporer noted:
While Bergevin did admit to badly assessing the team's defense at the start of the season at the press conference, he doesn't seem to be taking the blame for the end result. If you literally only have one defenseman who can "step up" when your No. 1 gets injured, because he's the only other one who can play the exact same position, it's your fault.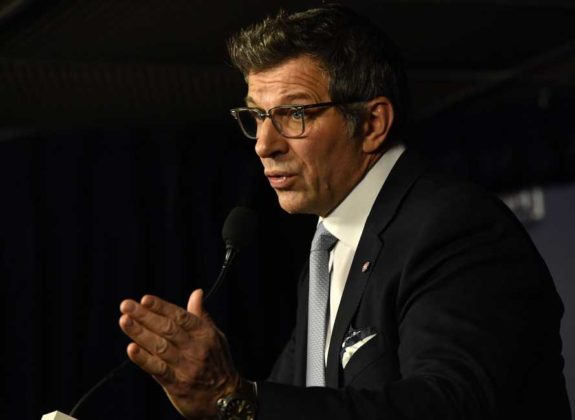 After a few seasons of Bergevin emphasizing the need for character and hating to lose, Bergevin seems to have built a team that is comfortable with losing. This week he blamed attitude.
It was a disappointing season from start to finish and that was unacceptable. The overall attitude of our team needs to change. We will do a complete assessment of the hockey operations and as a general manager I take my share of responsibilities for the season. But we're all in this together.
Protip: if your effort to take responsibility for a mistake contains the word BUT, you are doing it wrong. He continued.
I think an attitude changes a lot of things. Of course, players make things better. But if you have good players with the right attitude … I could bring anybody here, but if the attitude is not better we're going to be in the same spot.
It is hard not to agree with Stu Cowan: Attitude adjustments simply will not be enough.
A New Era of Transparency
Canadiens owner and president Geoff Molson had a different message for fans at the post-mortem news conference in Brossard.
It goes without saying that I am — we are all extremely disappointed with our season. When things go badly we have a legitimate opportunity to re-evaluate everything we do with the objective of starting next season better and building for a more promising future. The status quo is not acceptable…On the ice, changes will be required and we intend to look at all areas with a view to improve. Off the ice, we'll be improving our communications for the fans across all areas of the organization.
The Canadiens have never been known for being transparent with their fans and the media. That is something Molson said will change. It is obvious that the era of greater transparency in the NHL has made its way to Montreal.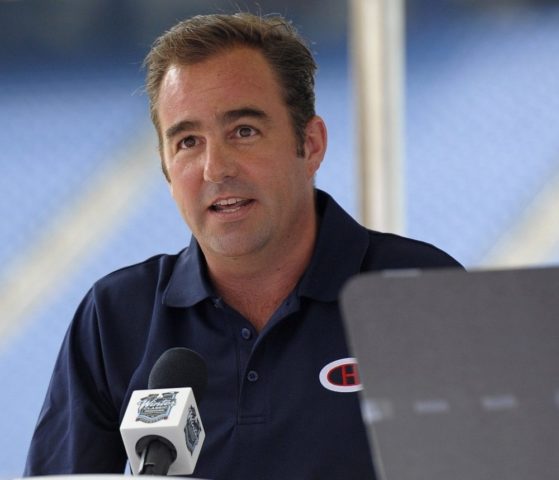 "I think it's an understanding that we can communicate better and bring in a fresh way of us communicating with our fans that they're going to appreciate." He continued by providing an example. 
Sometimes, every once in a while, I'll listen to the radio, the talk shows, and people talking about things that happened. The full story's not understood and I wish I could just pick up the phone and say: 'You missed something here.' So when we do make decisions, I want to be in a position to give as much information as we possibly can so that the debates that people have about our organization are as legitimate as possible. And I'm not accusing anyone. I'm just saying the more we give and the more transparent we can be the better off, the happier our fans will be.
The idea that Molson can't call various media outlets to clarify "errors" is silly. Rod Francis and Mitch Melnick decided to test this new era transparency yesterday and managed to book Marc Bergevin for a brief radio interview on TSN 690.  Melnick asked some tough questions. Mostly Bergevin dodged, debated, and repeated himself.
Pretty safe to say that Marc Bergevin was a lot more uncomfortable in 12 minutes speaking to Mitch, compared to an hour and 18 minutes yesterday. And the interview will be online a little later- https://t.co/4Hqgcf9zoZ #tsn690

— Rod Francis (@InRodWeTrustMTL) April 10, 2018
The Emergence of Geoff Molson
If the reviews of Bergevin were not good, Molson fared much better. He was poised and confident. He had been well briefed and repeated his message to fans in multiple ways. His solid presence makes his GM look even worse. It is amazing to me that he can look over the shirking, slumped shoulders of Marc Bergevin and listen to the nonsensical babble that comes out of his mouth, and think to himself: "that's my guy."
The good news. Molson took many opportunities to clarify the message to fans. Especially when Bergevin started to do his Bergevin thing. He stepped in to save Bergevin when the media started to push back against blaming his player's attitude. Geoff Molson said:
Attitude is certainly part of it, but the real message is we weren't good enough and changes are coming so that we can get better. That's the real message. Our best players weren't at their best this year. And whether it's they don't fit anymore or they fit and they can get better. If a change of attitude is required … all these things are part of the equation. But everyone needs to be better next year and it's not just the players, it's the whole organization.
That's not all. His GM, the guy who is supposed to be able to sign big names to Montreal seemed lost trying to answer a basic question. Once again, Molson stepped in.
My biggest takeaway from the press conference was when Bergevin was asked "how do you sell Montreal to UFAs" he gave a weak public answer, and Molson jumped in and painted Montreal as an elite place to play.

— Andrew Zadarnowski (@AZadarski) April 9, 2018
The emergence of Molson as an involved president, as opposed to a silent partner, is interesting. It is not without its dangers, however. Bergevin seems beaten. The media isn't buying what he is selling and fans are rightfully livid. At some point, continuing to employ Bergevin may mean that Canadiens fans turn their ire toward Mr. Molson.