The '12 Days of Christmas' is a classic holiday song first published in its current form in 1908. In a nod to the classic carol, join The Hockey Writers as we count down the 12 Days of Hockeymas. Each day, we will provide you with a piece of hockey history as we eagerly await the start of the 2020-21 NHL season.
Other Golden Knights' Hockeymas Articles:
It's easy to forget now how little was expected of the Vegas Golden Knights when they began their inaugural NHL season in 2017-18. To be sure, there was intrigue about the home city, a major tourist destination but a non-traditional sports market without any history of housing a 'Big Four' team. But the players who would hold the distinction of being the first Golden Knights were, quite literally, the cast-offs of other clubs. Then-general manager George McPhee had been widely praised for his deft handling of the expansion draft, but even that seemed to reap more future assets than immediate help.
Beginner's Luck?
Then the season started and the winning began. Early on, it sure seemed like the team was fluking into some wins – third-period comebacks sparked their opening wins over the Dallas Stars and Arizona Coyotes, neither of whom would make the playoffs that year. Then came a rash of goalie injuries, forcing Vegas to use four different netminders in their first 10 games. And yet, the club continued to roll, collecting two points at a time and 16 over their first nine games to shock the league.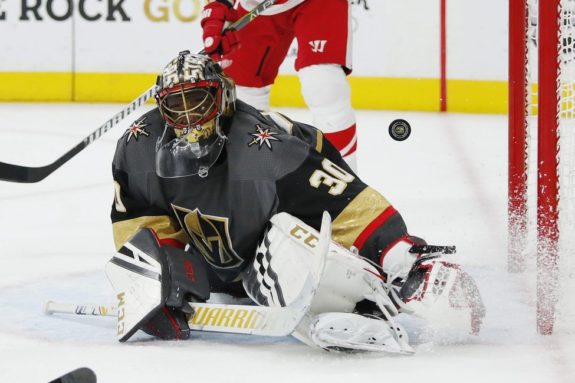 With their overall success being such a focal point, less is said specifically about the winning culture they instilled immediately on home ice. The Golden Knights treated Las Vegas hockey fans to an instant winner and made their games at T-Mobile Arena a hot ticket right out of the gates by winning nine of their first 10 games at the 17,500-seat venue.
The Home Opener
The Golden Knights' first home game was particularly worthy of Hollywood. An already significant, historic occasion was given more weight when the club organized a pregame ceremony to honor the victims and first responders of the tragic Route 91 Harvest Festival shooting, which had occurred 10 days prior.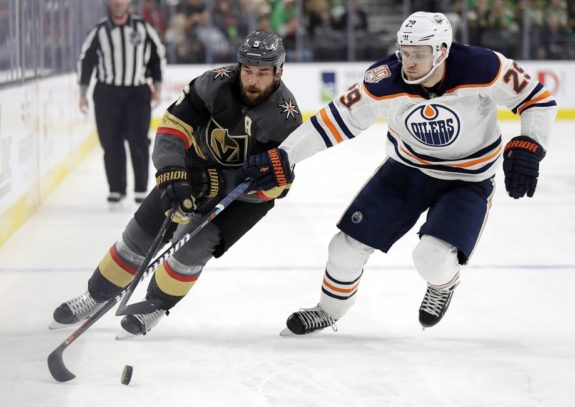 Golden Knight and Vegas resident Deryk Engelland's emotional address to the crowd made for an instantly iconic moment in club history. Likely feeding off of the energy in the building, the home side came out in full force, scoring four times in the game's first 10:42 en route to a 5-2 win over the Coyotes.
A 6-3 home loss to the Detroit Red Wings took a bit of shine off the club's torrid start and memorable T-Mobile Arena opening, but head coach Gerard Gallant quickly got them right back on track. After losing Marc-Andre Fleury to a concussion and with the opposition getting tougher, the Knights began to demonstrate that they weren't about to come back down to earth.
Still Going Strong
Between Oct. 15 and 27, a stretch that featured five home games, Vegas went from early novelty to the story of the whole league. They did so by finding a variety of ways to win. Against the Boston Bruins, one of just four teams who would finish with more points on the season than the Golden Knights, Malcolm Subban stymied the organization that drafted him. They blew leads against the Buffalo Sabres and St. Louis Blues before triumphing in overtime. Finally, they carried momentum into a win over the Chicago Blackhawks in front of third-string goalie Oscar Dansk and crushed the Colorado Avalanche 7-0 to close out the homestand.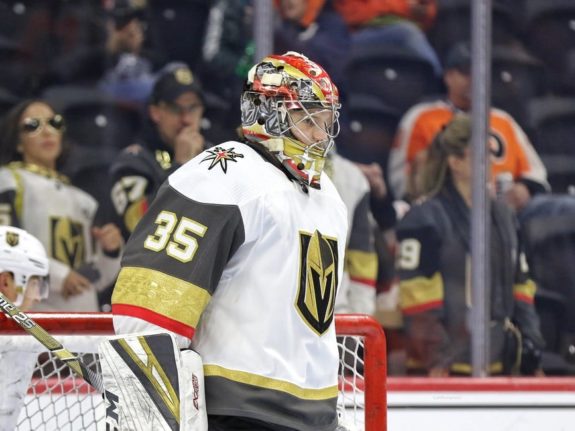 Once the club stepped away from T-Mobile Arena, cracks began to appear in the Knights' armor, as an Eastern road swing produced just three total points in six games. Yet again, however, some home cooking offered something of a cure-all. Vegas handled a trio of playoff-bound visitors, including the Winnipeg Jets and the division rival San Jose Sharks and Los Angeles Kings in their first head-to-head meetings against each franchise.
While it hardly measures up with Vegas' more notable accomplishments from their 2017-18 expansion season, the club's 29 wins at home that season were more than all but two other NHL teams (Winnipeg and Pittsburgh). That home dominance has carried over the past two seasons until, of course, a trip into the Edmonton bubble in last season's return to play robbed them of their T-Mobile Arena competitive edge. That identity, a daunting one for visitors already contending with the distractions of Sin City, was forged early on in the Knights' existence.
---
---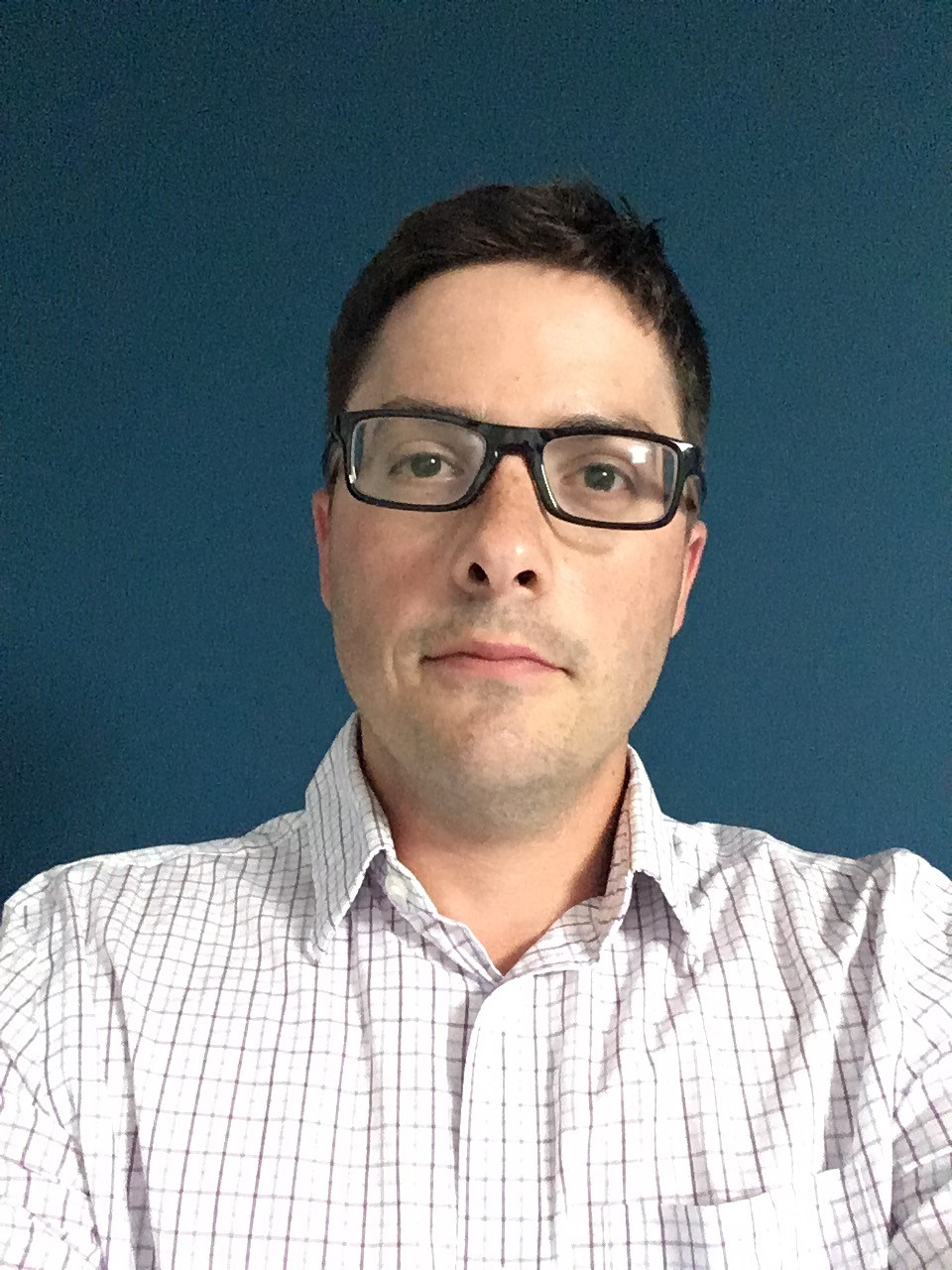 I may be a Leafs fan at heart (I've witnessed their highs and lows first-hand as a Scotiabank Arena employee), but I'm also a veteran freelance sportswriter who loves a good story. And there's been no better story in hockey over the past few years than the Vegas Golden Knights. I'm excited to be covering the NHL again on the Golden Knights' beat.