It's never been a more exciting time to be a Vegas Golden Knights fan than right now. The team, which made it all the way to the Western Conference Final before losing to the Dallas Stars, has made significant improvements to their team, most notably locking up Robin Lehner for the next five seasons and signing the "big fish" of the offseason, Alex Pietrangelo.
With so much excitement surrounding their NHL lineup it is easy to forget that they have a solid prospect pool as well. Take Cody Glass for example, a bona fide superstar in the making who is looking to make a name for himself in the NHL this season as he is predicted to take on Vegas' number two centre role. Peyton Krebs and Jack Dugan are some other names we may hear often when discussing future Golden Knights stars, but what about some of the lesser known names?
I am a huge fan of trying to seek out diamonds in the rough, and although this player has put his name on the map by leading the Chicago Wolves in points last season, he is still a name we haven't heard of enough: Lucas Elvenes.
Background
The Ängelholm, Sweden, native started developing with Rögle BK youth system in the Swedish ranks. From there he crafted his game to a point where his play was good enough to get him drafted 127th overall by the Golden Knights in the 2017 Draft. The selection went unnoticed seeing as it was a late-round pick but, boy, what a win from Vegas' perspective.
Although Elvenes was just getting drafted to try and make a living off professional hockey in North America, he was no stranger to the pro game overseas in his motherland. At just 17, he made his debut in the SHL, the top tier of hockey in Sweden, and gained invaluable experience of what it was like to play against men. He ended up playing 12 games that 2016-17 SHL season, going scoreless. Stats aside, the feat was impressive nonetheless and seemed to bump up his draft stock.
Elvenes spent the next two seasons fine tuning his play for Rögle BK and went on to put up impressive numbers, scoring 36 points in 70 games. These numbers would be good enough to secure him a call-up to the Golden Knights then-affiliate, the AHL's Chicago Wolves. It is in the AHL where Elvenes made a name for himself and put himself on the map.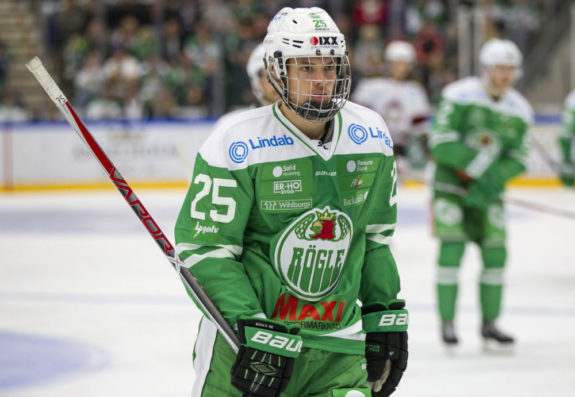 Called up for the 2019-20 season, Elvenes slotted in at centre for a Chicago Wolves team looking to improve on their 2017-18 season, where they finished first in their division, but were swept by the Rockford IceHogs in the first round of the AHL playoffs. It's safe to say he surpassed expectations.
The Swedish centreman would not only become a star player, even making the AHL All-Star game, but led the entire Wolves team in scoring, putting up 48 points in 59 games. This was good enough to secure the team another first-place finish in the Central Division. The team ran rampant through the playoffs, dominating and heading all the way to the Calder Cup Final, where they lost in five games to the Charlotte Checkers.
A common debate amongst hockey pundits is whether or not professional European players can successfully make the transition to professional play in North America. With his play in the AHL, Elvenes proved that he can definitely thrive on the smaller ice surfaces of North America. Now all he needs to do is translate his talents to the NHL and with a call-up to the NHL, he can do exactly that. Good play in the AHL alone does not earn you an NHL call-up, so what else does the young Swede bring to the table for the Golden Knights?
What He Brings
If you were only able to use one word to describe Elvenes' game it would be "facilitator." He is an extremely gifted playmaker who can turn a seemingly dead play into a deadly scoring chance for his team. A gifted passer, he can seam passes through sticks like it's nothing and set up players who didn't even know it themselves that they were open. His tremendous ability to stickhandle and his offensive creativity make him a lethal offensive weapon.
These attributes, coupled with his elite-level skating stride, turn him into a defensemen evading machine once he enters the opposition's zone. He may not be the biggest guy on the ice, but he does possess grit and doesn't mind heading into the corners to battle for the puck.
Although his shot was questioned on his scouting report, it seems it has gotten better as he has aged. His defensive game is just as good as his offensive game, as Elvenes is said to be a tenacious forechecker with strong defensive capabilities. If we were to compare him to established NHL players, we would bring up names such as Nicklas Backstrom and Elias Pettersson. To make a long story short, Elvenes is the embodiment of a prototypical "two-way" center that NHL teams love to have and, at just 21 years old, has room to grow into his untapped potential.
What To Expect This Season
Elvenes will start his season in the AHL with the Henderson Silver Knights, but I do not expect him to stay there for long. Building upon last season's stats, expect him to become a point-per-game producer for Henderson and lead them to a top finish in their division.
His play will generate excitement from Vegas' upper management, which will subsequently lead to them calling him up mid-season. It is vital he gets a sense of how fast the NHL really is and that is exactly the experience he will receive during his call-up to "The Show." I don't expect him to stay in the NHL long during his call-up, seeing as Vegas is stacked offensively but, hey, weirder things have happened.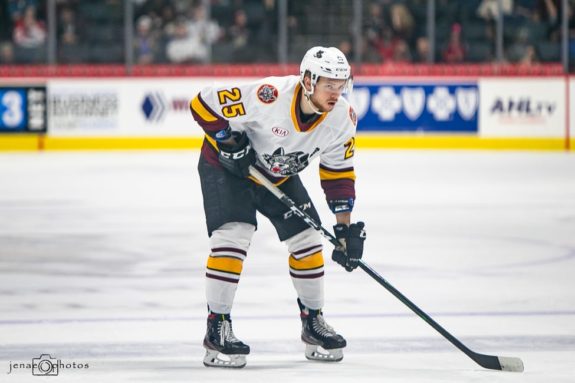 If I were to put a timeline on when he will make a permanent jump to the NHL, I would say the 2021-22 season. This upcoming season will serve as a stabilizer, so he can prove that his first-year numbers in the AHL weren't a fluke and that he can play in the NHL.
Vegas fans should rejoice in unison, as they have a young Swedish centre — a diamond in the rough some would say — that may turn into their very own version of Backstrom. Only time will tell if Elvenes lives up to his top-six potential, but with all the cards stacked in his favour, there's no doubt he will one day turn into a bona fide superstar in the NHL.
---
---