The '12 Days of Christmas' is a classic holiday song first published in its current form in 1908. In a nod to the classic carol, join The Hockey Writers as we count down the 12 Days of Hockeymas. Each day, we will provide you with a piece of hockey history as we eagerly await the start of the 2020-21 NHL season.
The remarkable beginnings of the Vegas Golden Knights organization have fast-tracked expectations, so much so that there is a 'Stanley Cup or bust' feeling around the upcoming 2020-21 NHL season. This would have been unthinkable three years ago, when a brand new franchise was being built from the unwanted cast-offs and depth pieces of other clubs.
The conversation, of course, quickly changed. A trip to the Stanley Cup Final in year one of expansion will do that. That start has gotten the ball rolling, leading to marquee additions of veterans ready to win now, some of whom aren't gunning for their first Cup. In fact, four players on the current Golden Knights roster have already lifted Lord Stanley's trophy over their head.
Here are the stories of the four Golden Knights who have already etched their name onto hockey's holy grail.
Marc-Andre Fleury
You might expect that a guy who already boasts three Stanley Cup rings to, perhaps, not be quite as hungry for that fourth. However, if it's Marc-Andre Fleury you're talking about, you would be entirely mistaken. The veteran netminder, whose three Cups come from his long tenure between the pipes with the Pittsburgh Penguins, will pass one of his hockey idols (Martin Brodeur) and equal another idol (Patrick Roy) with his next championship.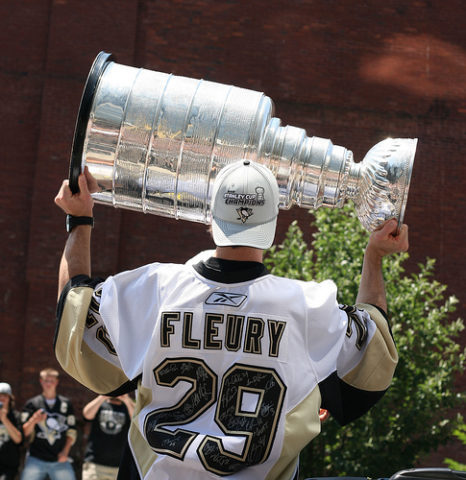 Furthermore, Fleury's next ring would hopefully come with a more active role than his previous two. While the 36-year-old served as an integral cog to the victorious 2008-09 Penguins, the club's 2016 and 2017 back-to-back Cups coincided with a positional battle with the up-and-coming Matt Murray that saw the 2003 first-overall pick see action in just two playoff games in 2016 and split duties in the 2017 postseason.
Now, obviously nothing is guaranteed. For the first time since joining the Golden Knights, Fleury finds himself facing a crease battle to open the season with Robin Lehner challenging his No. 1 role. Still, another Cup would put a bow on his incredible redemption story in Vegas and put him in rare company as one of just two active players (Chris Kunitz) with four rings.
Alex Pietrangelo
While there may have been some hand-wringing over the term and cap hit on Alex Pietrangelo's free agent contract, especially when it forced the club to unload Nate Schmidt and Paul Stastny, there was no questioning what the blueliner was bringing to the organization. When Pietrangelo signed his seven-year, $61.6 million deal, he was 16 months to the day removed from lifting the Stanley Cup as captain of the St. Louis Blues.
Pietrangelo's presence as a bona fide No. 1 defenseman is a huge coup for Vegas, but it is his reputation honed from wearing the 'C' on a Cup winner that could truly put the club over the top. In terms of on-ice performance, it was Ryan O'Reilly who earned Conn Smythe honors, but the 30-year-old led all playoff skaters in assists (16) and average time on ice (25:45).
Alec Martinez
According to 2019 Census data, people of Hispanic or Latino heritage comprise 48.6% of the city of Los Angeles. Given that significant demographic, it's pretty cool to think that one of the few Hispanic players in NHL history has had a hand in both of the LA Kings franchise's two Stanley Cups (2012 and 2014). (from 'NHL is making a push to increase its Latino fan base,' LA Times, 01/18/2020) Sure, players like Anze Kopitar and Drew Doughty were bigger names on those Cup-winning teams, but Alec Martinez managed to carve out top-four minutes to play a significant role. Oh, and he scored the Game 7 overtime goal to send the Kings to the Cup Final in 2014.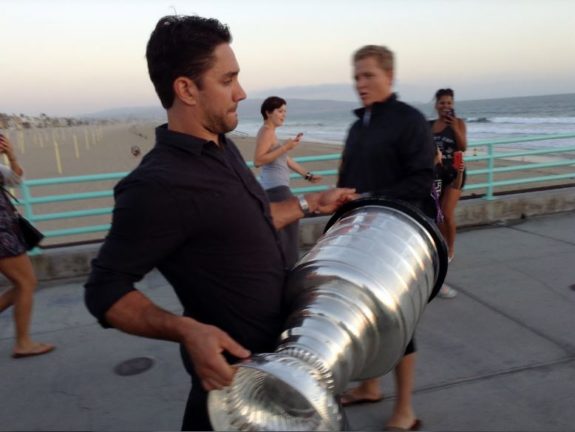 If Vegas is to make a similar run this year, the 33-year-old will likely need to provide similar production (and another Game 7 OT goal would be great). Every contending team needs a back end presence who can move the puck and block shots. Martinez provides that, plus adds to the strong-pedigreed veteran presence of the group. Unless, of course, the cap-strapped club opts to move on from his $4 million contract.
Chandler Stephenson
Chandler Stephenson may not have had the biggest impact on the Washington Capitals' 2018 Cup run (two goals and 15 minutes of ice time per game across all 24 playoff games), but he might have provided the most memorable celebration. Alex Ovechkin's fountain swim notwithstanding, the Saskatoon, Saskatchewan, native brought the Cup to the nearby town of Humboldt, where a tragic bus crash had claimed the lives of 16 players, coaches and staff of the Humboldt Broncos hockey team.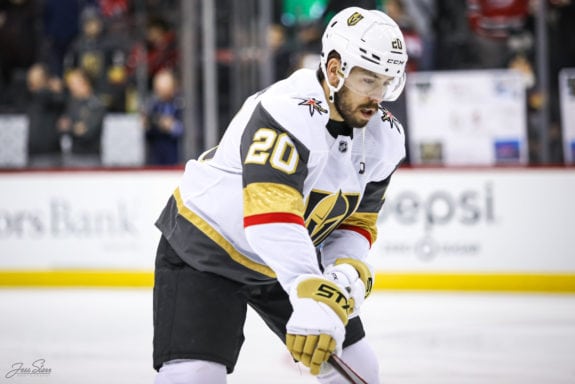 That touching gesture highlighted the character of the 26-year-old. A third-line center, Stephenson will probably never post eye-popping offensive numbers, but he did make an impact upon joining Vegas via mid-season trade last December. In coming over from Washington, he recorded eight goals and 14 assists in 41 games, career bests in both categories in what amounted to half a season. If he can continually offer that offensive boost, it would be an added dimension to a player better known for his face-off abilities and penalty kill prowess.
For a club with their sights set on Stanley Cup glory, it can only help to have four men in the locker room who have been there before. The franchise may still be in its infancy, but that doesn't mean it isn't rife with the type of character, experience and veteran savvy needed to ascend to the top of the hockey world.
---
---