By compounding the upcoming All-Star Weekend with the NHL-mandated five-day break for all teams, the Vegas Golden Knights are currently in the midst of 10 days off before their next game on Feb. 6. This break couldn't have come at a better time.
The Golden Knights are in a spiral, losing six of their last seven as injuries mount, optimism from the team's blazing-hot start beginning to fade and the haunting presence of their 2021-22 collapse looming. Every team is banged up and tired at this juncture of the season, but the time off is particularly beneficial to a Vegas roster that needs to heal physically, recharge mentally and buy some time for the likes of Mark Stone and Zach Whitecloud to get back on the ice after long-term injuries.
With a critical 31 games still to come, now is as good a time as any to take stock of where the Golden Knights are at. Let's take a look at how they've gotten to this point, where things are going and how similar things look to where the franchise was a year ago.
How We Got Here
With new head coach Bruce Cassidy behind the bench, the Golden Knights got out to a quick start in showing that they'd put last year's disappointing and injury-marred campaign behind them. They won 13 of their first 15 games, thanks to an in-form Jack Eichel leading the way and Logan Thompson putting fears surrounding the club's goaltending situation to rest while seizing the No. 1 job, earning an All-Star invitation and placing himself firmly in the Calder conversation.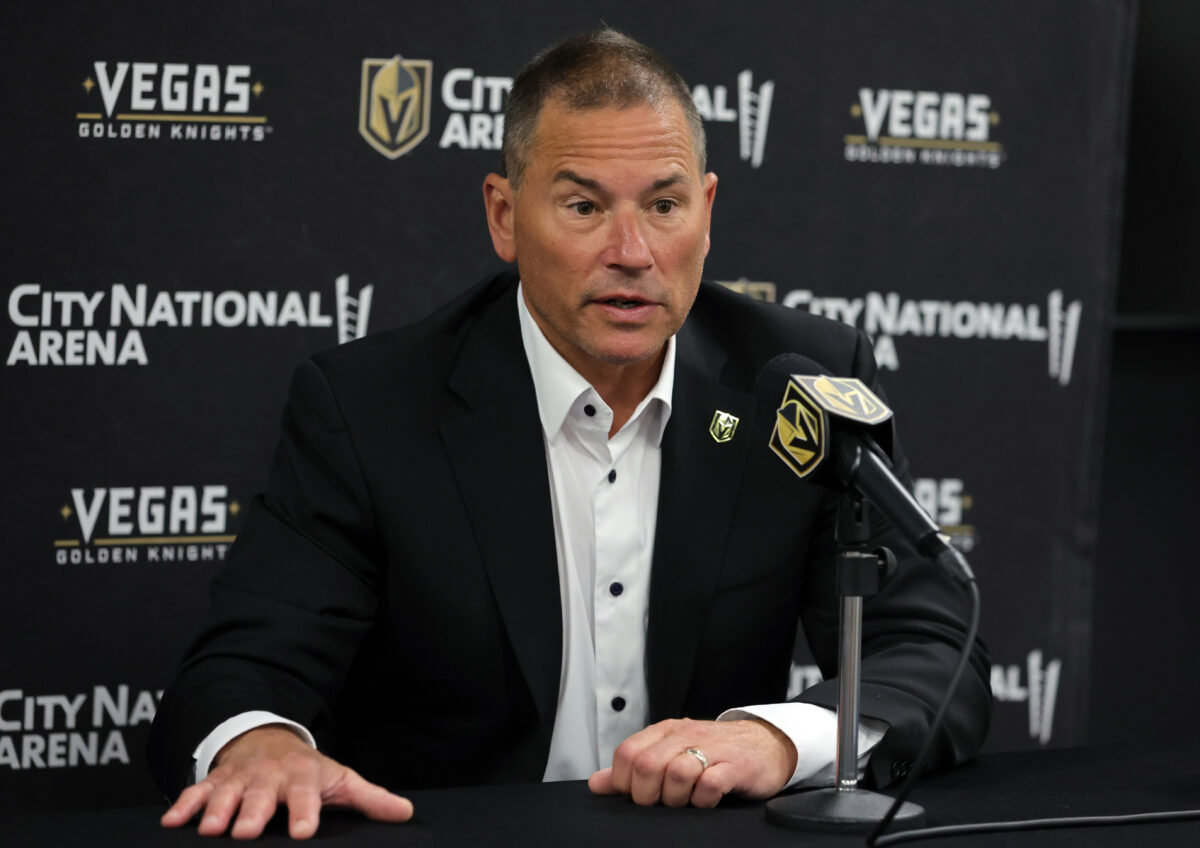 While health also played a big role in that start, the injury bug ultimately reared its ugly head yet again. Eichel, Stone, Whitecloud and Shea Theodore have all missed time with a variety of ailments, slowing the team's momentum. After going 16-4-1 in their first 21 games, Vegas has gone 13-14-3 in the 30 games since, falling out of top spot in the Pacific Division and maintaining a tenuous hold on one of the division's three playoff spots.
Eichel had 13 goals and 29 points in 27 games prior to his lower-body injury, but only has two goals and five points in 11 games since returning to the lineup in early January. Beyond their No. 1 center, Chandler Stephenson will join Thompson in Florida for the All-Star Game thanks to 11 goals and 44 points as the team's leading scorer. However, further secondary scoring has been hard to come by, an issue that has been magnified by the recent spate of injuries.
Ahead of All-Star Weekend, the Golden Knights find themselves sitting third in the Pacific with a 29-18-4 record, two points up on the surging Edmonton Oilers, but just a single point out of the top spot.
Where We're Headed
The Golden Knights are sandwiched right in the middle of a glut of five teams separated by just six points in the Pacific. In other words, every game from here on out is crucial. That is particularly true of Vegas' immediate post-All-Star stretch, featuring five of their next seven games coming against non-playoff teams like the lowly Chicago Blackhawks, Anaheim Ducks and San Jose Sharks. It gets considerably tougher after that, with the Dallas Stars, Colorado Avalanche, Carolina Hurricanes and New Jersey Devils all on tap.
All told, 17 of the final 31 games will come on the road, which might be a problem were it not for the club's surprisingly strong 15-5-4 mark away from T-Mobile Arena. Of that aforementioned glut of teams crowding the Pacific Division playoff picture, the Golden Knights will play the Calgary Flames three more times, the Oilers and Seattle Kraken twice and the Los Angeles Kings once. A season-ending home-and-home series with the Kraken could end up being crucial.
Of course, more important than any one head-to-head matchup will be the fortification of the roster, whether that is through players returning from injury or the March 3 NHL Trade Deadline. There is no timetable for the return of Stone from his reported back injury nor Whitecloud from his lower-body injury (although Whitecloud was skating with the team in a non-contact jersey earlier this week).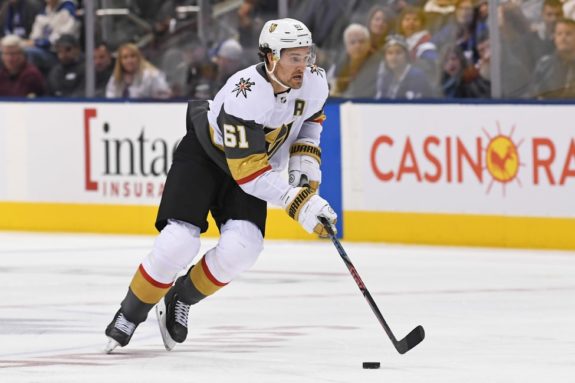 What that means for Vegas' trade deadline status is anyone's guess. Even with a healthy Stone, the club could probably use more scoring depth. Without him, though, suddenly adding a forward becomes essential to any hopes of a meaningful playoff run. That said, the usual complications of a tight cap situation and what trade assets to make available come to the forefront of any deal.
Ghosts of the 2021-22 Collapse
To be clear, these Golden Knights are very different from their 2021-22 predecessors, with a different voice behind the bench and different personnel. That being said, it sure is eerie how this season seems to be mirroring the organization's first and only non-playoff campaign.
You Might Also Like
Last year, a 22-12 mark on New Year's Eve had Vegas in its customary slot atop the Pacific. From there, however, some uneven play through January and February gave way to a costly five-game losing streak in March, as the toll of an endless stream of injuries was too much to overcome. Ultimately, Vegas wound up with 94 points, falling three points shy of the playoff-bound Nashville Predators in the wild card race.
This season, the 34-game mark produced a near-identical record of 22-11-1, leading to the same kind of slide we saw a year ago. How similar? Through 51 games, both Golden Knights squads share identical 29-18-4 records. While it remains to be seen how this year's group responds, last year saw Vegas drop three of their next four and eight of their next 11 to continue to fall from the playoff race. In other words, let's hope this is where the similarities between the teams end.
Losing six of seven makes for a demoralizing tone to arrive at the mid-season break, and adding the specter of an in-season collapse a year ago only makes things bleaker. But the Golden Knights still find themselves right in the thick of things in the Pacific. There's still a major opportunity here to flip the script and begin writing a story of triumph across the season's final 31 games.
---
---