Minnesota defenseman Greg Zanon isn't the perfect player, that is clear. His attempts to handle the puck are frequently reminiscent of a grizzly bear playing with a wet fish and he moves about as fast as the van heading towards the water in the film Inception. At least the van eventually reaches the water, Zanon often doesn't reach his intended targets. However, there are a few reasons why he has managed to hold down a regular place on an NHL blue-line over the last six seasons, and number one is shot-blocking. 2011-12 finds Zanon leading shot blocking statistics once again. So, okay, Zanon doesn't technically have the most shot blocks, but he has 100 in 36 games, which averaged out would put him on pace for 164 if he had played in 59 games like Nick Schultz. A total which would be good for second in the league. To say 'Zanon leading shot blocking again' may be somewhat disingenuous, but his dominance as a shot-blocker is not in question.
However, it is a dominance that isn't necessarily fully appreciated. Of course, articles like this one have been written before about Zanon leading shot blocking statistics and how he brings value to a roster, but the consistency with which Zanon leads shot blocking and how valuable that is isn't always considered. Here are the leading shot blocking statistics from the previous three years:
| | | | |
| --- | --- | --- | --- |
| | 2010-11 | 2009-10 | 2008-09 |
| 1. | D. Girardi                       236 | D. Seidenberg                    215 | Z. Michalek                            271 |
| 2. | G. Zanon                       212 | A. Sutton                           204 | B. Clark                                238 |
| 3. | M. Giordano                    193 | K. Ballard                          201 | G. Zanon                              227 |
| 4. | R. Hamrlik                      192 | G. Zanon                          196 | M. Komisarek                         207 |
| 5. | F. Beauchemin                182 | C. Pronger                         189 | R. Hamrlik                             195 |
| 6. | T. Lydman                      178 | D. Girardi                          180 | N. Havelid                              190 |
| 7. | K. Timonen                     175 | S. Robidas                         177 | J. McKee                                185 |
| 8. | D. Seidenberg                174 | A. Volchenkov                    172 | A. Volchenkov                        180 |
| 9. | R. Hainsey                      173 | K. Timonen                        168 | K. Skrastins                           171 |
| 10. | K. Klein                          173 | T. Gilbert                           165 | M. Greene                             167 |
Zanon's is the only name that appears on this list in all three seasons, and his lowest finish was fourth. There are probably other reasons why we find Zanon leading shot blocking so consistently, like injuries to other strong shot blockers, but that shouldn't be used to belittle his statistical achievement. When a player is that consistent at producing goals or points, they are marked as an elite player at their position, but for some reason shot blocking isn't valued as highly. It isn't as if shot blocking is one of these peculiar statistics like hits either. In some buildings it does feel like shoulder brush is noted down as a hit, but there isn't as much confusion over whether a player has blocked a shot or not.
There is undoubtedly a lot of skill involved in blocking a shot as well, which is why certain players are so successful at it. The obvious attribute that is consistently lauded is bravery and willingness to absorb punishment. That is certainly a key part for the average shot blocker, but strong technique is just as important for the players who consistently rank amongst the very best. Part of Zanon's advantage is undoubtedly his build. He his not especially tall at 5′ 11″, and he has a low center of gravity. He has the ability to get down to the ice and back up quickly without losing position, which is a valuable physical attribute. On top of that, being able to read fakes and read the ice in the defensive zone to get in the shooting zone is a skill that should not be under-estimated. A lot of goals in the NHL are scored because defending players are caught between trying to block a shot and trying not to screen their goaltender. Zanon has all of these attributes and it makes him a valuable stay-at-home defenseman and penalty killer.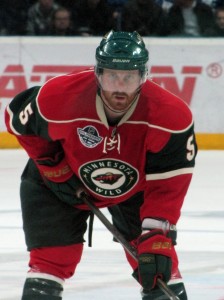 Zanon is probably most suited to playing on a team's bottom pair, and seeing the majority of his minutes against lower lines and on the penalty kill. He may have been over-used by Minnesota during the last couple of seasons, but there is little doubt that when used correctly, he is extremely valuable. GM Chuck Fletcher may well decide to trade Zanon and his pending UFA status at this year's deadline. Expect there to be quite a lot of interest in Zanon, but this is one free agent that Fletcher might just be advised to hold on to. Whoever he ends up with, it is fair to assume that the phrase 'Zanon leading shot blocking again' will almost certainly re-surface again in 2012-13.