The Toronto Maple Leafs are often connected by rumour to trade talk, especially involving a 'big name'. It's the nature of being one of the largest and most active hockey markets. It's fed by a loyal and knowledgeable fan base, constant media coverage, and a team that still requires significant upgrades if it is to become a regular playoff participant.
Of course, speculation as to who could be acquired inevitably includes conversation about who'd be sent the other way. From wishful thinking that would see 4th liners and bad contracts traded for top-6 talent, to more realistic attempts to match talent and organizational needs, almost every Maple Leaf has been named. Amid all the discussion comes the question "Are there any 'untouchables'?" Well, untouchable may be a strong word, but there's a group of 5 that you can be pretty confident will still be Leafs come February 28.
Phil Kessel – If it wasn't obvious, there are no plans to move Phil Kessel. As of game 60, Kessel has 64 points, matching his career NHL high. Though his pace has slowed from his hot start, he is still on target for an 80-point season (he'd be the first Leaf since Sundin hit 80 in 2001-02). But, more than just point totals, it's notable that he's played a more mature game this season; he's been better without the puck, more focused, with a more determined attitude. He's emerged as a quiet leader, and his production this year has, to some extent, justified Brian Burke's move to get him.
Yes, the trade that brought him to Toronto will still spark debate as to whether the price was too steep. But that's just one more factor as to why Kessel will be staying. The cost of acquiring Kessel was Tyler Seguin, Jared Knight and Doug Hamilton. It would make sense that it would take something just as special to pry Kessel out of the Leaf fold.
Dion Phaneuf – It's highly unlikely the Captain is going anywhere. Dion's production had fallen off from his early Calgary career, a large cap hit ($6.5M until 2014) made him a target for fan frustration. Burke acquired the big defenseman hoping he'd find his form again. For the most part, he has. Phaneuf has already eclipsed his point totals from 2009-10 and 2010-11, and early in the season was a force on the blueline.
He has, at times, been mistake prone, and has been burned by being caught out of position. There are those in Toronto who would prefer to move him and his salary out of town. But frankly, that salary is a major obstacle to moving him, even if he were available. At this point, Burke has made up his mind that Dion is a central piece of his plan, and there's not much chance of deviating from that. Similar to Kessel, it would take a special offer for the GM to ship out the Captain.
Joffrey Lupul – Would Burke trade Joffrey Lupul again? Not this year.
No doubt Lupul was a salary dump by Anaheim, something to ease the pain of trading Jake Gardiner away to acquire Francois Beauchemin. It wasn't so much that Burke swindled Bob Murray in that deal, as he believed in Lupul's abilities, despite a) having traded him once before, and b) the variety of health issues the player endured. To say everything seems to have worked out would be an understatement. Lupul has already eclipsed his previous NHL point high, and is also on pace for 80+ points by season end. It's apparent there's chemistry between he and Kessel, even if they've leveled off a bit. That chemistry has helped keep the team close to a playoff berth. Together, they form 2/3 of what could be one of the league's elite lines, lacking only a centre who can truly exploit their abilities. Burke isn't likely to include Lupul in any deal.
Jake Gardiner – Toronto has experienced some issues on the blueline this season, but 21-year-old Jake Gardiner has been one of the bright spots. He will likely be Toronto's Calder Trophy candidate. Drafted 17th in 2008, he won a spot on the blueline out of training camp over Keith Aulie. He continues to log about 21 minutes a game, while Mike Komisarek and his $4.5M cap hit watch from the press box. He's 12th in rookie scoring (tops among defenders) with 18 points, and maintains a +5 rating. He's shown a great deal of poise and maturity, great vision and is a smooth skater with an offensive punch. It would appear that among all the pieces Burke has added in Toronto, Gardiner must be considered among the best.
And that's sparked some debate as to whether Gardiner should stay or be dealt. It is so early in Gardiner's career, folks are divided on whether he is an untouchable building block for the Leafs, or the jewel in a trade package that could land an established superstar. For many, if the Leafs were serious making a big deal, the discussion starts with Gardiner going the other way. One would have to wonder if Burke would part with a youngster who he not only coveted, but has shown he is as good as anyone thought he would be.
Joe Colborne – Drafted one spot ahead of Gardiner was Joe Colborne, one of the assets Burke received for sending Tomas Kaberle to Boston. At 6'5″ and 210+ lbs, he could be just the player to fill the 'big-body centre' role the Leafs have lacked recently. He had 46 points in 75 games between Providence and the Marlies last season. This season, he's scored 16 goals and 35 points in 43 Marlie games, and added another goal and 3 assists in 9 NHL games. The knocks on him are he isn't as physical as one might hope given his size, and at times he seems disinterested. The flipside is he has great hockey vision and very soft hands, full of potential. He could be of interest to other NHL teams, but it's likely Burke will hang onto the kid, seeing as centre is one of the weakest positions in the Leaf organization.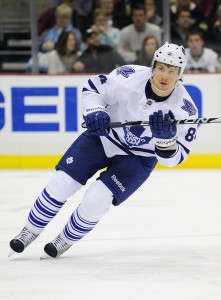 Bonus: Mikhail Grabovski – Speaking of centres… Mikhail Grabovski presents an interesting case. He is arguably the best NHL centre in the organization. He can be streaky, but he's bankable for 25 goals and almost 60 points. While he's had most of his success with Clarke MacArthur and Nik Kulemin, Grabovski has been able to do powerplay and spot duty with Kessel, and has been a defensively responsible forward. And, he's an unrestricted free agent at season end.
The Leafs have been in discussion with the player's agent, trying to work a deal to keep Grabbo in Blue and White, and it makes sense that they want to retain his services. Grabovski doesn't get the headlines that Kessel, Lupul and others get, but he's often recognizable as a hard-working, shifty, creative pivot, often feisty and fairly tough (as witnessed by his scoring 2 goals last season after having been clocked by Zdeno Chara). Grabovski is at the end of a 3-year, $8.7M contract, and the rumor is he's going to be looking for something around $5M per season, which seems reasonable versus other league comparables. Other teams could look at him as a rental – though he lacks playoff experience, he certainly could be an effective weapon on a contender's 2nd or 3rd line. But, if there's any indication a contract extension is achievable, Brian Burke will be keeping number 84 in Toronto.