Although the New York Islanders are in last place in the Metropolitan Division, goaltender Thomas Greiss has always put them in a situation to win. Whether it be the team's 7-4 loss to the Hurricanes on Saturday or their 4-0 win over the Bruins on Monday, Greiss has been consistently solid all season. From a lack of offense to issues with possession and keeping a lead late in games, the Islanders have dealt with a plethora of problems, but Greiss has never been one of them.
Solid All Season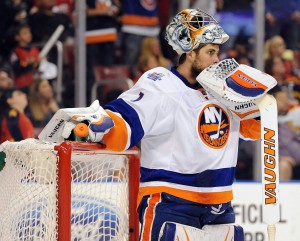 Greiss' consistency is one of the reasons why the Islanders are still just a hot streak away from being in playoff contention. In 20 starts, Greiss has given up four goals only four times. In 13 starts, he's given up two goals or less. While these numbers are solid, they don't show how dominant he's been. Make no mistake, Greiss has proved once again this season that he's an elite NHL goaltender.
Case in point- Greiss'.925 save percentage is fourth in the NHL among netminders with 20 or more starts. His 2.41 goals against average is better than Henrik Lundqvist, Corey Schneider, Corey Crawford, Jake Allen and Mike Smith, all goalies that make more money and are considered bonafide number one goaltenders.
If the team has any chance at making the playoffs, it's on the back of Griess. Don't forget, he helped guide the team to their first playoff series victory since 1993 last season. If given the reins, he can do it again.
Support of the Coaching Staff
Even in the face of an embarrassing 7-4 loss on Saturday, former Islanders head coach Jack Capuano, who was relieved of his duties on Tuesday, considered it a no-brainer to go back to Greiss on Monday rather than JF Berube. Making 36 saves in the loss, Greiss was the victim of his team's inability to clear pucks in front of him rather than poor goaltending. But don't expect one bad game to affect him. That's not his style.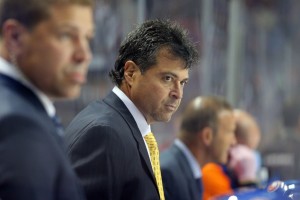 "You always want to go out and have a good game and respond," Greiss told Newsday. "Just feel good about yourself again."
With half a season to go, you'd expect the team's coaching staff to sit Greiss from time to time, especially with games coming at rapid-fire the rest of the way. But with Jaroslav Halak clearing waivers a few weeks ago, Islanders brass knows Greiss is the calming influence his team needs in order to reach the playoffs for a third consecutive season. This is his team now.
"He's an honest kid; if he was tired, he would have said so," Capuano told Newsday in his last press conference as coach. "He's played really, really well for us and he deserved another chance."
[irp]
The Future
Even if Greiss is tired, the Islanders cannot rest him. They are eight points out of a playoff spot but have four games in hand on the Flyers. The Islanders need to get hot. That happens if captain John Tavares continues to score and Greiss continues to stop the puck. While Tavares will be the Isles' lone representative at this year's All-Star game, Greiss deserves the honor far more.
An unrestricted free agent after the season, Greiss could find himself courted by several teams in need of goaltending. At this point in the season, however, Greiss seems focused on one thing, getting the Islanders back to the playoffs.