Drafting a Blues player can be risky. After all, the roster is well known for its ability to play a team game on both ends of the ice.
Blues goalies will not face a ton of shots. It will be a miracle if a 40-goal scorer emerges from this group. Still, if you are a Blues fan, you may want to add one of your favorite players to your roster.
It's just a shame that Ken Hitchcock can't be taken to rake in the wins.
With the rankings now available on the NHL.com Top 200, along with Yahoo and ESPN, it's easy to see that the Blues are still well represented. I have compiled each Blues player ranked on each site's top 200 and averaged the rankings together.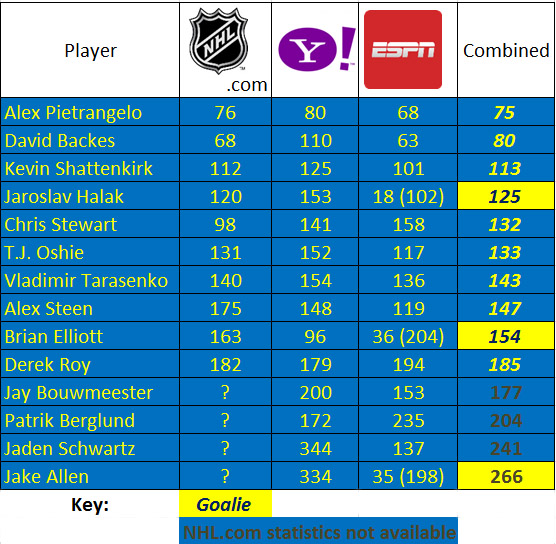 The NHL Top 200 did not include each player found within the top-200 players on the other aforementioned lists. With Yahoo and ESPN ranking every player in the NHL, I included these omissions from NHL.com. Those players are listed at the bottom.
ESPN also listed goalies separate from regular skaters. I included their goalie ranking, along with a formula to better place them among the other Blues mentioned. This was based on a 12-team league with 17 draft rounds and each team taking three goalies.
This list shows you that Alex Pietrangelo may very well be the best choice for the first St. Louis skater selected with David Backes ranking just behind him.
Before going completely off these findings, consider these five important questions:
1. Is the No. 1 misleading?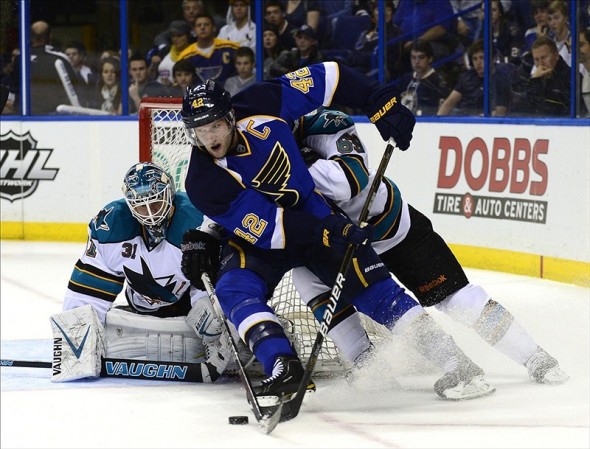 Although Pietrangelo is a solid choice for your defense, Backes may be the better option up front. Keep in mind that Backes is coming off an ugly six-goal year, which hurt his ranking (especially with Yahoo). It's possible that Backes could rebound with a full season in 2013-14. If you participate in a league that includes penalty minutes, the Blues' captain could be a solid choice.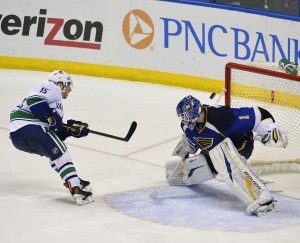 2. Is a Blues goaltender worth taking?
While each goalie has the potential to provide you with a top-level GAA or save percentage, the games started and wins could be minimal. That doesn't mean that Halak, Elliott or Allen will be a bad draft choice, though.
The only thing to really take away from these rankings is that no Blues goalie should be your first netminder selected. If you can draft a goalie who is the for-sure No. 1 for his team (Henrik Lundqvist, Jonathan Quick, Tuukka Rask) and then take a Blues goalie later, you should reach your starts requirement each week.
Note: My goalie research for ESPN stats show that, in a 12-team league with three goalies on each roster, a goalie is selected every 5.67 draft picks in a 17-round draft.
3. Are the Blues newcomers worth the risk?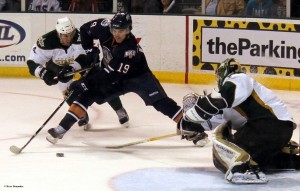 The Blues did some shuffling this summer, bringing in center Derek Roy and left-winger Magnus Paajarvi. Roy ranked on all three lists, while Paajarvi checked in on Yahoo at 281 and on ESPN at 333. Needless to say, the fantasy experts do not expect the two newest Blues to do too much in terms of fantasy points.
While it may not be wise to select either of these players in the draft, these two should remain on your radar as early-season pickups. If they can get off to quick starts, it may be a sign that the Blues' system is a step up for the forwards.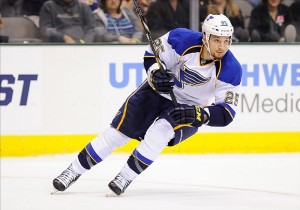 4. Is Chris Stewart an early-round sleeper?
This could be the toughest question of all. Stewart can provide your team with high point totals, game-winning goals and penalty minutes. But he could also provide you with a low amount of point totals, zero clutch goals and a few penalty minutes.
No, that was not a typo. Stewart has been Dr. Jeckyll and Mr. Hyde since joining the Blues.
The positive note is that Stewart admitted in January that he lost weight and trained harder than ever. This turned Stewart into the form that the Blues thought they were acquiring in February 2011. If he can find that pace that he set through most of the season, he will be a solid choice if you need a right winger in the middle-to-late rounds.
5. Who is the Blues' sleeper?
The aforementioned Paajarvi or Roy could be what your team needs, but the adjustment to the Blues' system has the potential to take a while. The better choice would be one of the Blues' sophomores.
Vladimir Tarasenko found himself on every site's top-200 rankings but was found fairly low. It came with good reason as the 2012-13 rookie tailed off after returning from a concussion late last season. Coach Hitchcock even sat Tarasenko in all but one playoff game against the Kings.
Based off the end of last season, Jaden Schwartz seems like the better candidate for the "sleeper" tag. He had a spectacular playoff series (despite only amassing one assist) after adding two goals in the final game of the season against the Chicago Blackhawks. Do not be surprised if Schwartz is on the Blues' top scoring line to open the season.
Note: The guy going the other way in the Paajarvi deal (David Perron) will likely be on the Oilers' first scoring line, which will be top notch. Taking him in the middle rounds could prove to be a solid decision.
As is the key to any successful draft: don't make draft picks as a fan. The last thing that you want to do is have a team full of one team, who inevitably fails you in the end. Ask Blues fans who drafted their team in September 2005; they will tell you a few things about bad decisions.