There will be plenty of exciting young blue line talent for Minnesota Wild fans to keep their eyes on when training camp opens up in a little under one month's time. People will be watching to see what Jonas Brodin can do as a follow up after taking on huge responsibility and proving to be incredibly reliable as the team's #2 defenseman during his rookie campaign [see also: Jonas Brodin, the Calder Trophy and Everything Wrong With NHL Awards]. Meanwhile, 2012 first round pick Mathew Dumba is already being tipped by many as an impact player for 2013-14 after only just missing out on a roster spot last January. None of that considers the development of AHL prospect Tyler Cuma, and the likes of Jared Spurgeon, Marco Scandella, Jonathon Blum and Nate Prosser.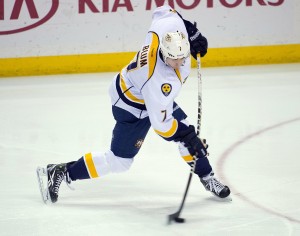 However, among all of that talent and all of that depth, it would still be wise to keep an eye on the 46th overall pick from the 2013 NHL Entry Draft Gustav Olofsson. The 6-foot-2 blue liner, who moved from Sweden to the United States in 2009, impressed the Wild while playing USHL hockey with Green Bay last season. He is set to attend Colorado College this fall, but he already has the look of a player who will not need to spend a great deal of time at a developmental level.
Olofsson reportedly models his game on fellow young Swede and Minnesota defenseman Brodin. It's a comparison that stands up to scrutiny. The  scouting reports on the two players are similar to the point where it is quite possible that the Wild staff believed that they were actually re-living the drafting of their team's outstanding rookie performer from 2013.
Read the scouting report from McKeen and see if the likeness in style and attributes doesn't stand out between the two young defensemen:
'A poised, big-bodied rearguard .. mobile, all-axis skater powered by excellent feet and a smooth, sturdy stride .. effortless in turns and pivots and lateral movements .. plays a responsible and conservative game – guided by solid awareness and hockey sense .. astute in positioning – always alert and surveying the landscape .. not blessed with flashy skills, yet is an accurate passer and steady puckmover .. manages the puck well – takes the simple play – and gradually improved his decision making during the season .. will benefit from adding power to a decent point shot which he has demonstrated an ability to make space for – and a knack for getting through traffic to the net .. not afraid to initiate contact with his expansive body and wingspan .. his impact as a physical presence should increase as he builds muscle mass onto his spacious frame .. a solid prospect with versatility and tools at his disposal – and plenty of development potential.'
Smarts, decision making, a good frame and excellent all-round skating ability. Olofsson may not be considered the top end prospect that Brodin was (and is), but he has a similar mental, physical and technical make-up, which bodes extremely well for the young blue liner's NHL career.
It was clear that the obvious comparisons to Brodin were a major factor in the Minnesota draft team's decision to select Olofsson with their first selection of the 2013 draft.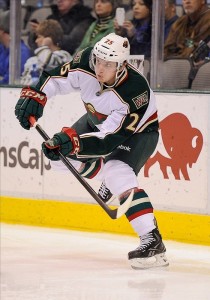 The comparison business is almost always a treacherous one and it's hard to imagine Olofsson ever quite living up to the expectations set by being matched against Brodin (who should be a leading member of this franchise for more than a decade). However, there is something extremely promising about this youngster. His progress will be, and should be, watched very carefully. Olofsson looks and feels like a player who won't be phased by expectations and will emerge as an effective NHL regular.
Whether or not he develops into 'Brodin v.2.0', Olofsson adds his name to an extremely positive crop of young defenseman hoping to ply their trade in the State of Hockey.